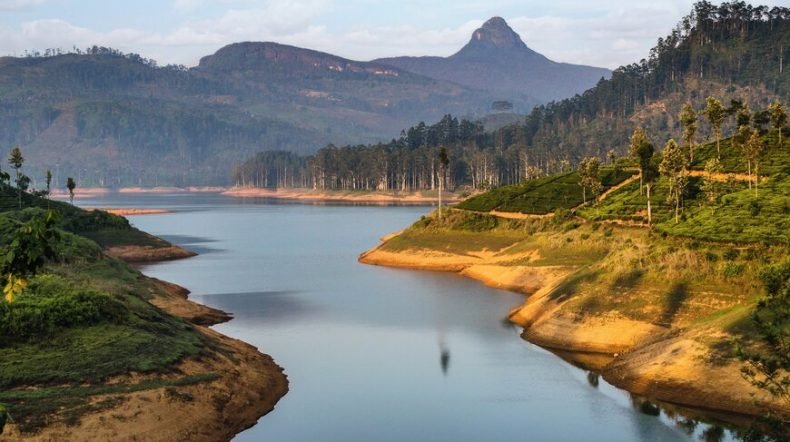 Looking for Sri Lanka 2 week itinerary? Sri Lanka is ranked as one of the top places to visit in South Asia, and during the visit, you'll understand why. Despite being a small country Sri Lanka offers a full package with wonderful things to do.
Before we go into the two-week itinerary in Sri Lanka, let's find out why you MUST visit this beautiful island.
Why visit Sri Lanka?
The simple answer is because it's awesome. The island offers everything from beaches, super surf, wildlife, historical attractions, and of course mouthwatering food! All of this is packed together into an easy to explore size.
The local culture is amazing and Sri Lankans are a friendly bunch always ready to help! Many people who visit Sri Lanka, keep coming back for more. It's a place you fall in love with during your first visit and make you long for more once you leave.
There's no shortage of experiences to suit varying needs in Sri Lanka. Whether you are seeking adventure, to relax at the beach, explore nature or you are a culture vulture.
The best time to visit Sri Lanka
There is no simple answer to this. Despite being so tiny, Sri Lanka's weather patterns change dramatically across the country. There are only two seasons to be concern about though – the dry and wet seasons.
The good news is that while one part of the island remains warm and sunny another part is likely to be wet. Overall it's safe to say Sri Lanka is an all-year-round destination.
In terms of temperature, you can't expect much variance and the general temperatures are around 28 degrees. However, in certain parts of Central Sri Lanka, the temperatures go down to 11 degrees at times.
Now that we've covered the basics, here's our take on Sri Lanka 2 week itinerary.
Sri Lanka 2 week Itinerary Summary
DAY 1 – Anuradhapura
DAY 2 – Polonnaruwa
DAY 3 – Trincomalee
DAY 4 – Sigiriya
DAY 5 – Dambulla
DAY 6 – Kandy
DAY 7 & 8 – Nuwara Eliya
DAY 9 & 10 – Ella
DAY 11 – Yala National Park
DAY 12 & 13 – Mirissa
DAY 14 – Colombo
DAY 1 – Anuradhapura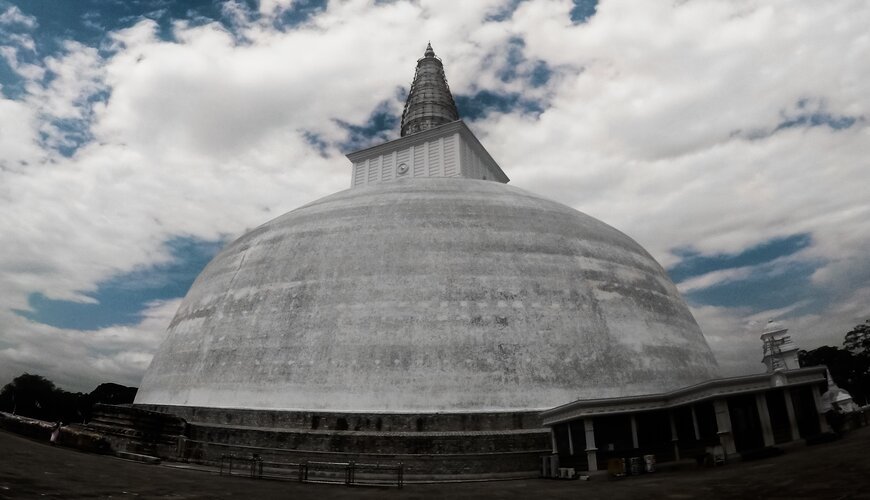 Anuradhapura is the first capital of ancient Sri Lanka. This sacred city is listed as a UNESCO World Heritage Site. It is the most archeologically rich city in Sri Lanka.
There's no better place in Sri Lanka to discover the history of the country other than Anuradhapura. Many kings have left behind a legacy of complex architectural and engineering wonders.
Anuradhapura was the cradle of the magnificent Sinhala Buddhist civilization. Even today devout Buddhists in and out of the country pilgrimage to Anuradhapura.
The highlight of Buddhism in Anuradhapura is the Jaya Sri Maha Bodhi. The Jaya Sri Maha Bodhi is a sapling of the Bodhi tree under which Buddha attained enlightenment. It was planted here in the 3rd century BC.
Today you will see the ruins of ancient temples, palaces, and monasteries as well as well maintained Buddhist temples. One day is sufficient to explore this miraculous city before you head over to its counterpart Polonnaruwa.
Travelling to Anuradhapura
Anuradhapura is a 4-hour drive from Colombo. Once you reach the island, its best to give yourself overnight rest and then head out to begin your 2 week itinerary in Sri Lanka. It is best to leave early morning from Colombo so that you have a comfortable time to explore Anuradhapura.
Modes of transport
It's best to hire a private vehicle for your trip. We T2 Travels Sri Lanka can provide our own vehicle and driver.
Public transportation is also available from Colombo to Anuradhapura. The travel time on a public bus or train would be around 7 – 8 hours. This is not for the faint-hearted especially if you plan to complete your visit in one day.
Getting around Anuradhapura
You will feel the rise in temperatures as soon as you reach Anuradhapura. Since the attractions here are spread out, planning to explore on foot would be a bad idea.
Some visitors prefer to cycle however if you are not used to the tropical weather, the heat can get a bit overwhelming to handle.
The most convenient way to explore the ancient city of Anuradhapura is to hire a private vehicle. If you are on a low budget, you can try a tuk-tuk but be mindful not to be scammed.
Exploring Anuradhapura
The Anuradhapura ruins are open to visitors from 7 am to 5.30 pm every day. The earlier you start the better. You need to purchase a ticket at the Archaeological Museum to enter the sites.
The tickets are half-priced for children from 6 – 12 years. It's best to carry cash to pay for your tickets.
Sites (you must) visit in Anuradhapura:
Jaya Sri Maha Bodhi
The Sri Maha Bodhi is a shrine built around the sacred branch of the Bodhi tree under which Buddha attained enlightenment.
This sacred branch was planted here in the 3rd century BC. Today, you will see gold scaffoldings to protect the sacred tree. Buddhists around the world come here to offer worship and ask for blessings.
Ruwanwelisaya
Ruwanwelisaya is a Buddhist temple that has been completely restored. It is the centre of worship in Anuradhapura and it becomes evident when you see the crowds.
There is a massive stupa painted in white. The temple was built by King Dutugemunu who has contributed to the betterment of Buddhism in Sri Lanka.
Isurumuniya Viharaya
Isurumuniya Viharaya is another temple in Anuradhapura that you must visit. It had been a monastery for student monks during ancient times. King Devanampiyatissa constructed this sacred masterpiece.
Mirisawetiya Stupa
King Dutugemunu also built Mirisawetiya Stupa. The Mirisawetiya Stupa is quieter and less crowded than the above but it is as magnificent.
Jethavanaramaya
Built by King Mahasena, Jethvanaramaya is another significant stupa in Anuradhapura. At a height of 300 feet, it had been one of the tallest structures in ancient times.
Abhayagiriya Stupa
Abhayagiriya is the second biggest stupa in the country. King Walagamba built it. It is recorded as being a monastery and educational institute for monks.
Kuttam Pokuna
Kuttam Pokuna translates to 'twin ponds'. Built during the 9th century the twin ponds were built as a source of water. The technology and architecture of these ponds are beyond amazing.
Samadhi Buddha Statue
The Samadhi Buddha Statue is one of the most revered sites in Anuradhapura. The statue depicts Buddha in the position of meditation.
Suggested Read: Sri Lanka Itinerary 4 Weeks: Spend 1 Month in Sri Lanka
DAY 2 – Polonnaruwa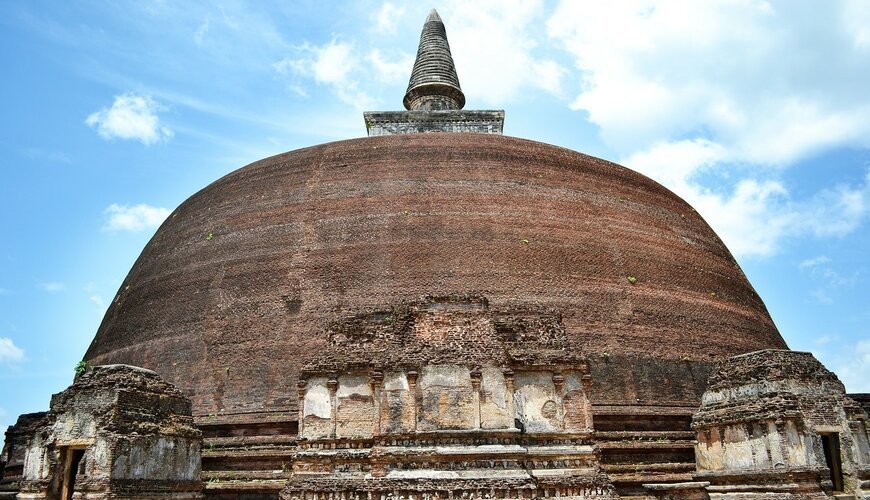 A short ride (2.5 hours) from Anuradhapura will take you to the stunning ancient city of Polonnaruwa.
Polonnaruwa is one of the greatest kingdoms which symbolise an important era of Sri Lankan history. It served as the country's capital for almost two centuries during ancient times.
It is right to say that Polonnaruwa is a mirror of identity and synchronicity of the complete happiness and great sorrows shared by Sinhala Buddhist people and Tamil Hindu people during its kingdom.
The current Polonnaruwa is a collection of great monuments, which is left by the great kings and rulers to represent the glorious history and culture they had to the future generations.
Polonnaruwa historic city is one of the foremost amazing cultural heritage cities in Sri Lanka, which was declared a world heritage site by UNESCO.
Travelling to Polonnaruwa
Polonnaruwa is located two hundred sixteen (216) kilometers away from Colombo.
We recommend you to be based in Anuradhapura and then travel one hundred one (101) kilometers from there to the historic city Polonnaruwa.
Modes of transport
It's best to hire a private vehicle for your trip. A car ride from Anuradhapura to Polonnaruwa will take up to 2.5 hours.
Public transportation is also available from Anuradhapura to Polonnaruwa. The travel time on a public bus or train would be around 5 hours. This will be a waste of time since you need one day to enjoy the monuments of Polonnaruwa.
Getting around Polonnaruwa
Polonnaruwa is also very hot and humid. Going around on foot may not be a good idea especially during the afternoon. However, you can rent bicycles to get around since the monuments are located close to one another unlike in Anuradhapura.
If you are not on a tight budget the most convenient way to explore the ancient city of Polonnaruwa is to hire a private vehicle. If you are on a low budget, you can also try a tuk-tuk but be mindful not to get scammed.
Exploring Polonnaruwa
You need to purchase a ticket from the ticket office before you start exploring. The Archeological Museum is also located within the same building so you can start from there before heading out.
It's hard to miss any significant sites in Polonnaruwa since they are located close to one another.
Kumara Pokuna
The remains of a former magnificent royal palace can be seen here today. Kumara Pokuna translates to the 'Prince's Pond' which is a royal bath constructed of stone. You will only see the remains of what was once a grand palace seven stories high.
Siva Devale 1 and 2
As mentioned above Polonnaruwa portrays the relationship between the Sinhala Buddhists and Hindu Tamils in Sri Lanka. The Siva Devale is a Hindu shrine dedicated to the Hindu deity Lord Siva. These Hindu temples are built according to South Indian architecture.
Polonnaruwa Quadrangle
The sacred quadrangle or 'Dalada Maluwa' includes several significant monuments. The Vatadage is one that stands out from the rest. The architecture in the Vatadage signifies the innovative architecture used during that era.
The other monuments to keep an eye out for are Hetadage, Nishanka Latha Mandapaya, Sathmahal Prasada, and plenty of others.
Gal Viharaya
Gal Viharaya translates to the name 'Rocky Shrine'. The shrine consists of rock sculptures depicting Buddha in meditation, standing, and lying down.
Suggested Read: Sri Lanka In October: 5 Best Places To Visit
DAY 3 – Trincomalee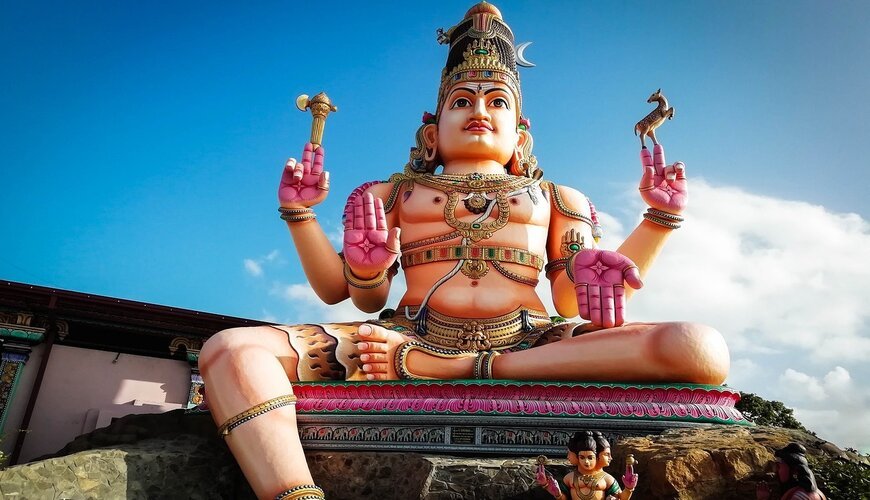 Trincomalee commonly called 'Trinco' is a city in Sri Lanka's North East Coast. Home to one of the finest natural harbours in the world Trinco never fails to charm its visitors.
Trinco Town
During ancient times Trincomalee was referred to as 'Gokkana'. Today, you find the ruins of many ancient Buddhist temples in the city hence it shows that it had once been a key Buddhist cultural as well as archeologically significant site in Sri Lanka.
Today, the majority of people in Trinco are Tamils. Trincomalee is home to the famous Nilaveli and Uppuveli beaches as well as the off-shore Pigeon Island.
Over the years Trincomalee has become a significant tourist hotspot in the country, even though it is at a distance of 250km from the city of Colombo, visitors still enjoy the journey and their time here.
How to get there?
Hire a vehicle
You can hire a chauffeur-driven car or van to take you to Trinco with T2 Travels Sri Lanka. It'll take up to 2.5 hours for the trip from Polonnaruwa. Driving yourself may not be a safe choice if you are not familiar with the local roads.
Take the bus
One of the cheapest modes of transport in Sri Lanka is the public bus. The ride from Polonnaruwa to Trincomalee will take up to 5 hours. Even though it's a cheap travel option some tourists avoid it due to the buses being crowded.
Getting around Trincomalee
To get around the city of Trinco you can use a tuk-tuk or bus since the area is very small. You can even commute but since it's very sunny during afternoons make sure to wear a cap or hat, use plenty of sunscreen lotion and keep yourself hydrated.
Whale Watching
Dolphins and whale watching season in Trincomalee is from June to September. When the whales are away you have the pleasure of watching hundreds of playful dolphins.
Pigeon Island
To reach Pigeon Island you must rent a boat from Nilaveli Beach in Trinco. The island has powdery white sand and dazzling coral gardens. It is one of the best places on the island for scuba diving.
Other locations to visit
Apart from the above, the other places you can visit in Trincomalee are, Trincomalee Natural Harbour, Commonwealth war cemetery and Trinco Market.
Suggested Read: Sri Lanka Itinerary 3 Weeks: The Ultimate Guide
DAY 4 – Sigiriya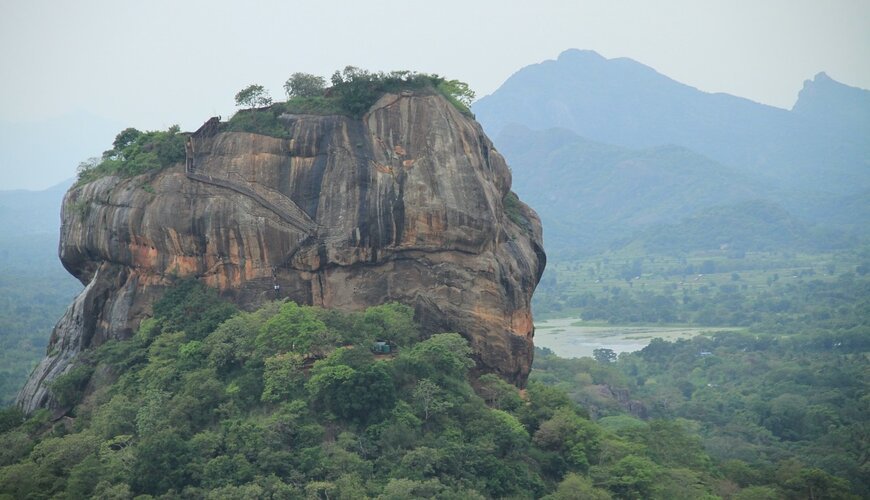 Sigiriya is an ancient palace and rock fortress in Sri Lanka. It is a significant archeological monument in the country and thousands of tourists visit the site each year.
Sigiriya is the largest as well as the most complex construction in ancient Sri Lanka. Today you only see twenty percent of the rock's original formation.
The ruins of the fortress are clear evidence of the magnificence and grandeur of the complete structure.
Visitors are unable to fathom the glory of the fortress and how impressive it would have been 1600 years before. Sigiriya has been a place of fountains, lush foliage, ponds, and vibrant pavilions.
The frescos in Sigiriya are one of its greatest attributes. All of the frescos are of women and it is said to depict the harem of King Kashyapa.
The village area around Sigiriya has been inhabited for thousands of years. When King Kashyapa took reign during the 3rd century, the Sigiriya was built as the royal residence. After his death, the palace was transformed into a Buddhist monastery but during the 14th century, it has been abandoned.
Travelling to Sigiriya
On day 4 of your Sri Lanka 2 week itinerary, you can travel to Sigiriya from Trincomalee within 2 hours. It's best to use a private vehicle since travelling by public transport will make you too tired before the climb.
Exploring the Rock
You need to purchase a ticket from the ticket counter to enter. To thoroughly explore Sigiriya Rock, it will take at least 2-3 hours. The best time to visit is early morning or late afternoon when it's less sunny. Try to avoid the weekends especially Sundays and Poya holidays since it gets congested.
The stairway is pretty narrow and the crowds become too much to handle sometimes. The climb up is not as exhausting as it looks from the bottom but if you are scared of heights then it might get a bit unpleasant in certain sections.
There are local guides that you can hire one however a guidebook can also do the trick. If you prefer on the go explanations then best is to hire a guide. Talk to the guide a little bit before committing to make sure they can explain properly in English and understand their level of knowledge.
What to expect
The entrance to the fortress is quite extravagant since you enter through massive lion paws at the foot of the stairway. There is a climb of nearly 1300 steps and it takes close to 2 hours to reach the summit and get down. Once you reach the top, you will realize that the climb was totally worth the effort.
Take a tour of the Sigiriya Museum
The museum is located outside the main entrance and the best time to go there is before you start climbing. You get interesting details of the fortress as well as a variety of photographs of Sigiriya.
The entrance ticket includes the tour to the museum as well so don't miss it!
Suggested Read: Sri Lanka In April: 5 Best Places To Visit
DAY 5 – Dambulla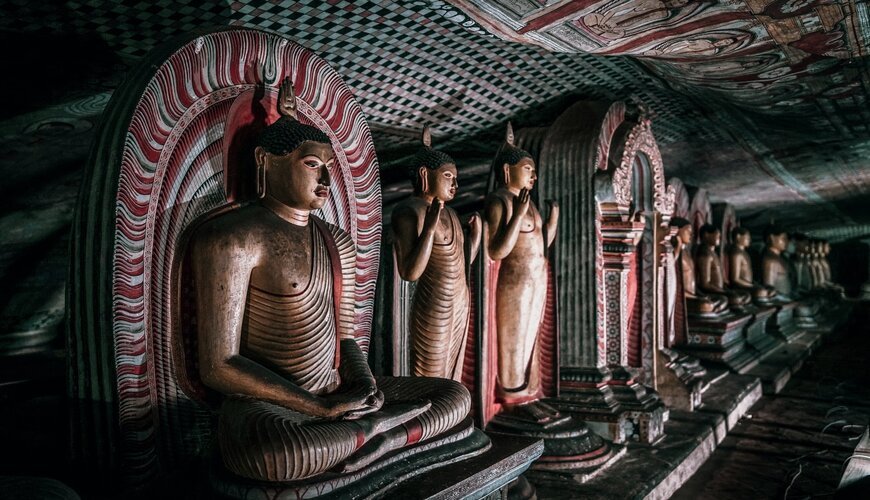 The tour of Sigiriya and Dambulla are intertwined. You will very rarely see someone visit only Sigiriya and not go to Dambulla, which is only 25 minutes away. We highly recommend you to do so too.
The major highlight of Dambulla is the Rangiri Dambulu Viharaya (Dambulla Cave Temple) so that's exactly where you need to visit first.
Dambulla Cave Temple
Dambulla Cave temple consists of five caves and a hundred and fifty-seven Buddha statues. The temple dates back to the 1st century and it's correct to say it's a historic marvel.
The temple was declared a UNESCO World Heritage Site in 1991 due to its artistic and archeological splendor and historical value. The original statues and murals are very well preserved.
The murals portray various stories related to Buddhism and the history of Sri Lanka. One of the murals depicts King Dutugemunu bearing the Sri Lankan flag.
On the eastern end of the shrine room, there is a continued drip of water that filters through the roof. The droplets are filled into a vessel and that water is considered sacred and has healing powers.
To reach the temple you need to climb up steps. From the entrance, you will be accompanied by troops of wild monkeys but don't worry since they are harmless. There are flower sellers at the entrances selling lotus flowers and water lilies.
Tip – Make sure to cover the flowers completely with paper or place them in a bag if not the monkeys jump at them.
Explore the village
Dambulla village is serene and scenic. The lush paddy fields and greenery are abundant. One of the best ways to explore this tranquil little village is to hire a bicycle. Go out in the late afternoon when it's not too sunny then you will be able to get back to your hotel before it gets dark.
DAY 6 – Kandy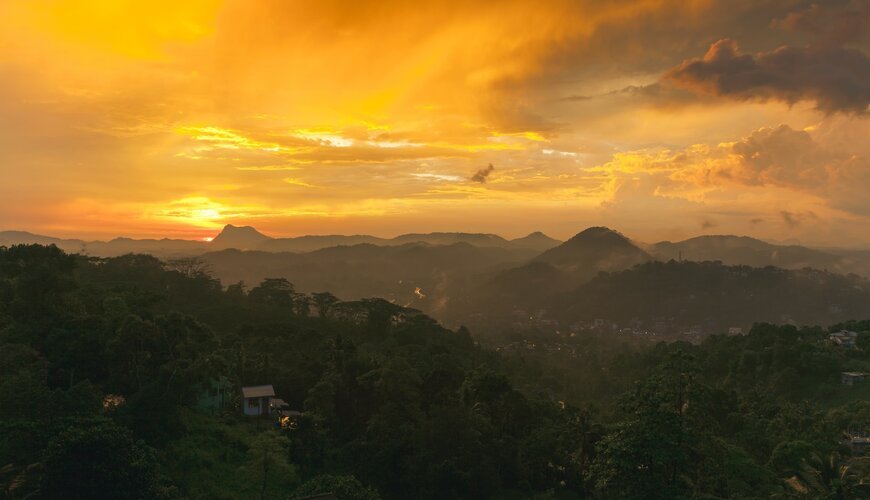 Kandy is the cultural capital of Sri Lanka. It is one of the major cities you must visit in Sri Lanka. Declared a UNESCO World Heritage Site, Kandy is a place everyone falls in love with.
The rich history and the calm soothing climate make it a desirable holiday home for many visiting Sri Lanka.
The sacred city of Kandy
Kandy is the home of the holiest tooth relic of Buddha, a very sacred and significant vestige of Buddhism in Sri Lanka. The city offers numerous wonderful sights and attractions including botanical gardens, tea plantations, spice gardens, cultural sites, etc. Kandy is also the second-largest city in the country
History
Kandy was the capital of the last Sinhala kingdom in Sri Lanka. Referred to as 'Maha Nuwara' in Sinhala, it translates to the 'great kingdom'. The culture here is so strong that it has managed to last for centuries to date.
The locals of Kandy still see themselves as a tad superior to others in the country. As the protector of the holy tooth relic of Buddha, Kandy is considered to be the guardian city of Lanka.
Travelling to Kandy
The travel time between Dambulla Kandy is around 2.5 hours if you are travelling by car.
Explore the city of Kandy
Sri Dalada Maligawa or the Temple of the Tooth is the holiest Buddhist pilgrim destination in the country. The elaborately designed temple is a significant place of worship for Buddhists from all around the world. The sacred tooth is protected in a gold casket in a guarded room.
There are specific times that one gets to take a glimpse of this holy vestige. During the annual Perahera (procession) the tooth is paraded around the city on the back of an elephant.
Sixty-five elephants parade on this procession and it is considered the largest and the most significant in the country.
Make sure to dress modestly as you would to any temple in the country. You need to wear tops that cover your shoulders and the bottom attire needs to reach at least your knees.
Kandy Lake
Kandy Lake is constructed in the center of the city. Built by the last king of Lanka, Sri Wickrama Rajasinghe, it is an additional feature to the beautifully constructed temple of the tooth.
Despite being located in the bustling city center, there is a sense of serenity when taking a stroll around it. The boat rides on the lake are fun and are ideal for any age group.
Giragama Tea Plantation
As one of the most important tea producing countries in the world, a visit to a tea plantation when in Sri Lanka is vital.
The country is home to an extensive number of tea plantations and Kandy has a few of them. The tea plants on the hilly areas are a mesmerizing sight.
The Giragama tea plantation is a short drive from the city but you can easily cover it in your two-day stay. Going to a tea plantation and seeing up close the refining process of some of the best teas in the world is well worth it.
There is a tea museum on the premises and you can taste the teas and take some back home when you leave.
Peradeniya Botanical Garden
Located 5km west of the city, the Peradeniya botanical garden is also an impressive place to visit, especially if you are with kids. Home to over 500 species of plants, it is a beautifully landscaped botanical garden in the country.
Traditional dance performances
Once you finish all the sightseeing during the daytime, make sure you keep the nights free to watch traditional dance acts. 'Kandyan' dancing is a vital dance style in the local art scene and there are spectacular shows. Some dance acts conclude with the walkers walking on fire barefoot.
DAY 7 & 8 – Nuwara Eliya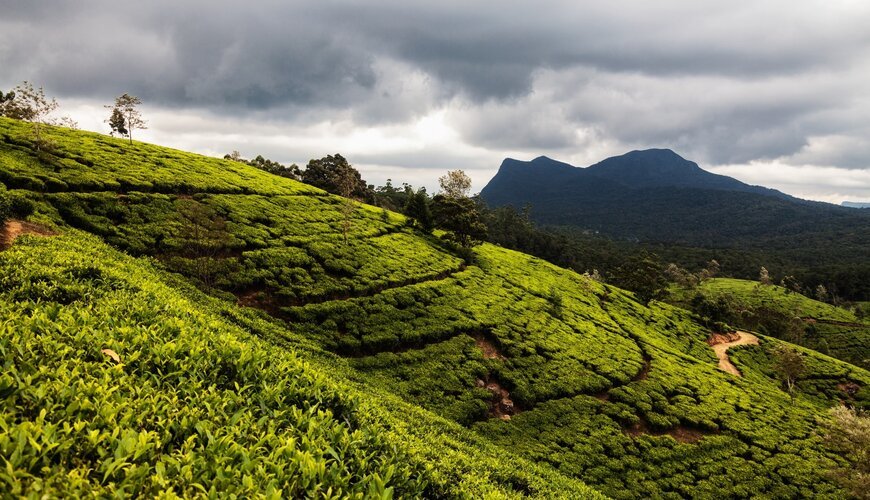 Tucked away in the central highlands of Sri Lanka, Nuwara Eliya is a place of tea, waterfalls, reminiscence of the British colonial times. Sometimes referred to as 'Little England', it is a popular holiday escape for both native and foreign travellers.
The welcoming weather and simple beauties of the town are what makes it so special and attractive.
Best time to travel
The peak season in Nuwara Eliya is in April, especially among the locals. To beat the heat in Colombo and celebrate the extended holidays due to Sinhala and Hindu New Year – everyone goes to Nuwara Eliya during this period.
If you want to explore Nuwara Eliya peacefully it's best to avoid the peak season since the roads become a nightmare with traffic jams and you will just spend hours going to see a waterfall which will be crowded with people.
There is no best time to travel to Nuwara Eliya, just keep in mind the above pointers and set a date.
The journey
The train ride from Kandy to Nuwara Eliya is quite popular. Many locals, as well as foreign travellers, love to take this route especially due to the captivating scenery you pass through. It is considered one of the most scenic train rides in the world.
Make sure to book your train ticket in advance since it's not uncommon to see the train brimming with passengers. The comfort level of the ride will depend on your ticket class and where you are seated.
Tip – If you have a motion sickness it's best to pop a pill before leaving the station in Kandy.
The scenic route
The route from Kandy kicks starts by passing through the bustling city. But when you travel further and leave behind the city you will be able to enjoy the fewer buildings and more greenery.
There'll be waterfalls, lakes, botanical gardens, and interesting little things that you pass through for four hours. If you are lucky you will be able to capture a moment before the train whizz passes.
Explore Nuwara Eliya
Your train ride in itself is an adventure. So the first day you can take it easy and head to the town. Make your way to the Gregory Lake to enjoy the little activities it offers.
Swan boat ride on Gregory Lake
The Gregory Lake in the heart of Nuwara Eliya is not something you can miss. Jet skiing is popular on the lake however the swan boat rides are a lovely idea if you want something a bit calmer. You can hire the boat for one hour and two people can pedal (not paddle) it around the lake.
The area around the lake is filled with lush greenery and it's ideal to go for a walk or if you're with children then there's plenty of space to run around.
Lover's Leap
A wonderful gift from Mother Nature the Lover's Leap waterfall is 30m high and streams down from the highest mountain in Sri Lanka the Pidhuruthalagala. There is a famous legend behind the name of the waterfall. It is said that a prince who lived in the area had met a beautiful girl in the village nearby and fallen deeply in love with her.
The two lovers who have become inseparable did not get the king's approval for their affair. Out of distress the two lovers have leaped from the waterfall and ended their lives and thus the name 'lover's leap' was given to the waterfall.
Devon Falls
When you travel on the Hatton – Nuwara Eliya Road it is impossible not to see the Devon Falls. The best view of the falls is from Dimbula where there is a car park to stop and admire the waterfall. Devon Falls drops 97 meters and is named after Devon, a pioneer coffee planter in Sri Lanka.
This is a famous place to take a rest during a long journey and you find a famous tea centre right opposite the stopover to refresh yourself with a hot cup of Ceylon tea.
DAY 9 & 10 – Ella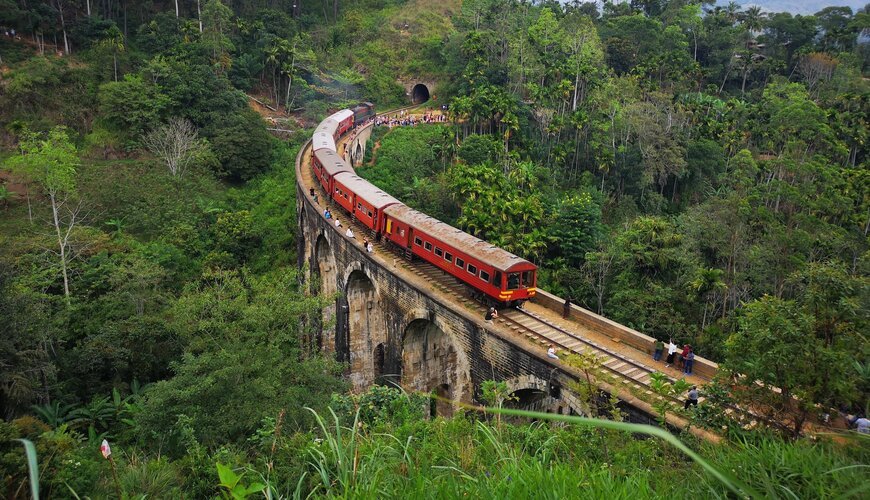 You are halfway through Sri Lanka 2 week itinerary. Just outside Nuwara Eliya, you get the beautiful hamlet, Ella. Over the years Ella has become a major tourist hub, especially among backpackers. At a glance, Ella may look like a quaint little village but don't let this laid back vibe fool you – since there's plenty of fun and adventure here!
Travelling to Ella
The ride from Nuwara Eliya to Ella will take up to two hours. You can hire a car to travel comfortably. If you are on a tight budget, you can even hop on a bus!
Getting around Ella
To get around the city of Ella you can use a tuk-tuk or bus since the area is very small. You can even commute or cycle since the weather is nice and cool you won't feel the heat. However, make sure to keep hydrated when you go sightseeing.
Visit the Nine Arch Bridge
The Nine Arch Bridge is one of the highlights of Ella. A short walk from the Ella town passing through a small jungle can get you there. The best time to visit is early morning so that you can avoid the crowds.
The lighting is perfect during sunrise too. This massive stone bridge (made entirely out of brick, cement, and stone) was built during colonial times has nine beautiful arches.
The rail track takes up most of the space and there's only a little space to walk across the bridge.
The train ride from Kandy to Nuwara Eliya that passes through the Nine Arch Bridge is considered one of the most scenic train rides across the globe.
Hike up the Ella Rock
The Ella Rock hike doesn't need a guide. You can find your way from the town if you ask someone for directions to the starting point. It's best to start the hike early in the morning since its cooler.
The hike is around 9km long and will take only a few hours. You will pass through the paddy field, tea plantations, and rail tracks on your trail. The cherry on top is when you reach the peak and see the striking scenery around you.
Dinner and Night out
Ella has got some serious backpacker vibes going on for the last couple of years. With this new trend, you get small cafes serving western food and lip-smacking cocktails with some light music in the background to set the mood.
The hip new cafes and bars come alive in the evenings. The atmosphere is nice for some mouthwatering dishes and cool beers before you call it a day.
Tip – try the local beer, most foreigners love the taste!
DAY 11 – Yala National Park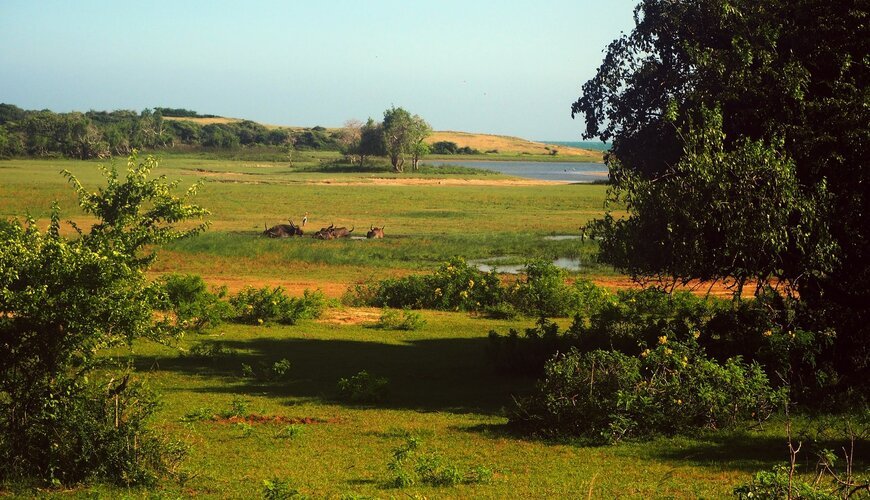 Travelling to Yala
The ride from Ella to Yala will take 2.5 hours. The best way to travel is to hire a chauffeur-driven car so that you can travel comfortably.
Best time to go
The best time to start your safari is in the morning or late afternoon. Early mornings around 5 am are the ideal time since that's when the animals wake up too.
How to go
You need to enter the park through the entrance of Tissamaharama. There are safari jeeps parked around the park and you can discuss the rates with them. Generally, a guide will also be on board or the driver will play the role of the guide too.
There is an entrance payment for which you are issued a ticket. Yala safari takes up to 3 hours. The best time to start your safari is in the morning or late afternoon.
During a safari, you will be able to sight various wild animals. But if you are interested in sighting a specific animal you can go on specific safaris. However, this doesn't mean you won't see other animals just that you have a chance of seeing the animal you want to!
Leopard Safaris
Yala National Park offers the best possibilities for observing and photographing elusive leopards in Sri Lanka. Known as one of the number one leopard watching sites in the world, Yala is the best place for those who enjoy exploring the lives of these spotted big cats.
There is no guarantee of spotting leopards during every visit however most people have been lucky to get a glimpse of one at least once. Leopards are best spotted during early mornings and evening times.
Elephant Safaris
Elephants are one of the best things about Sri Lanka; therefore, make sure you make time to see these gentle creatures in the wild. At Yala National Park you can spot elephants at any time of the year. Elephants are usually a very common sight in most national parks around Sri Lanka including Yala.
Bird Watching Safaris
Bird enthusiasts are going to enjoy the birdlife in Yala. There are over 135 resident birds and 55 seasonal guests. From September to March the lagoon at the park is filled with various aquatic birds.
If you have time after the safari to go sightseeing you can visit the sacred Buddhist temple close by.
Sithulpawwa Rajamaha Viharaya
This is a historical Buddhist temple located within the Hambantota district. It is not located inside the national park but the road leading to it. It is believed that the temple has been built in 2 BC under the reign of King Kavantissa.
The 2000-year-old temple located on the road leading to Yala National Park is one of the best historical sites in Yala. Back in the day, it has been a monastery for studying Buddhism for monks.
There are beautiful paintings and statues related to Buddhism and Lord Buddha at the temple. Many Buddhists and non-Buddhists visit the temple due to its historical significance and beautiful architecture.
DAY 12 & 13 – Mirissa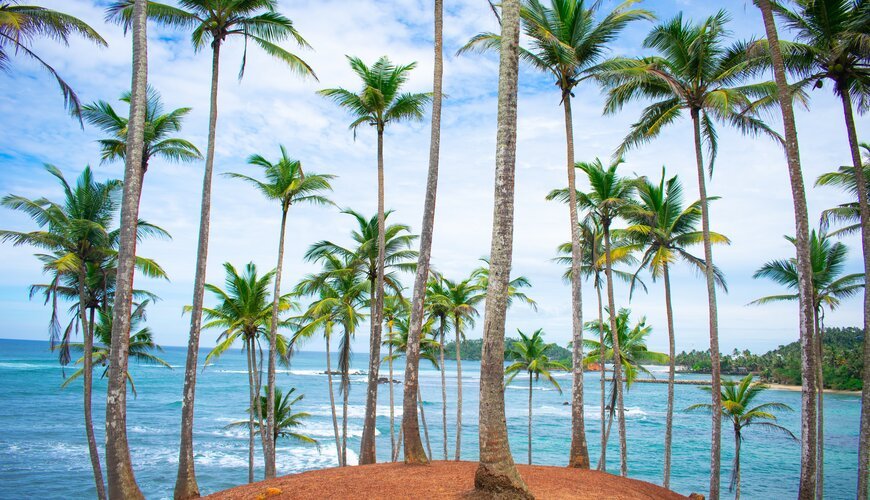 Mirissa is nestled in the southern coastal belt of Sri Lanka. This is one of the best places in the world for a stress- free holiday under the sun. The laid back vibe of Mirissa is what captivates visitors.
Beach bums are going to love the blissful Mirissa beach, which manages to remain unspoiled and less crowded than others in the south.
Mirissa beach is great for swimming but if you are more of a surfer dude, then check out the surf breaks nearby. Mirissa is all about the beach and there are no special places to see inside the town.
Since your Sri Lanka, 2 week itinerary has been jam-packed with travelling and sightseeing, this is the best time to take a deep breath and unwind.
You can relax at the beach sipping your favourite cocktail while getting a tan. The sunset at Mirissa beach will take your breath away!
Surfing
Mirissa beach is ideal for beginner and intermediate surfers. You can rent a boat for a very low cost and practice catching those waves.
Snorkelling
Snorkelling is quite popular at Mirissa. You can hire snorkeling gear and enjoy the underwater world.
Dolphin and whale watching
Dolphin and whale watching is the highlight of Mirissa. During the season that is from October to May – you are guaranteed to see whales! Mirissa beach is considered one of the best places in the world for whale watching. Blue whales and playful pods of dolphins are a common sight here.
Whale watching excursions begin at 6 am since it's the best time. You need to buy a ticket for the tour and most operators serve breakfast on board. This is one of the best experiences in Mirissa and one that you will truly cherish.
Tip – If you are prone to seasickness, pop a pill before leaving so that you can enjoy the tour!
Nightlife
The nightlife in Mirissa is lively and happening! Many bars have happy hour at sundown and the cocktails are pretty cheap and yummy. There are plenty of beach parties so you can have a great night out.
Beach hopping
On your second day in Mirissa hire a scooter and travel to the other beaches on the south coast. Weligama, Koggala, and Dalawella are the nearest.
DAY 14 – Colombo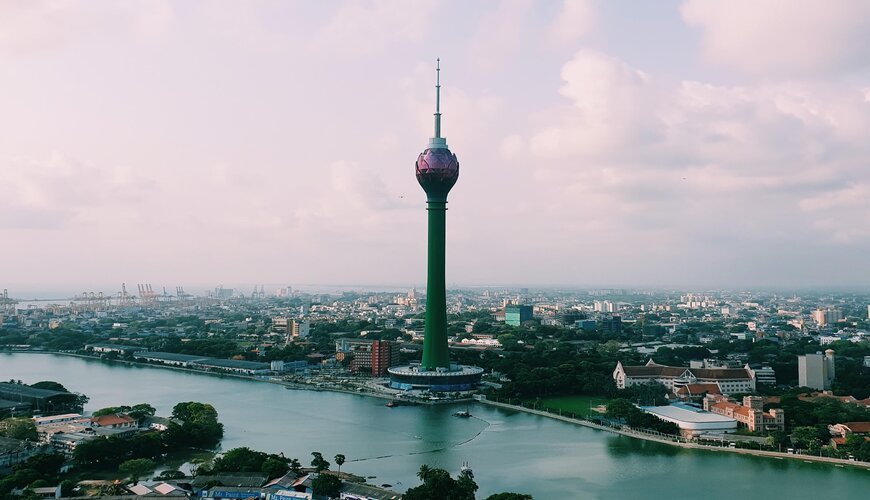 Oh, Colombo!
The commercial capital and the business hub of sunny Sri Lanka – Colombo never fail to impress. It's rights to say that Colombo is far less laid back than other capitals in the south Asian region.
The streets do have traffic jams during peak hours however it's not a city you will call hectic or make you feel dizzy with congestion and crowds.
For a visitor, Colombo may seem too commercial for a holiday but only a true Colombo-goer will understand the beautiful idiosyncrasies the city offers. With a population of 5.5 million people, Colombo is a city that has developed a lot during the past years.
The city has expanded quite a bit with high skyscrapers, new roads, plush hotels, and top-class shopping malls that have come up. The Lotus Tower is the latest addition to Colombo's architecture. It is currently the tallest self-supported tower within the South Asian region. Colombo is
Colombo is the business hub and the biggest city in Sri Lanka. It is a vibrant city that draws together the cultures and people that make up this nation from all parts of the country.
Blending old colonial architecture, modern high-rise buildings, friendly people, good food, and great entertainment, Colombo is truly the best city in the country to live in. Colombo is divided into fifteen zones that are numbered from Colombo 1 – 15.
Travelling to Colombo
To travel from Mirissa to Colombo on the southern highway it will take up to 2.5 hours. The best way to make your way is to hire a private vehicle with a driver.
You can also use public transport such as the bus or train but if you are carrying heavy luggage this may not be a good idea.
You have reached the end of your Sri Lanka 2 week itinerary so spend your last day in the country in true Lankan style. Make sure to plan out your schedule with ample time to reach the airport to avoid the last-minute rush.
Discover Colombo
You may not be able to do all these things in just one day. But this is simply a guideline on the most popular and enjoyable things to do while you are in Colombo. You may want to pick one or two things to try out from the list.
Take a stroll down Galle Face Green
When you are in Colombo, Galle Face Green cannot be overlooked. This is the best place to witness the sunset above the glistening blue Indian Ocean. If you are travelling with kids you can spend some quiet time playing, flying kites, and enjoying the sea breeze.
This is one of the best places to enjoy local street food such as 'isso vade', boiled chickpeas in paper cones, and other snacks.
It's also a common sight to see lovers taking shelter under large umbrellas whispering sweet nothings to each other or sharing their emotions in silence.
Early mornings are also beautiful here. You see many people walking, jogging, or exercising before starting their day.
Tip – Do taste the isso (prawn) vade
National Museum
The National Museum is located in the heart of Colombo. Built during the 18th century, it is the biggest museum in the country.
The museum exhibits statues and other historically significant artifacts from Sri Lanka. The museum unveils a beautiful collection from the former kings of Sri Lanka.
The National Museum is open on all 7 days from 9 am to 5 pm unless it's a public holiday. You have to buy a ticket before entering.
Gangaramaya temple
The Gangaramaya Buddhist temple is one of the most unique temples in Sri Lanka. It's very grand in comparison to the other temples you would have across during the last two weeks.
The temple complex has a lot of Buddha statues in various sizes. If you are travelling in February you have a chance to see the famous Navam Perahera (procession) which commences and ends from the Gangaramaya Temple.
Take a tuk-tuk ride
A trip to Colombo is incomplete without a tuk-tuk ride! It gets pretty tiring to walk around Colombo due to the heat and tuk-tuks are your best option.
There's nothing 'cooler' than the feeling you get when whooshing past the streets of Colombo on a brightly coloured tuk-tuk blasting music.
One of the main modes of transport for both locals and foreigners tuk-tuks are a great way to get around.
Tip – It's always best to negotiate the charges before getting in. You need the driver to wait till you return then discuss the 'waiting charges' too.
Walk the streets of Pettah
Whether you want to shop (or not) drop by in Pettah. Be prepared for crowds and commotions since that's what Pettah is mostly about! The best time to go is at 10 am when the shops begin to open.
The best way to explore Pettah is on foot since it's impossible to find parking the shops are all within walking distance. If you want to do some last minute shopping this is the best place.
You can get simple knickknacks and even souvenirs to take back home.
You can get some good bargains here. You will also come across the amazing architecture. Check out the Wolvendaal Church and Dutch Period Museum for colonial-inspired architecture and the magnificent Jami-Ul-Alfar Mosque (or Red Mosque) is a must-see.
Tip – Many people suggest to bargain before buying something from the local markets. If you are buying from a roadside vendor please be mindful that they are not very rich and that is how they make a living.
Farewell Sri Lanka
Since your 2 week Sri Lanka itinerary has come to an end, get ready to head back home. Make sure to get ready early since you may get stuck in traffic. One thing we know for sure is that you will want to come back for more.
If you want 2 week Sri lanka itinerary contact T2 Travels Sri Lanka where we can customized two weeks Sri Lanka itinerary package or check our Sri Lanka tour packages page to choose pre-designed Sri Lanka packages.
Ayubowan!