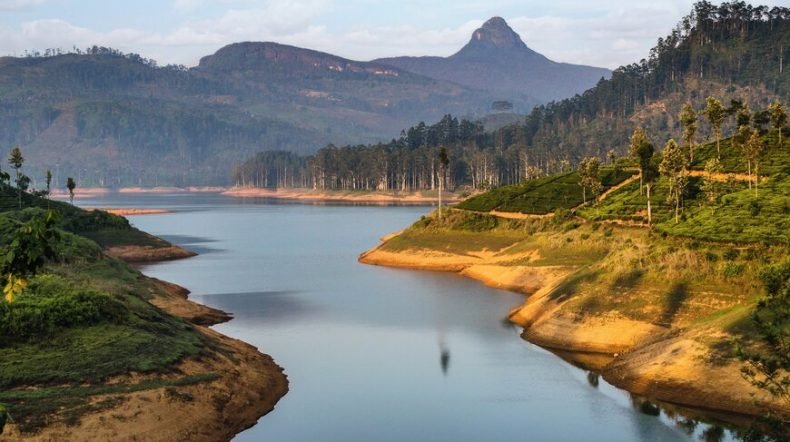 We have designed the best matching two weeks tour plan covering the best part of the Paradise Island as follows. Check how do you like the following Sri Lanka 2 week itinerary.
Sri Lanka 2 week Itinerary Summary
DAY 1 – Anuradhapura
DAY 2 – Polonnaruwa
DAY 3 – Trincomalee
DAY 4 – Sigiriya
DAY 5 – Dambulla
DAY 6 – Kandy
DAY 7 & 8 – Nuwara Eliya
DAY 9 & 10 – Ella
DAY 11 – Yala National Park
DAY 12 & 13 – Mirissa
DAY 14 – Colombo
DAY 1 – Anuradhapura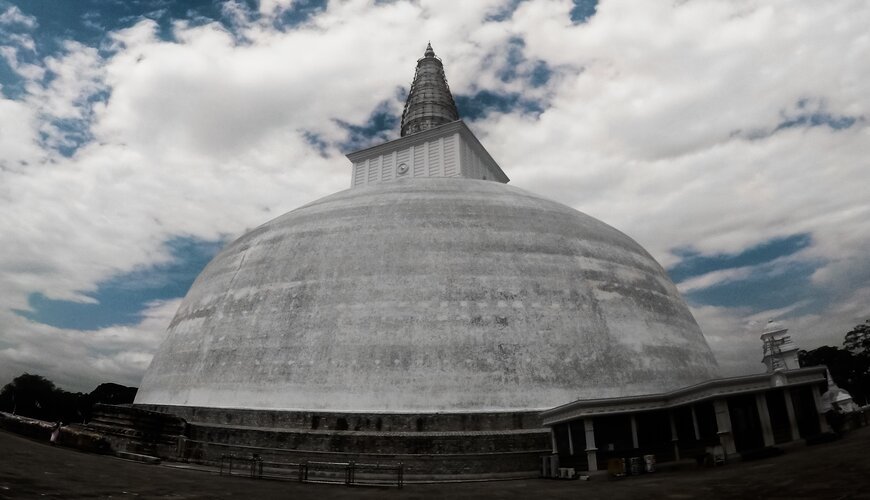 Sri Lanka 2 week itinerary starts from Anuradhapura which is a cultural location in Sri Lanka.
A destination that depicts a priceless worth to cultural and historical significance's in the paradise island Sri Lanka. A drive take a little bit longer to four hours, yet the city will make you feel that you are blessed to be here.
Anuradhapura proudly claiming a history of more than 2000 years, that's where will discover the heritage of the country and the ancient glory presents by a dilapidated monarchy.
The monuments and the ruins that you will find in the city will prove how Anuradhapura has been stood as a prolific kingdom back then.
Anuradhapura is known as the first civilized capital to Sri Lanka and so as you can see monuments and remains of decrepit citadels, royal palaces, Buddhist sites, giant Stupas, incredible series of reservoirs and many more.
If you are looking for a relaxing holiday, Anuradhapura is surely best to visit and you will be amazed by the magical atmosphere that the city is creating specially with dusk, and you will be comforted by the religious chants, the aromatic sensation produces by the temples around, undisturbed nature, freshly cooked local dishes and many more.
A bicycle rides and evening strolls by the river banks at sunset are best recommended as you will explore an unforgettable experience when the sunset projects radiant colors right above the lakes and stupas.
Suggested Read: Sri Lanka Itinerary 4 Weeks: Spend 1 Month in Sri Lanka
DAY 2 – Polonnaruwa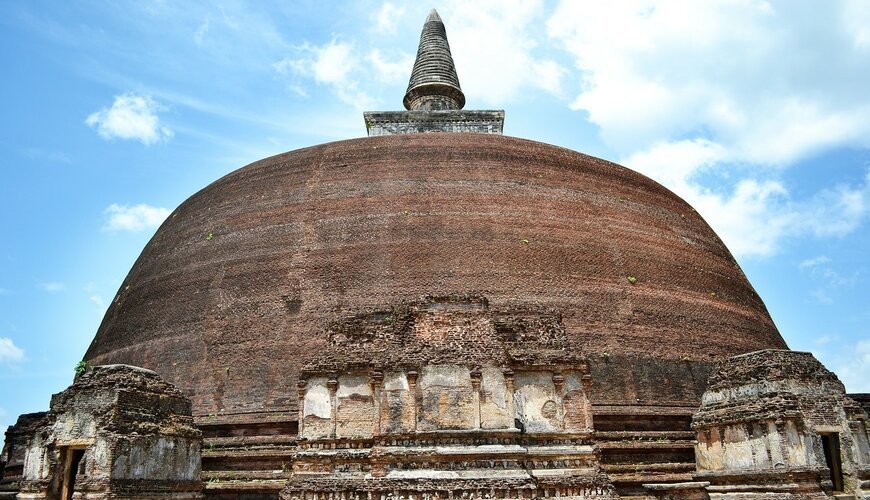 From Anuradhapura we are moving to the second regal capital that has been to ancient Sri Lanka.
It is just two hours' drive in reach and 103 Km away in distance. You may find Polonnaruwa as a tranquil retreat that will keep you away from the bustling and rustling life chaos.
A destination with full of simulations Polonnaruwa has a lot to add your holiday to make it a memorable one. Similar to Anuradhapura, Polonnaruwa also shares a good amount of heritages related to the history and culture in Sri Lanka.
Polonnaruwa offers you a series of architectural values that you can discover with the ruins and remains of old castles, temples, shrines, amusement places, giant Dagoba and many more that are persevered and presented all over the city.
The sunset hours are one of the most mesmerizing at Polonnaruwa, whereas you can experience the bliss of nature when the cool breeze that come across the pensive waterways, temples and magnificent monuments blows away your sorrows and grieves right there.
Suggested Read: Sri Lanka In October: 5 Best Places To Visit
DAY 3 – Trincomalee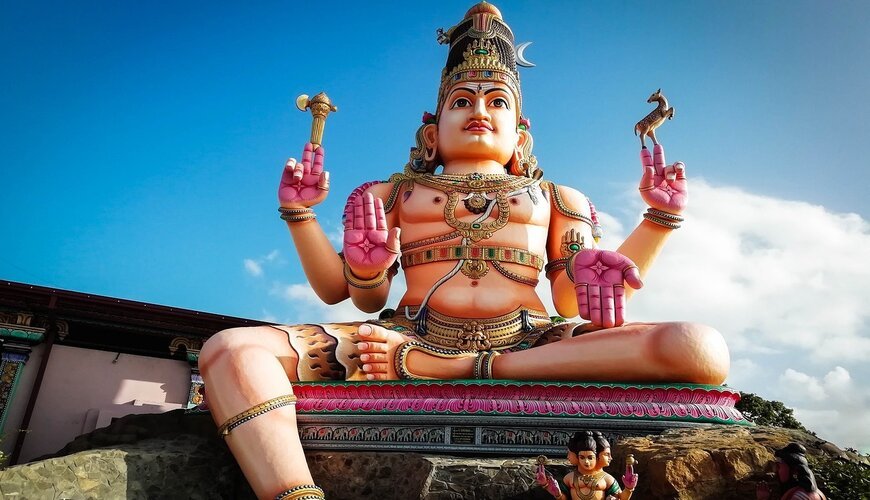 We are about to add some sun, sand, sea moments to your two weeks travel plan to discover the best of the world in Sri Lankan style. The first from our beach series that adores your itinerary is Trincomalee. The most popular sophisticated beach town based in east coastline Sri Lanka.
From Polonnaruwa you will arrive to Trincomalee in approximately around 3 hours. Trincomalee is located 130 Km away from Polonnaruwa. A stay by the warm water will definitely refresh your thoughts and vibes.
There are so much of activities that you can do in Trincomalee and the experiences that you will get also having a great variety.
Trincomalee is a complete holiday packages where you can find decent good hotels, delicious local meals, beaches, watersports, religious, adventurous, cultural and historical sites and many more.
If you are arriving here at a lucky season you may proceed with whales and dolphin watching too.
Suggested Read: Sri Lanka Itinerary 3 Weeks: The Ultimate Guide
DAY 4 – Sigiriya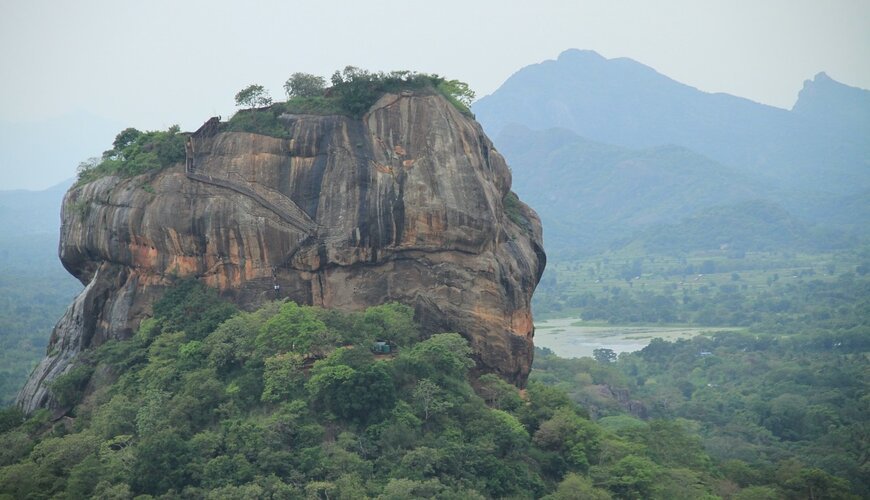 On fourth day of your Anuradhapura we are moving to one of most iconic destinations in Sri Lanka and that is Sigiriya.
The drive will take 2 hours to reach the city, and surely it will not make you tied to explore the best of the city.
Sigiriya stands as the one of the greatest destinations in Sri Lanka for many reasons. First surely the historical, historical and religious highlights that bringing to your itinerary by the city are absolutely mesmerizing. The varieties of the hotels and the local experiences that you can get from here also very remarkable.
From the must visit places Sigiriya Rock Fortress, Minneriya national park, Hiriwadunna lake, Pidurangala rock, village tour are at the top listed list.
If you are also looking forward to add some relaxation to your stay, there are a lot of reason that you will fall in love with Sigiriya as it offers you such a calm and quite locations with its dry land features that will comfort your stay.
Suggested Read: Sri Lanka In April: 5 Best Places To Visit
DAY 5 – Dambulla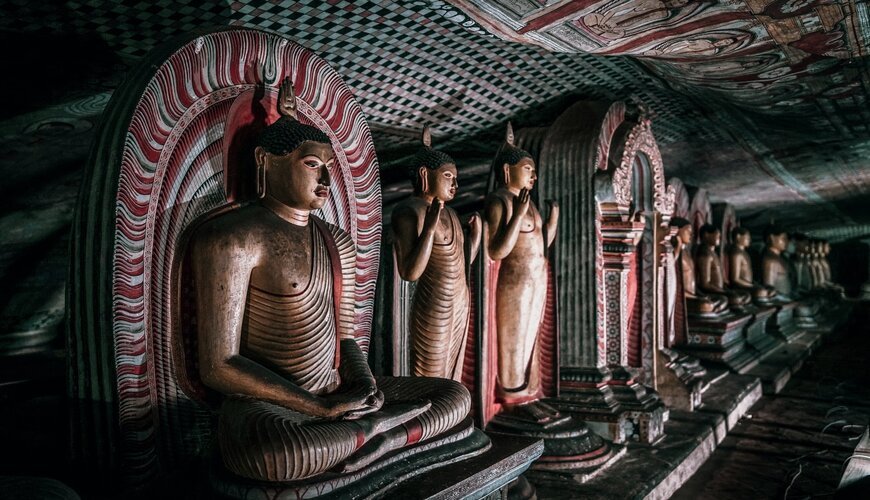 Dambulla is a destination that you can discover right next to Sigiriya. Proximity wise it is just 20 to 30 minutes away.
Dambulla shares good amount of touristic values similar to the closest destination Sigiriya. And most tourists destination in Sri Lanka easily accessible from here that making Dambulla is famed and favored by many tourists.
This is one of the most fascinating destinations in Sri Lanka that has many historic and cultural heritages to explore. Another plus point about Dambulla is if you don't like much traveling by packing and moving around you have the chance either base in Sigiriya or Dambulla to explore both destination and the sites around.
There are few main attractions that you can visit at Dambulla. The most popular attraction in Dambulla is the Dambulla cave temple. You may have seen fascinating pictures of Sri Lanka that are very inviting, and Dambulla cave temple may surely include in those collection.
At here you will find an inspiring Buddha's statue in gold that is considered as the largest Buddha's statue in Asia that you can see in Dhyan Chakra pose. From here you can enter a small museum that is full of wall arts. The terrace that you find here will give you amazing views around.
Apart from the Dambulla cave temple you may also visit Kaludiya Pokuna, Popham's Arboretum, National Namal Uyana, Habarana Lake Etc.
Suggested Read: Best 10 Places To Enjoy Nightlife in Sri Lanka
DAY 6 – Kandy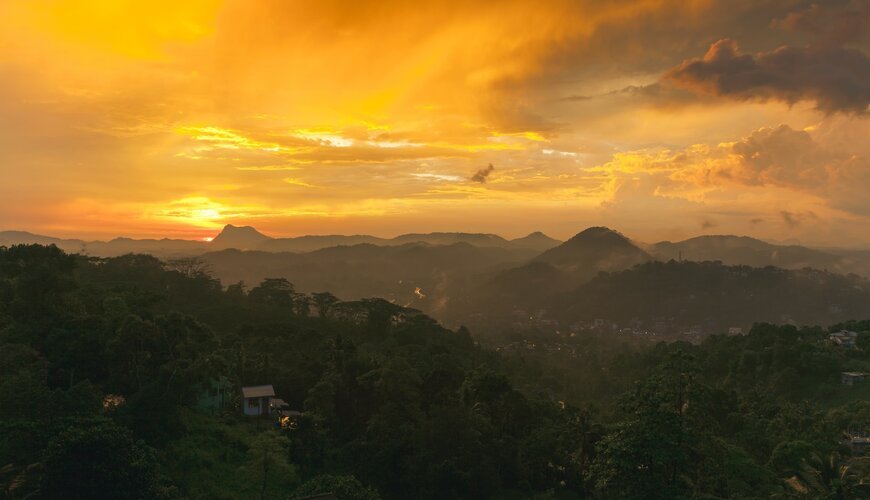 From Dambulla we are heading to the hill capitals in Sri Lanka and that is none other than one of most famous local and tourist destination in Sri Lanka Kandy. It is just 2 hours and 30 minutes that you have to make to discover this fascinating city.
The considerable part of the city has urbanized where you may not find it much pensive and relaxing, yet don't worry at all as you moving a little bit away from the town the scene that you get are incredible.
Kandy is not just offering you the spectacular views, it also has a good amount of cultural, heritages and natural sites as well.
The most revered Temple of Tooth also located base on Kandy, where you may visit and get the holly blesses. Kandy is very distinguished city compared to the rest of the destinations in Sri Lanka.
So as you will get to see many cultural and historical heritages everywhere you walk around. You may also try delicious authentic meals that are cooked from the best recipes taken from Sri Lanka's culinary magic.
The Royal Botanical Garden, Embekke temple, Spice Garden, Hantana Tea Museum, Batik Factory, Gem shops are some of the attractions that you can visit at Kandy.
DAY 7 & 8 – Nuwara Eliya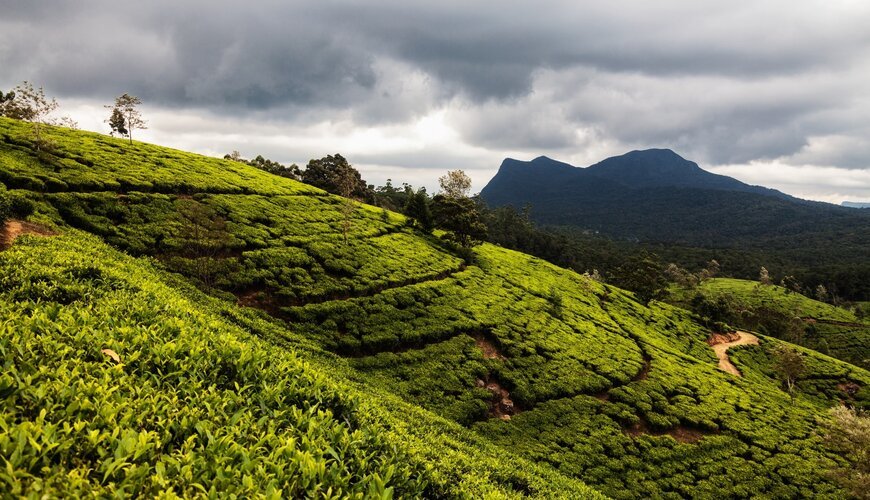 The 7th and the 8th day of your two weeks journal will take you the most fascinating places at breathtaking Nuwara Eliya. Nuwara Eliya is 2 hours' drive away from Nuwara Eliya.
Nuwara Eliya is based on the central highland of the hill country in Tear Drop Island Sri Lanka. This has make the city such a spectacular to those everyone who enters the destination.
Knowing as the "little England" Nuwara is quite a resemblance of a homestead in England. The city is full of natural fascinations where you will come across the highest mountain ranges that embrace the sky, the foggy mount tops and meadows, dancing waterfalls, lush greenly tea plantations and many more.
Nuwara Eliya is also called as a romantic destination as it is complete open studio that produces charming setup for pictures. Another exciting activity that you can add to your holiday is the tea planation visit, whereas you will get the opportunity to taste the finest tea that produces to the world in "Ceylon Tea" brand for free.
The freshly made cup of a Ceylon tea will surely add the warmth and the taste to your travel journal.
The waterfall visit, tea plantation visit, Hotain Plains, Haggala Botanical Garden, Strawberry farm are few of the activities that you can add to your itinerary.
DAY 9 & 10 – Ella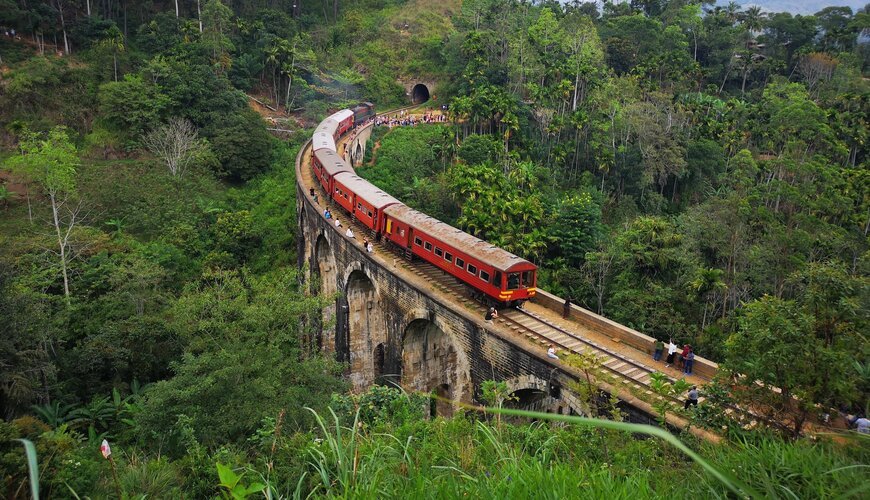 We are moving to one of the most awaited part of the tour and that is visiting Ella. Ella is two hours' drive away from Nuwara Eliya further to the central part of Sri Lanka. Ella is a little town but that is full of natural highlights.
Ella is one of the most picturesque locations in Sri Lanka and so as in the world. It has also become one of the most instergrammed places also in the world.
If you are lucky to get a ticket to explore one of the most scenic train rides in the world, you can proceed too Ella from Nanu Oya station based in Nuwara Eliya and this is absolutely full of charming sites and breathtaking views.
Ella is sheltering a series of waterfalls, mount high with greater views, comfortable climate and alluring natural and geographical landscape. This has made Ella not just a natural attraction but also an adventurous site as well. There are many exploratory activities that you can try out at Ella.
Among that visit 9 arch Bridge Ella Gap, Ella Rock, waterfall visit, tea plantation visit, and Mini Adam's peak are known as the most famous.
You may also try a natural bath at a safest place in Ella and that also will make your stay a memorable.
DAY 11 – Yala National Park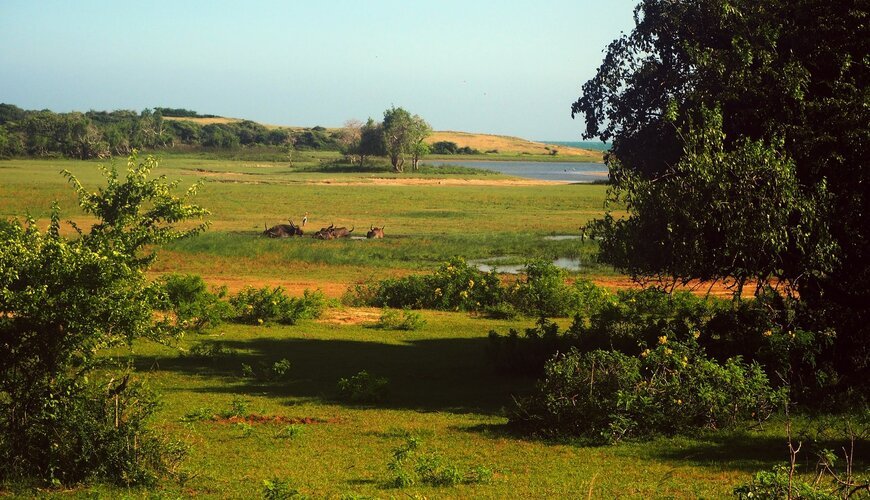 To add some wildness to your two weeks journal we will take you to the second largest national parks in Sri Lanka that is known as Yala. The drive takes a little bit longer but don't worry your trails will end by so many natural highlights.
Geographical wise Yala is different from the destination that is you visited so far. The setup is full of dry lands and producing warmth to your stay. Yala is one of the most relaxing sites in Sri Lanka whereas you will experience comforting breeze by undisturbed nature.
Yala is homing for many wild animals especially including leopards, elephants, wild bores, deer, many number of endemic birds and many more.
You may also experience a night under a starry sky at an exciting camping session if you are interested. The scenic Kirinda beach also close by to Yala.
DAY 12 & 13 – Mirissa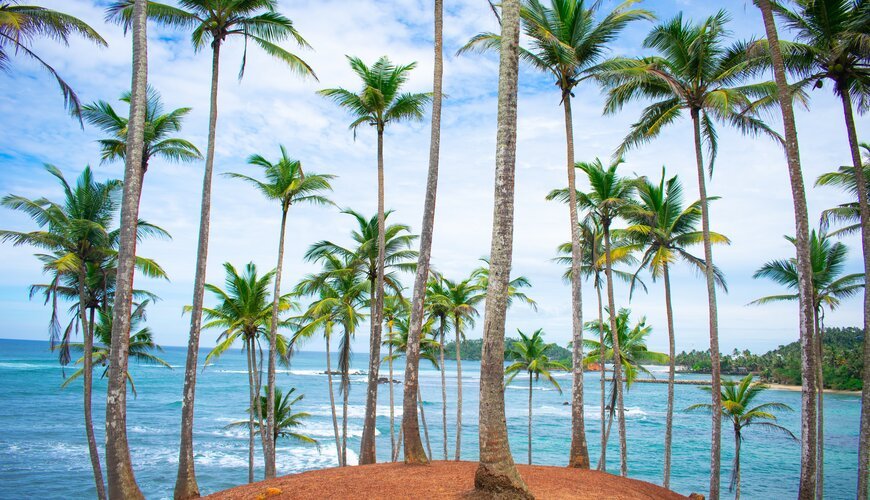 We have added two nights stay for you at the most fascinating Mirissa, one of the most popular and scenic beach destination that alluring the down south coastal line of Sri Lanka.
Mirissa is one of the most celebrated destinations in Sri Lanka that attract so many tourists coming from all around the world. Mirissa is especially known for whales and dolphin watching mostly during the period from November to April.
Coconut Hills, Parrot Rock, Galle Fort, Stilt Fishermen are some of the accessible sites from Mirissa. Another fascinating point about Mirissa is that is one of the best places in Sri Lanka where you can explore pensive and relaxing evening by enjoying the sunset moments.
And during your stay do not forget to try the especial sea food dishes prepared with the best spices in the island and cooked by using authentic Sri Lankan recipes. Mirissa is such a relaxing escape that you should not miss out.
DAY 14 – Colombo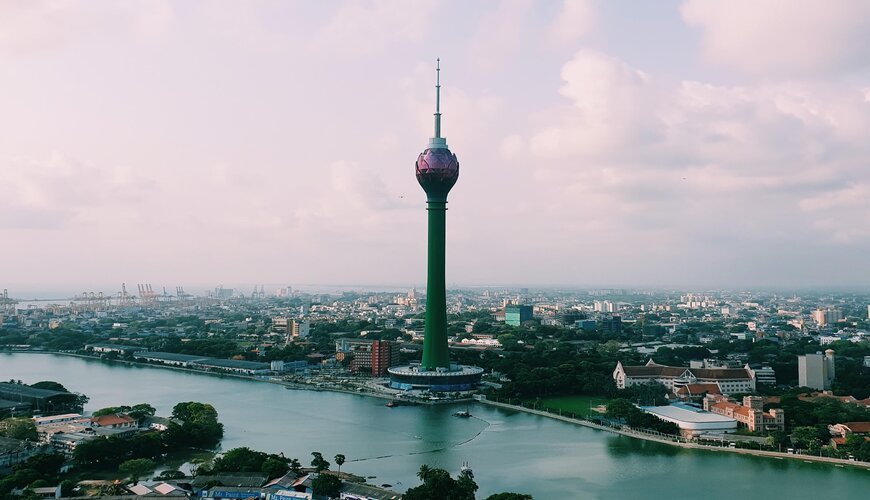 Your Sri Lanka 2 week itinerary ends in Colombo.
Sadly we are coming to the last day of your unforgettable two weeks stay at the Paradise Island of Sri Lanka. With so much of memories that collected by exploring around the island and comfort that you get among the warmth of a friendly nation you will arrive to the commercial capital of Sri Lanka that is known as Colombo before departing the island.
Colombo is producing a setup of a busy town yet you will still have some historical and cultural places to visit. And Colombo has a series of location and international dining options and going onwards if you are a street food lover you may also experience a great variety of street food right at Colombo.
Colombo international airport is just 45 minutes away from Colombo is via the expressway, and based in Colombo on your last is also safe for early departures.
Contact T2 Travels Sri Lanka the best travel agents in Sri Lanka to get Sri Lanka 2 week itinerary and visit Sri Lanka for 2 weeks.