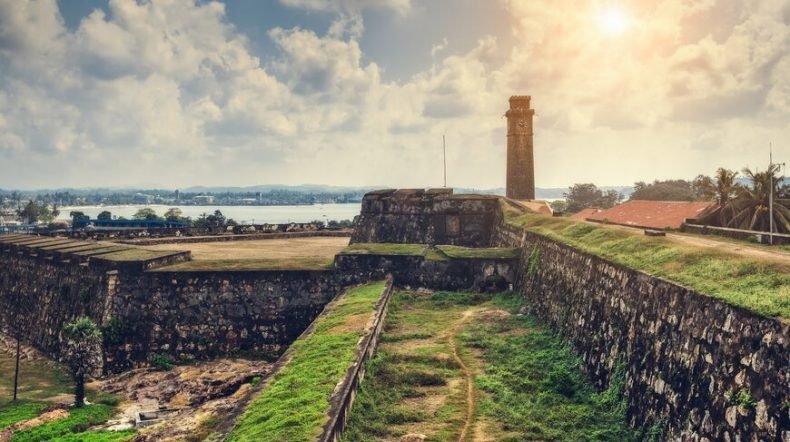 Looking for Sri Lanka itinerary for 4 weeks? Sri Lanka, the pearl of the Indian Ocean is a small island that has been making a big impact on travellers. It's a place where everybody wants to go and the ones that visited have nothing but good to say.
The wonderful thing about Sri Lanka is that even though it's small, there's so much diversity. This is exactly why we invite visitors to try Sri Lanka 1 month itinerary and make the most of your time in the country.
T2 Travels Sri Lanka offers comprehensive and customised Sri Lanka tour packages to suit the varying needs and budgets of our visitors. So give us a buzz or drop us an email if you don't see what you are looking for here.
Walkthrough the lush green tea plantations, and learn about the process of tea making. Enjoy the most gorgeous beaches on the planet. Learn about the fascinating history, ancient temples, and rich cultural heritage.
Be amazed by the wildlife with elephants, leopards, deer, monkeys, and myriad birds roaming freely while the oceans are home to whales, dolphins, and turtles amongst others.
With all this and more, what makes Sri Lanka one of the most amazing destinations in Asia is the – people and of course the food!
Sri Lanka Itinerary 4 Weeks Summary
Day 1 – Negombo
Day 2 – Dambulla
Day 3 & 4 – Sigiriya
Day 5 – Polonnaruwa
Day 6 – Anuradhapura
Day 7 – Wilpattu National Park
Day 8 – Nilaveli
Day 9 & 10 – Trincomalee
Day 11 & 12 – Kandy
Day 13, 14 & 15 – Nuwara Eliya
Day 16 & 17 – Ella
Day 18 – Arugam Bay
Day 19 & 20 – Yala
Day 21 – Udawalawe
Day 22 – Sinharaja Forest
Day 23 – Matara
Day 24, 25 & 26 – Galle
Day 27 – Hikkaduwa
Day 28 – Bentota
Day 29 & 30 – Colombo
Day 1 – Negombo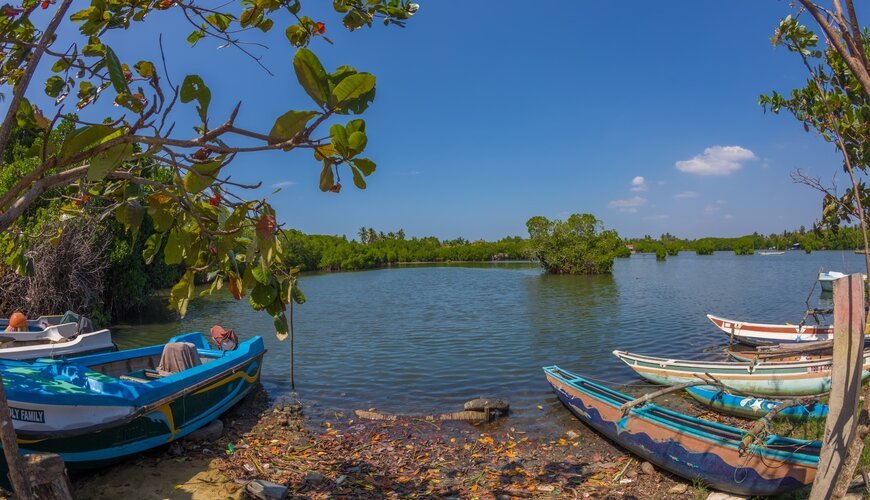 Located minutes from the airport in Katunayake, the fishing town of Negombo is a great place to begin your holiday.
You can relax your jetlagged muscles by soaking up the sun and enjoy the warm hospitality.
Even though Negombo is a busy town there's no commotion so you can take the time to breathe in the fresh salty air and get ready for a holiday of a lifetime.
If you are curious to see a south Asian fish market, then Negombo is your place. Most of the residents make a living as fishermen or fishmongers in Negombo so it's a big deal here.
If you arrive a day early then you can start around 6 am when the fishing boats come to the shore.
The first thing you will notice at the market is the stench, which becomes bearable after a while. If you plan to buy fish then you will notice they come in various sizes starting from tiny sprats to the bigger types such as shark.
You can click some nice pictures at the fish market with the fishermen clad in vibrant sarongs and straw hats.
There is a canal that goes around the town. You can take a city tour on a boat ride that's quite fun. The tour usually covers
– St. Mary's Church
– Angurukaramulla temple
– Fisherman's Bay
– Negombo city.
Tip – If you enjoying shopping, Negombo has plenty of places to grab nice little pieces of jewellery or buy something you forgot to pack.
Suggested Read: Sri Lanka In November: 5 Best Places To Visit
Day 2 – Dambulla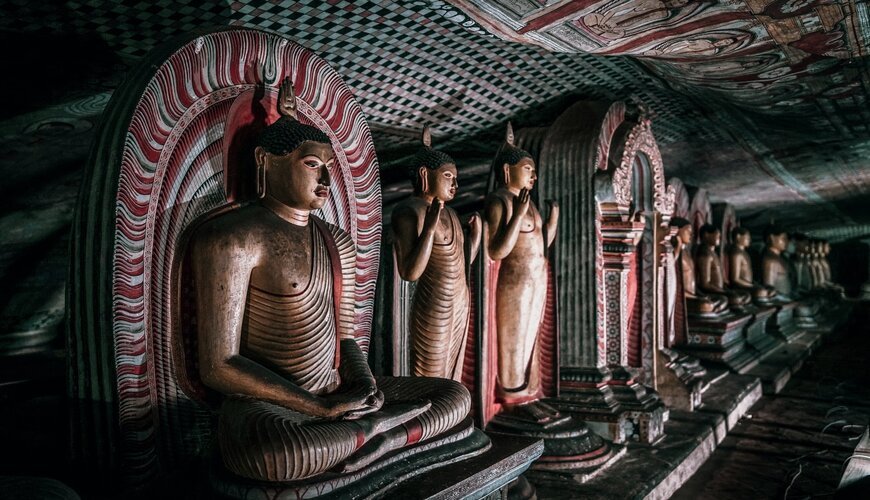 A four-hour car ride will take you to Dambulla from Negombo. These are two completely unique locations so you will feel a sudden shift in weather, setting, and landscape.
Dambulla is a village that is centrally located and is very popular for vegetable cultivation.
Most of the vegetables sold in Colombo are transported from Dambulla. In terms of sightseeing, Dambulla is most famous for the Rangiri Dambulu Cave Temple.
The Dambulla Cave Temple consists of five caves of varying sizes. The caves feature hundreds of Buddha statues that have been created over 20 centuries.
The walls and ceiling are covered with murals depicting Buddhism and the Sinhalese race in Sri Lanka. It is a very sacred temple and you will see Buddhists paying homage by offering lotus flowers.
There is a Bodhi tree and a lotus pool outside the cave, where you can rest after ascending 800 steps. Make sure to buy the ticket at the entrance if not you will have to go back down.
There are mischievous monkeys everywhere, avoid offering food or interacting since they gather around in groups to grab food and flowers if encouraged.
The temple was declared a UNESCO World Heritage Site in 1991.
Once you descend from the cave temple, you will see the Buddhist Museum with a massive golden Buddha statue. It's worth exploring this temple and taking a quick walk around the museum.
After a busy day exploring temples, you can head back to the village in the evening. One of the best ways to enjoy the scenery and mingle with the locals is to cycle around the narrow streets of Dambulla.
Suggested Read: Sri Lanka Holiday Packages from Australia
Day 3 & 4 – Sigiriya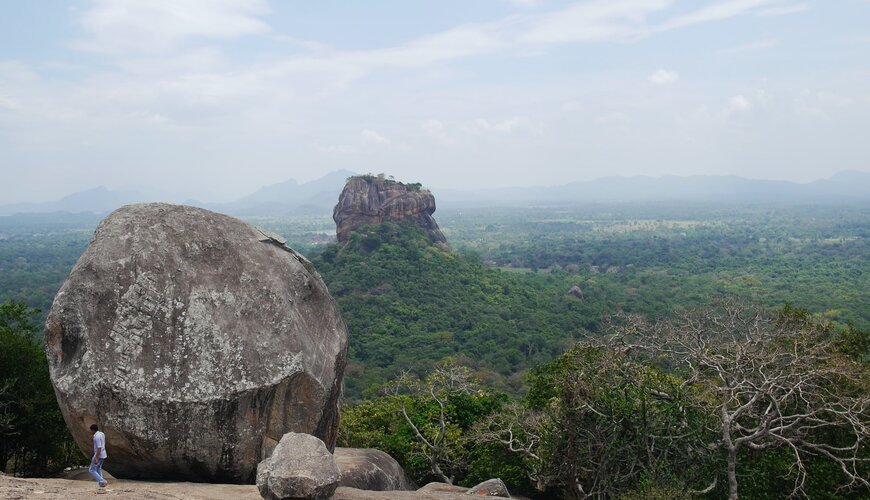 You will spend the next two days of your Sri Lanka itinerary 4 weeks, in one of the most visited locations in the country – Sigiriya.
Sigiriya or Lion Rock is one of the most complex constructions of ancient Sri Lanka. What is left today is merely twenty-five percent of the original construction.
The size of the original form is assumed to be massive. Many tourists cannot fathom the splendor of the fortress, which was there 1600 years ago.
Sigiriya can be considered one of the best-preserved examples of primeval urban planning in the world. There is a grand entrance to the fortress since it is through giant lion paws where the stairway starts.
There are about 1200 steps to climb and it takes up to two hours to reach the top and climb down. You can expect to see a moat, water gardens, and amazing archeological features on the Rock.
Sigiriya has an advanced hydraulic system, which includes, lakes, fountains, canals, and underground water pumps that function well enough to provide water to all parts of the site to date. The climb to the top is totally worth it.
Sigiriya Museum
You can easily finish the tour around the museum within 1 hour. Since the museum is located outside the main entrance you may want to visit it before starting your climb. You get lots of photos of Sigiriya excavations, frescos, translations of the graffiti. The entrance ticket covers the museum tour as well.
On your second day there, don't miss a chance to climb the Pidurangala Rock. Many people choose Sigirya over Pidurangala but to be honest you MUST do both!
It's best to reach the summit to see the sunrise or sunset since the weather is much more pleasant then. The hike up takes around one hour and the view from the top is breathtaking.
Just like in Dambulla you can hire bicycles to explore Sigiriya in the evening. If you have no budget constrains one of the most unique and exciting things to do in Sigiriya is take a hot air balloon ride!
Suggested Read: Sri Lanka In August: 5 Best Places To Visit
Day 5 – Polonnaruwa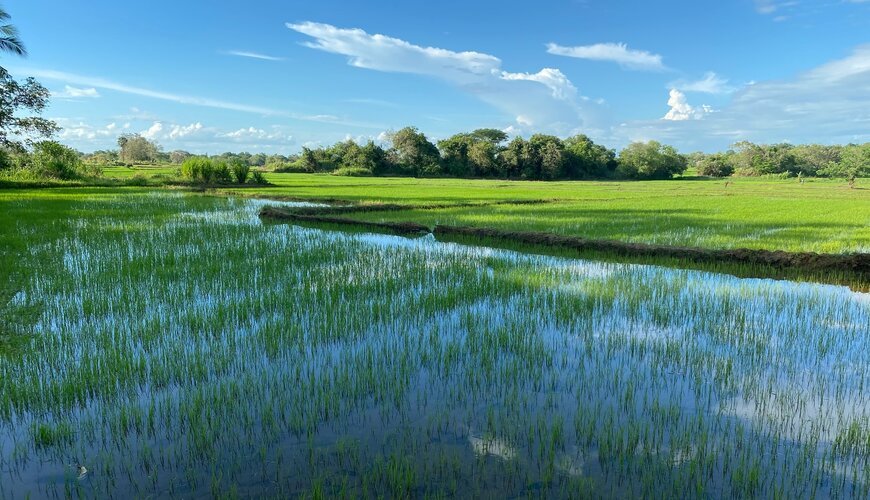 Your next stop in Sri Lanka will be Polonnaruwa, which is part of the Cultural Triangle of the country.
Polonnaruwa, is one of the greatest kingdoms which represents an important era of Sri Lankan history. Today, Polonnaruwa is a collection of great monuments.
We are only given a glimpse into once magnificent architectural pieces fit for royalty.
We can only imagine the grandeur and glory during ancient times. As one of the best-preserved historic cities in Sri Lanka, Polonnaruwa was also declared a UNESCO World Heritage Site.
Two hundred sixteen (216) kilometers away from Colombo and fifty-five kilometers away from Sigiriya, the historic city of Polonnaruwa rise up with the glory of ancient rulers of Sri Lanka.
The historical sites in Polonnaruwa are located close to each other, making it easy for visitors to get around unlike in Anuradhapura.
Here are some of the highlights of Polonnaruwa,
Kumara Pokuna
Kumara Pokuna translates to 'Prince's Pond'. The ruins of a former magnificent palace can be seen here and the Kumara Pokuna is a royal bath built of stone.
Siva Devale 1 and 2
Polonnaruwa portrays the relationship between the Sinhala Buddhists and Hindu Tamils in Sri Lanka. The Siva Devale is a Hindu shrine dedicated to the Hindu deity Lord Siva.
These Hindu temples are built according to South Indian architecture.
Polonnaruwa Quadrangle
The sacred quadrangle or 'Dalada Maluwa' includes several significant monuments. The Vatadage is one that stands out from the rest.
The architecture in the Vatadage signifies the innovative architecture used during that era. The other monuments to keep an eye out for are Hetadage, Nishanka Latha Mandapaya, Sathmahal Prasada, and plenty of others.
Gal Viharaya
Located a bit further from the other monuments, Gal Viharaya is a Buddhist temple made entirely out of rocks. Gal Viharaya translates to ' Rocky Shrine' in English.
The shrine consists of rock sculptures depicting Buddha in meditation, standing, and lying down.
Suggested Read: Sri Lanka Tour Packages From Qatar
Day 6 – Anuradhapura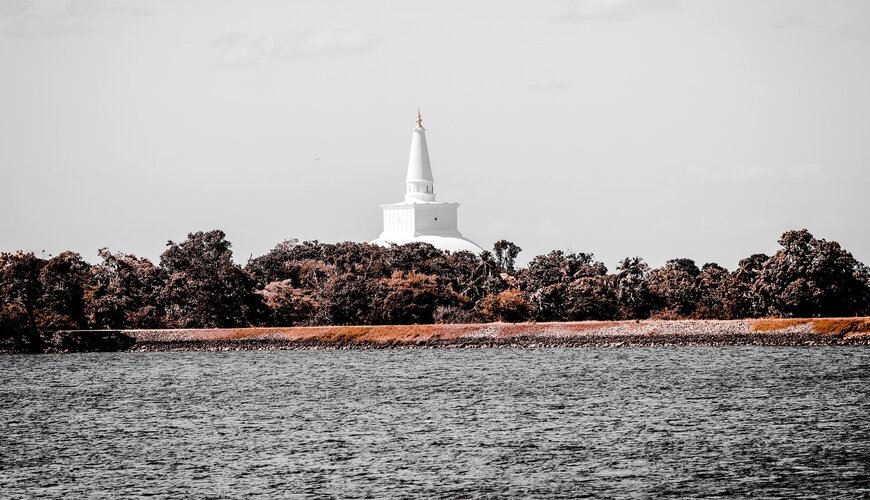 A two-hour drive from Polonnaurwa will bring you to Anuradhapura; it is no doubt the mother of all cultural sites in Sri Lanka.
Anuradhapura is one of the ancient capital cities in the country and the first ancient kingdom of the country, it is now declared a UNESCO World Heritage Site.
King Pandukabhaya founded the kingdom in 377 BC until it was invaded in 993 AD.
One thing many visitors find difficult about this area is the heat so when you are going sightseeing, make sure to go in the morning and then again in the late afternoon.
The sites in Anuradhapura are spread out so you will need a vehicle to move from one place to the next.
Anuradhapura is a major Buddhist pilgrimage site due to the Jaya Sri Maha Bodhi tree. It is said to be a sapling of the sacred Bodhi tree under which Lord Buddha attained enlightenment.
There are lots of other Buddhist temples and monuments to be seen in Anuradhapura.
For Buddhists, there are eight sacred monuments to be visited in Anuradhapura. It is said that Buddha went to all eight of these sites during his visits to the country.
These eight sites are actually the highlights of all the monuments and a must-see for everyone.
– Jaya Sri Maha Bodhi
– Ruwanwelisaya
– Thuparamaya
– Lovamahapaya
– Abhayagiri Dagaba
– Jetavanarama
– Mirisaveti Stupa
– Lankarama
Apart from the above eight, there are many other sites to visit in Anuradhapura and you need one full day to do so. Some of the other sites include,
– Isurumuniya
– Maghul Uyana
– Rathna Prasadaya
– Naka Vihara
– Kiribath Vehera
– Kuttam Pokuna
– Samadhi Statue
– Mahamevuna Park
– Toluwila Statue
Tips:
– Make sure to wear comfortable cotton clothes but cover your shoulders and knees when entering the temples. You can carry a shawl or a sarong to wear over your clothes.
– Wear comfortable footwear that is easy to remove when entering temples
– Use sunscreen and sunglasses
– Carry plenty of water and snacks
Suggested Read: Sri Lanka In June: 5 Best Places To Visit
Day 7 – Wilpattu National Park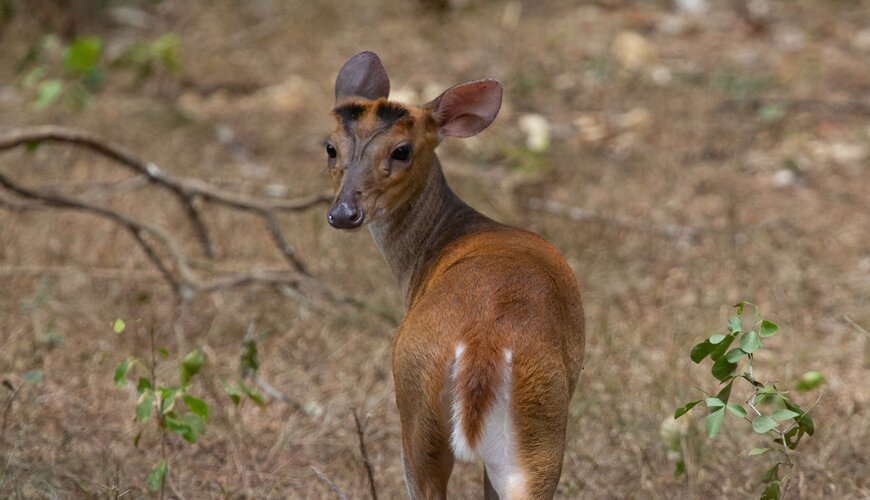 Located on the Northwest coast of Sri Lanka, Wilpattu is located 30km from Anuradhapura and 180km from Colombo. Less than one hour's drive from Anuradapura will take you to the Wilpattu National Park.
Wilpattu is one of the best places in the country to see wild animals roaming freely.
The word Wilpattu means 'natural lakes' in Sinhala and that is exactly what you find in this lush national park. The Wilpattu National Park is the biggest national park in the country and the second most prominent.
It is one of the top eco-tourism parks in Sri Lanka. With varying habitats, natural lakes, dense forest, and coastal belt, it is the ideal home offer a range of wild animals.
Safari in the Wilpattu National Park
For your day's trip to Wilpattu, you can do a full day safari. Since the park is massive it takes a lot of driving around to spot animals because they are scattered everywhere. A recorded number of 31 mammals are said to be in the park.
Animals you may come across during a safari
Sloth bears, leopards, elephants, spotted deer, jackals, water buffalo, hares, mugger crocodiles as well as a range of butterflies.
Wilpattu is also home to a large variety of birds. Birding enthusiasts will have a blast here.
Day 8 – Nilaveli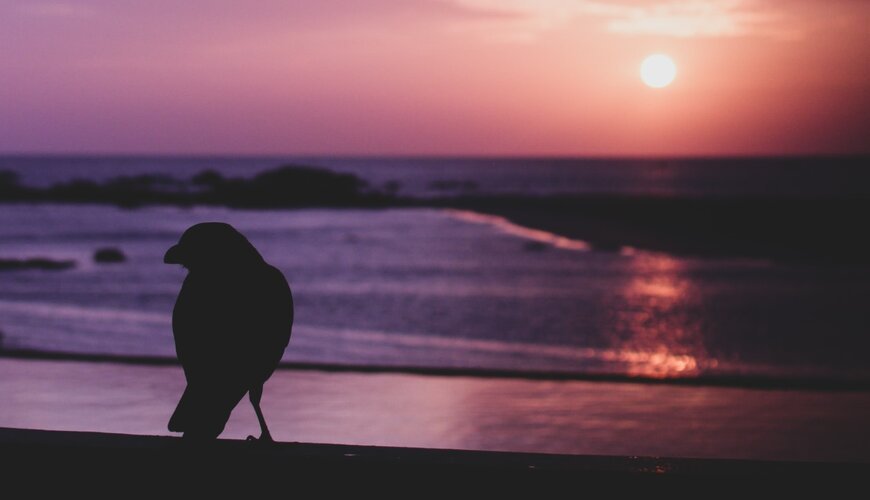 After exploring historical monuments, wildlife, and ancient temples, Nilaveli will be a refreshing change in your Sri Lanka 1 month itinerary.
Nilaveli beach is located minutes from the city of Trincomalee. It's one of the best east coast beaches to enjoy a relaxing beachside getaway.
If you compare the beaches around Sri Lanka, many would agree that Nilaveli is on top of the list. Here are some of the awesome things you can enjoy during your day 8 in sunny Lanka.
Take a ten-minute boat ride from Nilaveli Beach to the Pigeon Island National Park. This small island is famous for marine life, which includes sea turtles, reef sharks, and an abundance of coral reefs.
Snorkelling is one of the best things to do on Pigeon Island. You can swim with sea turtles and Blacktip Reef Sharks.
Endangered marine turtles such as Olive Ridley, Green turtles and Hawksbill are the common ones you will see here.
Sports and recreation are a big part of Nilaveli beach. Since the sea is calm there are various exciting watersports to enjoy. You can go swimming, scuba diving, snorkeling, and deep-sea fishing.
Pick and choose what you enjoy doing and the rest of the day, soak up the sun and unwind at one of the most scenic beaches in the world.
Day 9 & 10 – Trincomalee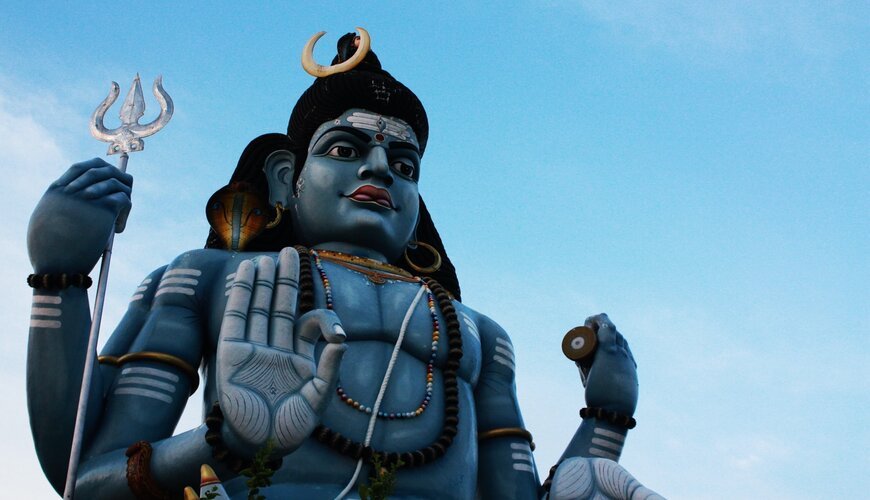 There is only a short distance between Nilaveli and Trincomalee so you can be based in either of the locations and explore the other.
Trincomalee or Trinco is a quaint little beach getaway with a handful of interesting landmarks. The city is popular for its stunning beaches and surfing scene.
Here are the highlights of Trinco!
Whale Watching
Dolphins and whale watching season in Trincomalee is from June to September. When the whales are away you have the pleasure of watching hundreds of playful dolphins.
Trinco Harbour
The Trincomalee(Trinco) Harbour is a massive seaport located in the Trincomalee Bay also known as Koddiyar Bay.
It is strategically located in the heart of the Indian Ocean and its position has shaped its history with numerous sea wars to determine the ownership of the harbour.
Today the Trincomalee port is open 24 hours throughout the year except on May Day. You can take a tour at the Naval Museum and go on a boat tour (depending on the weather). Visitors need to acquire a pass to enter the premises.
During your two days in Trinco, make time to enjoy the blissful waters of the Indian Ocean and spend time on the beach leisurely because blissful beaches are what Trinco is mostly about!
Day 11 & 12 – Kandy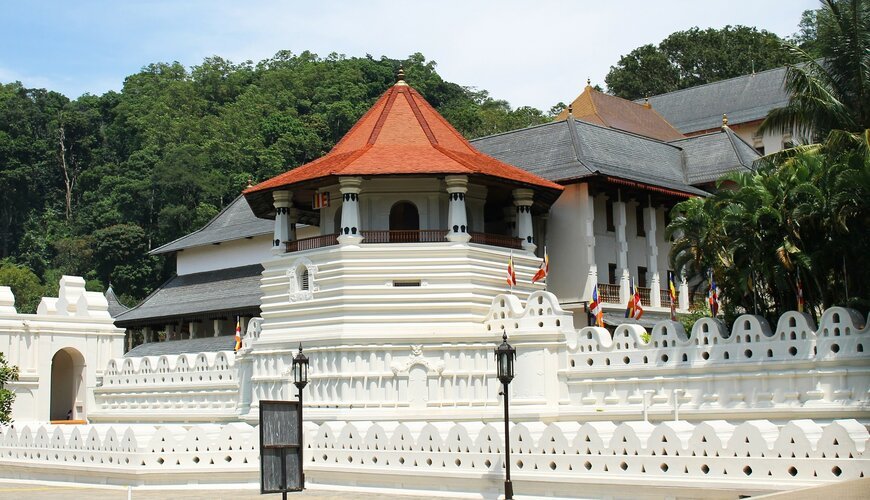 Kandy, the cultural capital of Sri Lanka completes the – cultural triangle! Kandy is located in the mountainous center of the country.
The second largest city in Sri Lanka, it is a culturally as well as religiously significant location. Declared a UNESCO World Heritage Site, Kandy is a calm, cooling and pleasing city, which is rich in its traditions.
Kandy welcomes visitors all year round. There's plenty to do, see and experience in Kandy during any time of the year.
If you are interested to see Sri Lanka's biggest and the most lavish Buddhist procession in the country, the 'Esala Perahera', you will have to travel during August.
The highlight of Kandy is the 'Dalada Maligawa' or the Temple of the Tooth, which houses the sacred tooth relics of Lord Buddha.
The sacred relic is kept inside a casket in a guarded room and is open only for poojas (prayer and offerings), which is three times a day. Various rituals take place within the day at the temple.
To see the sacred relics (you will only see the casket)make sure to go during pooja times.
Located 5km west of the city, Peradeniya botanical garden is an impressive plot of land with over 500 species of plants.
The orchid patches, spice gardens, and palm avenues are the most famous parts of the garden. You can spend 2- 3 hours exploring the garden.
The iconic Kandy Lake is the best part of the entire city. The boat rides on the lake are fun and entertaining, and a walk around the lake is absolutely the best way to calm your spirits.
The best nighttime entertainment in Kandy is the traditional dance shows. Kandyan dancing is the national dance act of the country.
The dancers are clad in striking outfits and the acts include drumming, acrobats and pirouettes. The performances usually end with the dancers' fire walking, barefoot!
Day 13, 14 & 15 – Nuwara Eliya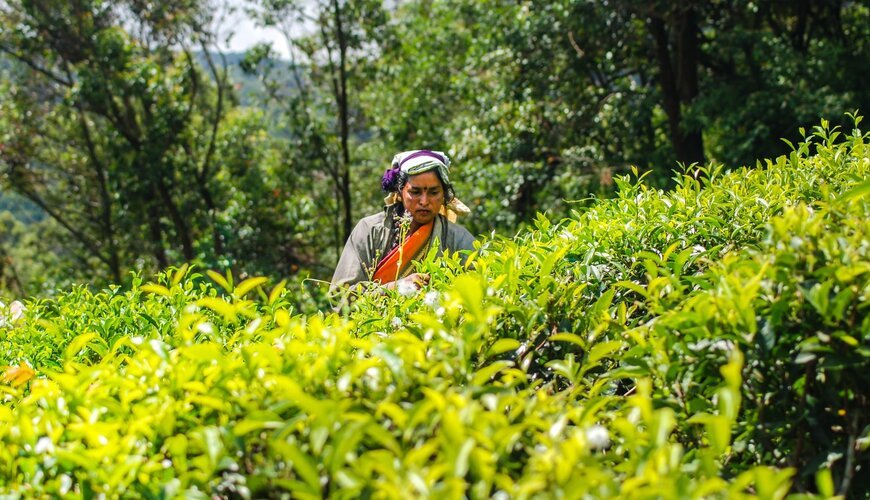 Your next destination is going to be the coolest holiday spot in Sri Lanka, literally! Hop onboard a train from Kandy to Nuwara Eliya to enjoy one of the most scenic train rides in the world.
Power through the three-hour train ride that passes lush green tea plantations, female tea-pluckers busy with sacks on their backs, local villagers with smiling faces, riding high altitude of mountains, and vanishing into tunnels with two seconds of pure darkness with more that light at the end of it.
It's a real adventure ride along with hundreds of Instagram worthy clicks once you reach your destination – Nuwara Eliya.
Often called mini England, Nuwara Eliya is the perfect location to relax. Nuwara Eliya is different from all the places you visited during the last few days.
It's a scenic city perched on the tea hill with eye-pleasing views at every corner and fun things that the whole family can enjoy.
First, start by exploring the Nuwara Eliya town. Take a stroll on the Victoria Park, one of the best-maintained parks in South Asia.
You can't miss the famous colonial-style Nuwara Eliya post office building right next to the park (you'll know it when you see it).
Enjoy time around the Gregory Lake – you can take a stroll, take a boat ride, try jet skiing, and try out the food stalls.
Spend the next two days of your trip to explore Nuwara Eliya. Here are the top things you can do.
– Take a hike to Horton Plains
– Visit a tea plantation
– Chase waterfalls, there's so many!
– Go to a strawberry farm
– Visit the Ambewala Farm
– Have high tea!
Day 16 & 17 – Ella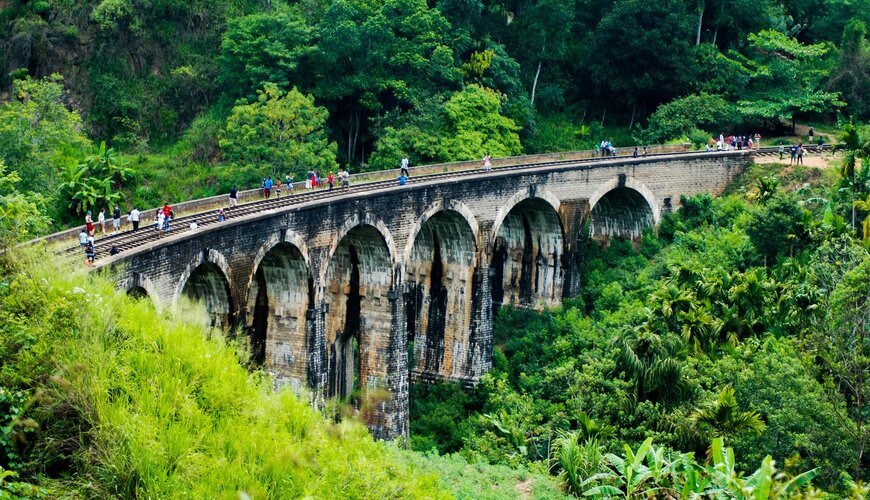 You are almost halfway through the Sri Lanka itinerary 4 weeks and it keeps getting even better from here! Ella, your next stop is a short drive from Nuwara Eliya.
The weather will almost be the same but Ella is even more picturesque and quieter than your previous stop.
Ella was once a hidden gem in the central highlands of Sri Lanka. But little did we realise that it would become one of the most sought after holiday hotspots and a backpacker paradise over the years.
Here are some of the top things to experience during your time in Ella,
– Take a hike to Ella Rock
– Visit the Nine Arch Bridge
– Go bar-hopping
– Enjoy the Ravana Falls
– Travel to Lipton's Seat or Adhisham Bungalow in Haputale
Enjoy the cooling comforts of the Central Highlands before heading to the northeast coast of Sri Lanka.
Day 18 – Arugam Bay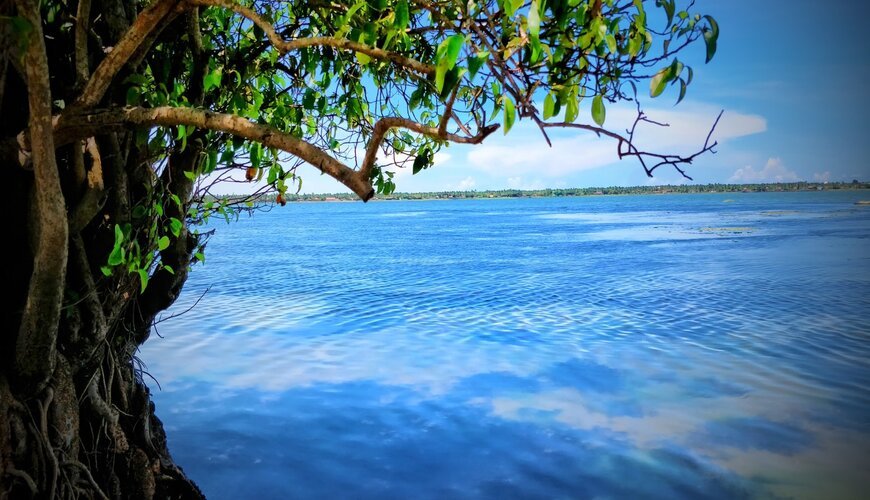 A three-hour trip from Ella will take you to the northeast coast of Arugam Bay. The first thing you are sure to notice in Arugam Bay is the change in weather.
It gets pretty hot in this part of the country but it's a nice kind of change since you are close to the beach.
Arugam Bay is situated on the southeast of Sri Lanka and it is among the top surf points in the world. Located 320 km from the city of Colombo it is a versatile tourist hub.
Arugam Bay stands out from the rest of Sri Lanka's coastal areas since it is not affected by the monsoons, unlike its counterparts.
This results in it being a year-round tourist hub to enjoy great weather and the perfect wave for surfers. Due to its location, Arugam Bay is dominated by right-hand point breaks and the three most prominent breaks are The Point, Pottuvil Point, and Crocodile Rock.
All these surf points can be easily accessed within a short drive or boat ride.
Visit the Muhudu Maha Viharaya, which is a serene white temple that can be seen from the Arugam Bay beach. It is located on the sand dunes of Pottuvil.
Lagoon safaris are quite popular in Arugam Bay. The pristine lagoons of Urani and Kottukal are ideal to spot crocs, elephants, and other wild animals. The safari usually lasts for 2 hours.
Foodies are going to love the variety of food Arugam Bay offers. Enjoy the fresh seafood dishes and western dishes such as pizza, pasta as well as vegan and healthy options.
Arugam Bay's surfing season is from May to November. Be prepared for crowds during this time of the year.
Isolated beaches and budget-friendly accommodation will not be in sight when the tides are high! It gets pretty jam-packed on the main breaks since the mellow surf makes it a great spot for any skill level.
Day 19 & 20 – Yala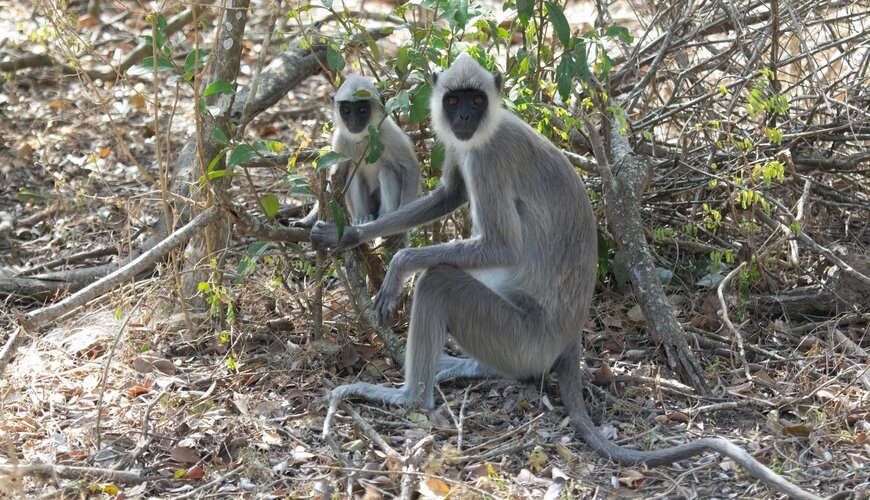 Your next stop in Sri Lanka 1 month itinerary is Yala National Park. Since you will be spending two days in Yala, you can do two half-day safaris.
Yala National Park is among the oldest national parks in Sri Lanka. It is also the most renowned especially since its home to the highest density of leopards in the world.
There are forty species of recorded mammals in Yala and a large variety of birds and other animals.
There is accommodation inside the park so you can either stay inside or around the park. Staying inside the park will make it easy to go on safaris and you have a chance of spotting animals at unexpected times.
You need to purchase a ticket to enter the park and a safari jeep can be hired at the gate. Early mornings and late afternoons are the best times for safaris. The Yala National Park opens to the public from 6 am – 6 pm.
Animals you can expect to see during a safari,
– Elephants
– Leopards
– Sloth Bear
– Monkeys
– Wild boar
– Lizards
– Deer
– Hare
Day 21 – Udawalawe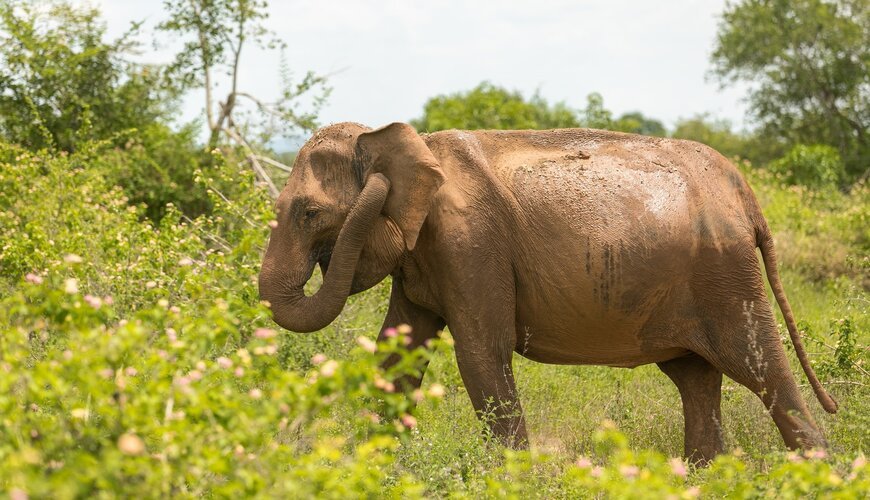 A two-hour drive from Yala will take you to Udawalawe National Park. If you are wondering why go from one park to another – well the simple answer is that Sri Lanka's wildlife is such you simply cannot complete exploring it in 2-3 days.
In comparison to Yala, Udawalawe National Park is smaller and far less crowded and you have a better chance of getting up close and personal with the majestic elephants.
If there's one place in Sri Lanka where you are guaranteed to come across elephants, it's the Udawalawe National Park. There are close to 800 Sri Lankan Elephants in this wildlife park.
Large herds of elephants gathering to drink water and feed are a usual occurrence. Apart from the elephants, there are sambar deer, jackals, sloth bear, wild boar, toddy cats, common langurs, and the common toque macaque.
Even though there are only around 10 -15 leopards recorded to be in Udawalawe, you do have a chance to spot them if you are lucky!
Day 22 – Sinharaja Forest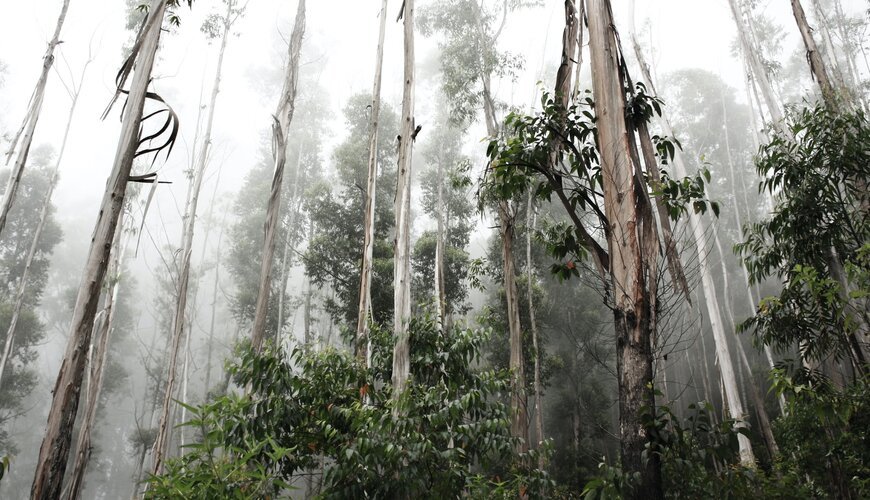 Your next stop is a wildlife paradise in Sri Lanka. Many people spend time in the national parks and overlook the only virgin rainforest in the country – Sinharaja Forest.
Sinharaja Forest is a UNESCO World Heritage Site blessed with rich biodiversity. The name Sinharaja means 'Kingdom of the Lion' in Sinhala and it is the only rainforest in Sri Lanka.
Sinharaja doesn't stand parallel to other reserves of the world in terms of size however the natural resources are beyond any other found elsewhere.
There are endemic trees, birds, mammals, reptiles and amphibians in the forest.
Compared to other national parks Sinharaja doesn't have many elephants of leopards but there is plenty of purple face langur monkeys! Out of the twenty six endemic bird in the country, twenty can be found here.
Jungle trekking is the best way to explore Sinharaja. The best time to start your trek is early morning around 6.30 am. Within 5 – 6 hours you can easily cover the important areas of the forest.
As a biodiversity hotspot the forest it home to a lot of interesting fauna and flora. Sinharaja is a treasure trove for endemic species and you can look forward to seeing trees, birds, amphibians, mammals, reptiles, and insects of all sorts during your walk.
In the afternoon you can enjoy a picnic lunch inside the forest.
Sinharaja is a birdwatchers paradise in Sri Lanka. Bird enthusiasts have a lot to look forward to during the trip.
Out of the 28 endemic birds in the country, almost 20 can be found in Sinharaja including the elusive Sri Lanka Blue Magpie, Red-faced Malkoha, and Green-billed Coucal.
Day 23 – Matara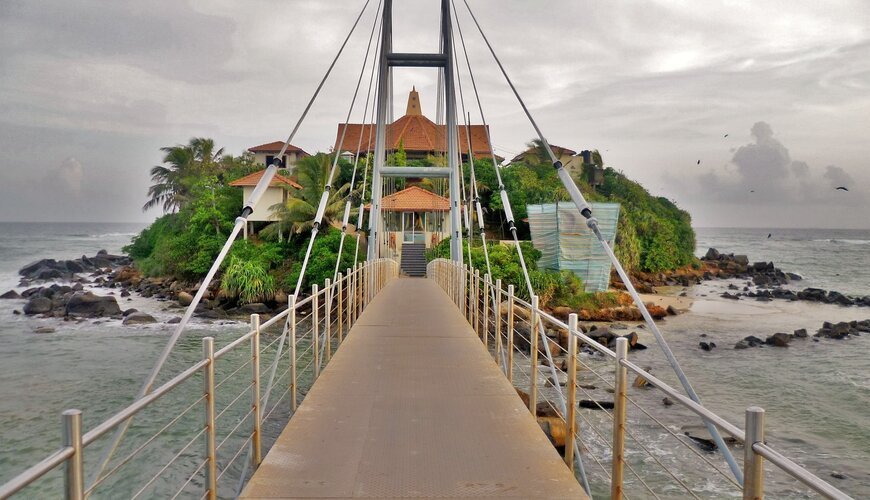 Two and a half hours away from Sinharaja is the busy town of Matara. It may not be a tourist hotspot in comparison to other cities on the south coast, however, we think it's a place that should not be overlooked.
Matara has many sites that are a testimony to Sri Lanka's colourful past. You must visit Matara at least once to get to know a bit more about Sri Lanka.
Go to the Matara Star Fort
The Star Fort in Matara was built during the Dutch colonial times and as the name suggests, it's made in the shape of a star. The fort was built to keep external enemies away and prevent attacks.
There are 6 points on the fort forming a star. The fort is still surrounded by a moat. There are two prisons within the fort premises. When the British took over, the Star Fort was used as an administration building.
Visit the Nupe Market (Dutch Trade Centre)
Architecture buffs are going to love the 'T' shaped building that occupied the Old Dutch Trade Centre. It was once the town's main market bustling with trade activities.
The Dutch constructed the building in 1775. The building's unique architecture is what makes it stand out.
Pay homage at the Weherahena Temple
The Weherahena Buddhist temple is located to the east of the Matara town. There is a man-made cave in the temple that has murals depicting the life of Buddha.
There is a giant Buddha statue at a towering height of 25 meters. It's a beautiful temple but photography is strictly forbidden so all you can take back is a mental picture.
Some of the other highlights in Matara are,
– The Crow Island
– Dondra Head Lighthouse
– Matara Paravi Duwa Temple
– Matara Beach
Day 24, 25 & 26 – Galle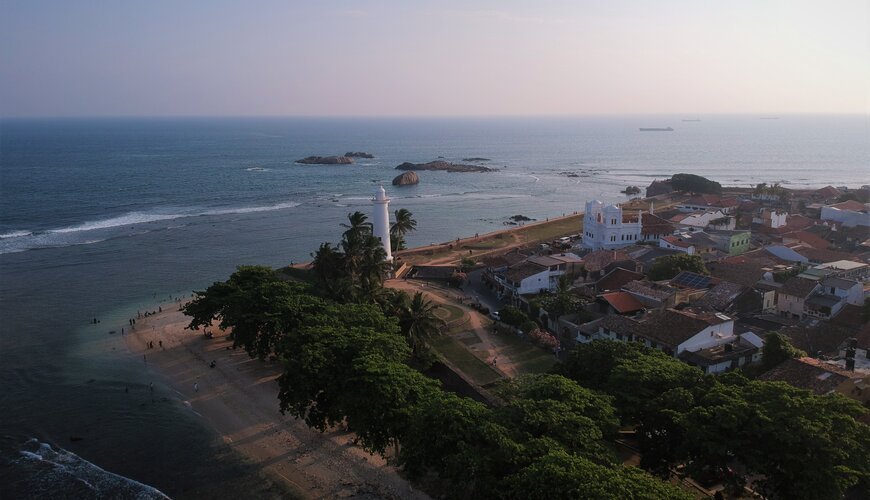 Spend the next three days of Sri Lanka 1 month itinerary in the blissful city of Galle.
Galle is one of the majour cities in Sri Lanka blessed with historical landmarks, religious sites, and colonial architecture surrounded by the ocean.
The city is declared a UNESCO World Heritage Site and is one of the most popular cities among tourists. One of the main reasons behind the city's popularity is the Galle Fort built during the Dutch period.
During your stay in Galle, here are some of the things to do,
Explore the Galle Fort; this will most probably take up one day. When you walk through the traffic-free streets lined with old villas, buildings in colonial styled architecture, old villas, and other reminders of the Dutch era, it feels like you are an old-fashion European city.
Galle Fort is one of the best-preserved testimonials of the Dutch era in Sri Lanka, so this is a must-do.
Explore the cobblestone streets of the Fort and visit,
– Dutch Reform Church
– All Saints Anglican Church
– Meeran Mosque
– Sudharmalaya Temple
– Maritime Archeology Museum
– Shop at the lifestyle boutiques
There's no better way to get around Galle than on a bicycle. Take cycling tours of the city and beyond.
Get Ayurveda spa treatments in Galle – the city has some nourishing Ayurveda treatments ideal to relax your body after a busy day of sightseeing.
Unwind at the Galle beach
The Galle beach may not be as popular as its counterparts on the southern coast however it is well equipped for various watersports.
You can go snorkeling or diving to enjoy the underwater world of the Indian Ocean. The waves here are perfectly balanced for experienced surfers and novices so if you enjoy surfing Galle beach is a good choice.
Day 27 – Hikkaduwa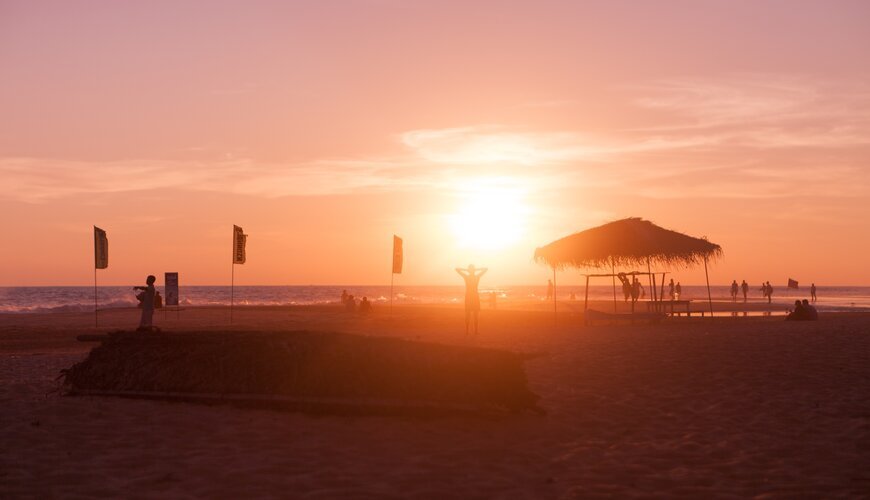 One of the best things about a tropical holiday is the beach. In Hikkaduwa, it's all about the BEACH.
Hikkaduwa is a small fishing town on Sri Lanka's southern coast. Sandy shorelines and tropical wildlife make it one of the wonderful places to visit.
There's so much to do in Hikkaduwa whether you are a surfer, diver, snorkeller, foodie, or a common wanderer!
Here are some of the things we recommend during your time with our Sri Lanka itinerary 4 weeks,
Watersports – we may be stating the obvious but we must tell you that Hikkaduwa offers some of the best watersports in Sri Lanka.
Glass bottom boat ride – The picturesque underwater world is more scintillating than what lays above the surface.
Visit the tea estates in and around Hikkaduwa – Ruhunu tea is from the south of Sri Lanka.
Visit the turtle hatchery in Kosgoda that is located minutes from Hikkaduwa.
Day 28 – Bentota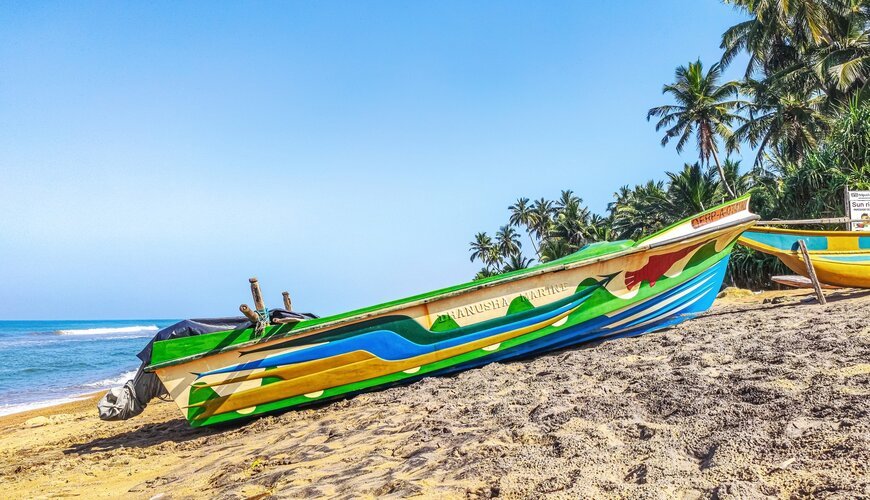 Your final stop in the southern is Bentota, a small resort town within an hour's drive from Hikkaduwa and two hours away from Colombo.
In Bentota, there are plenty of things you can do on the water, apart from the endless list of water sports you can also take a long river safari on the Bentota River.
This boat trip offers some of the best sceneries you will get to enjoy. From tiny islands fringed with tangled mangroves to a list of colourful birds and water creatures such as water monitors and crocs it will be a truly adventurous ride.
The stretch of turquoise blue beach in Bentota continues several kilometers south of the town. This is one of the best beaches in Sri Lanka and many holidaymakers spend weeks stretched out on the sandy shores day in and out.
Day 29 & 30 – Colombo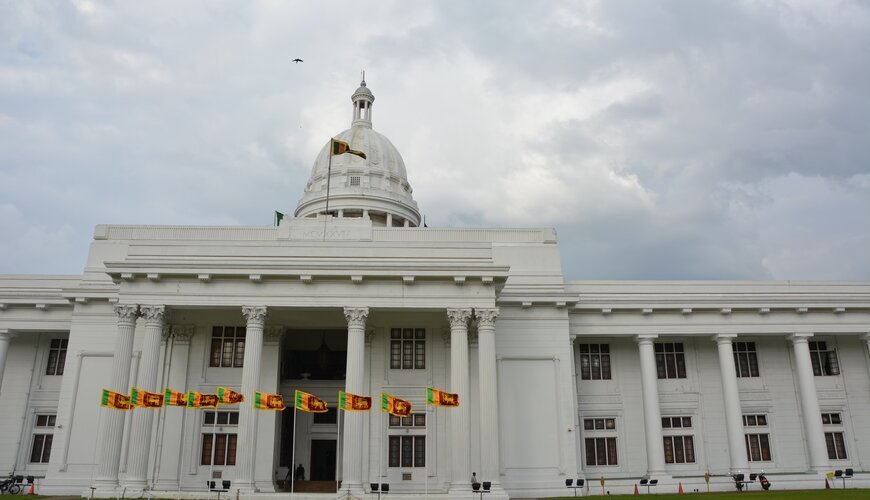 The final two days of your Sri Lanka 1 month itinerary with T2 Travels, explore the commercial capital and the biggest city in the country – Colombo!
Many people assume Colombo is a concrete jungle and is not the place for a tropical holiday. Well, you'll be surprised to know that this is not so! Colombo is the heart and soul of sunny Lanka, it may be the commercial hub but there is also a lot of touristic things that captivates people who come here.
For more information on our tour packages in Sri Lanka or to get a customised tour package contact T2 Travels Sri Lanka.