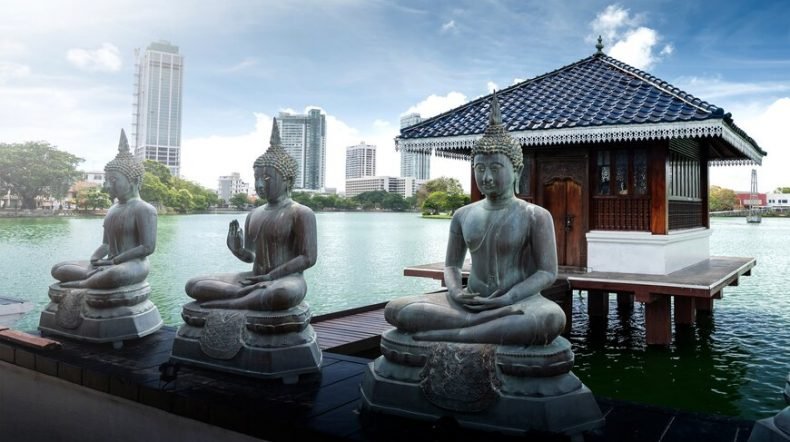 Looking for Sri Lanka tour packages from Bangladesh? You've come to the right place. Our travel packages are designed through the 'tried and tested' method where we don't leave room for errors.
For both of these short Sri Lanka tour packages, we have picked unique cities that would give visitors distinct experiences of the country.
Our tours generally cover at least one or two Heritage Sites while giving visitors a taste of what Sri Lanka is all about.
Sri Lanka Tour Packages from Bangladesh Option – 01 (3 Days)
Day 1 – Nuwara Eliya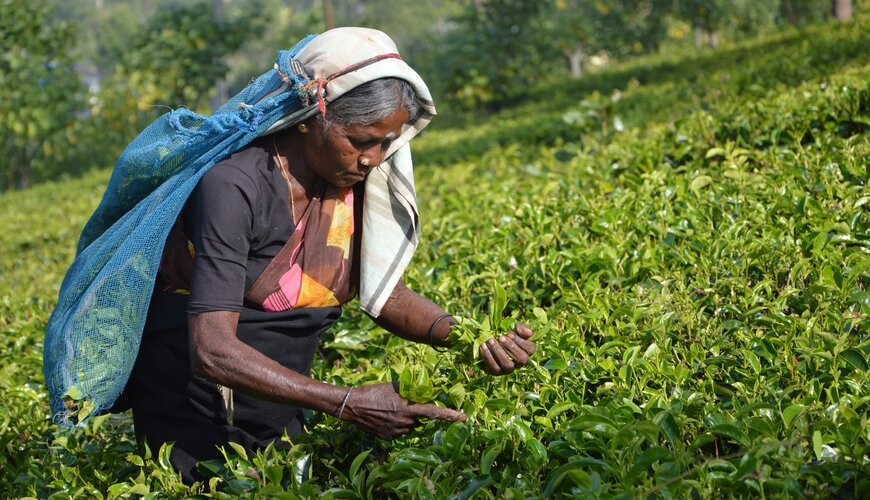 After a warm welcome from the T2 Travels Sri Lanka team member at the Airport, we will head out on the tour. We take you to the beautiful hill country for our first stop, which is a 4.5-hour ride from Katunayake Airport.
Nuwara Eliya is a town located in the hill country surrounded by misty mountaintops, countless tea plantations, Victorian-style architecture, and cascading waterfalls. Fondly referred to as 'Little England', Nuwara Eliya has always been a popular choice among travellers.
The 'tea' experience!
The best thing to refresh yourself after a long drive is a warm cup of Ceylon tea! There's plenty of that in Nuwara Eliya, whether you want black tea, milk tea, spice tea, or green tea – you get it all.
After a refreshing cuppa, take a walk through one of many tea plantations in the area. You can also take a tour of a tea factory to find out the process that goes into creating some of the teas in the world.
Many tea factory tours are free and you are even served a nice hot cup of tea at the end of it! Most majour tea factories have cafes where visitors can enjoy delectable snacks and tea while overlooking the lush greenery.
If you are not a tea drinker, at the end of the tour you will be! Who can resist such fine tasting teas!
Your Nuwara Eliya experience is incomplete without visiting one of the many waterfalls.
Lover's Leap
This is one of the closest waterfalls from the Nuwara Eliya Town. The 30-meter high fall streams down from the highest mountain in the country – Piduruthalagala. There's a compelling story behind the name Lover's Leap, ask our guides to tell you!
Ramboda Falls
If you are a huge fan of waterfalls then taking the time to go to the famous Ramboda Falls is worth it. The ride takes up to 2 hours from Nuwara Eliya. It's a spectacular sight.
Stroll around town
Nuwara Eliya town has some resemblance to an old fashioned European city. The Victoria Park, Post office Building, and Gregory's lake some of the highlights in the city that's worth checking out!
Suggested Read: Sri Lanka In September: 5 Best Places To Visit
Day 2 – Galle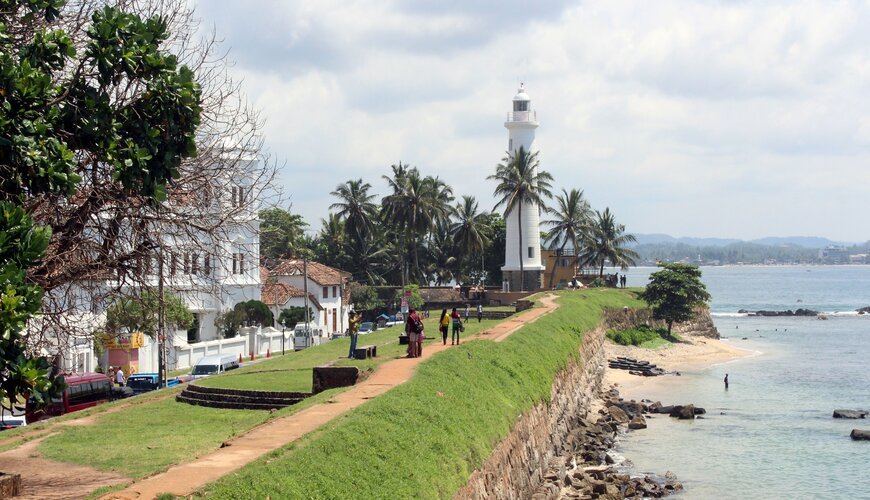 On the second day of the tour, you will discover the enchanting city of Galle, located in the southern coastal belt of Sri Lanka.
Nuwara Eliya and Galle are poles apart and that's what makes this tour so exciting. We give you a unique experience at each and every city.
Galle is packed with rich history, culture, and surrounded by the most breathtaking beaches. The main highlight of Galle is the Galle Fort, which is a UNESCO World Heritage Site.
Some people spend their whole time in Galle, exploring the Galle Fort – it's just that amazing!
The Galle Fort is a historic and archeological masterpiece. The Portuguese constructed the Fort but it was the Dutch that expanded it to the scale that is seen today.
It is not famous only as a historical site but the narrow cobbled streets are flanked with chic cafes and restaurants, eccentric lifestyle boutiques, lovely villas, and much more.
Many foreigners have moved to the Fort because of its vibrant vibe that's so tropical- European!
Take a walk along the ramparts and watch the sunset.
Check out the Galle lighthouse and take awesome photographs.
Visit the Dutch reform church, Maritime Archeology Museum, Meeran Mosque, and Sudharmalaya Buddhist Temple
The beaches around Galle
How can you leave Sri Lanka without setting foot to at least one beach in the country? Of course, you can't! So here are some top picks for you to stop along the way,
-Bentota Beach
-Beruwela beach
-Jungle Beach
-Koggala Beach
-Mirissa Beach
-Hikkaduwa Beach
Depending on your interests you can spend time exploring the old Galle town or spend time on the beach. If it's the latter you want then enjoy watersports such as snorkeling, diving, surfing, and swimming.
Unwind with a nice Ayurveda treatment at a local spa. You can get full-body treatments using Ayurveda oils and homegrown ingredients.
Suggested Tour: Sri Lanka 7 Days Tour Package
Day 3 – Colombo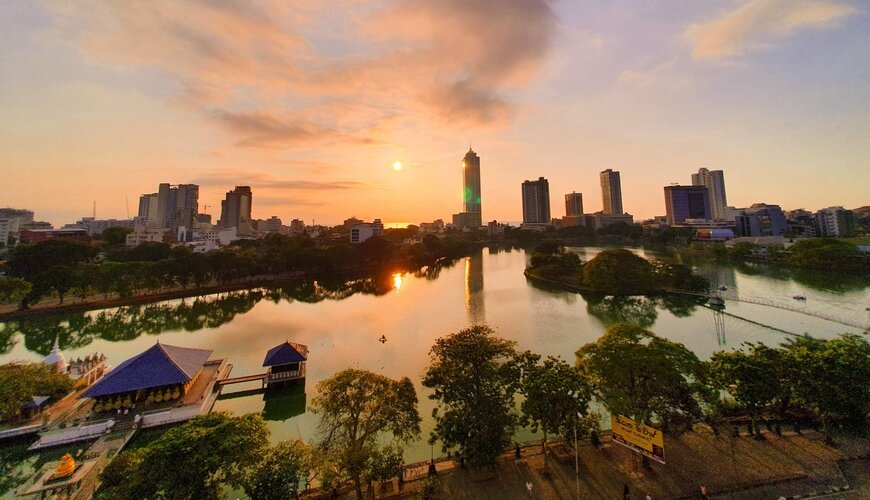 Colombo is the commercial capital and biggest city in Sri Lanka. Many visitors assume Colombo is like the metropolis in other South Asian countries but interestingly it's not.
Colombo does have skyscrapers, big shopping malls, and heavy traffic but it doesn't apply to the whole city.
The business-like commotion is actually in one part of the city and even within that, you get extreme tranquility in places like the Seema Malakaya.
Suggested Read: Best Time To Visit Sri Lanka
Sri Lanka Tour Packages from Bangladesh Option – 02 (4 Days)
Day 1 – Dambulla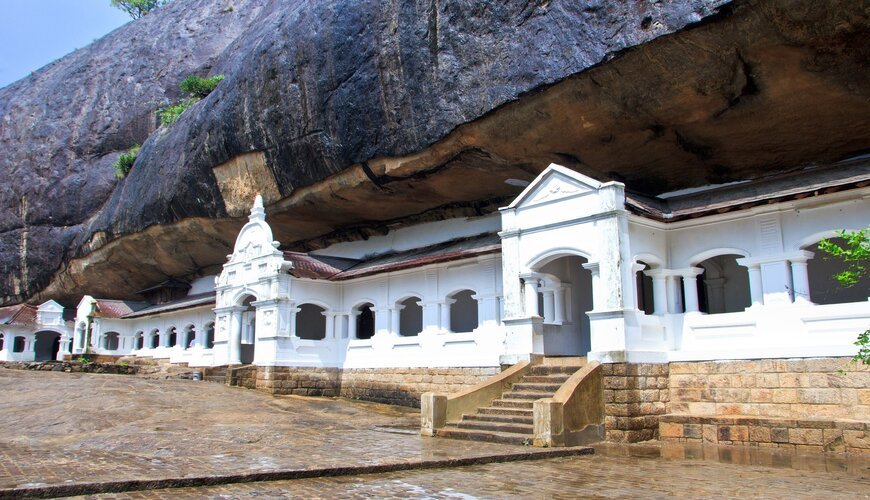 After a warm welcome from the T2 Travels Sri Lanka team member at the Airport, we will head out on the tour. A 3.5-hour car ride from Katunayake will take you to the charming village of Dambulla.
Dambulla Cave Temple
Dambulla is famed for the historical Cave Temple the 'Rangiri Dambullu Maha Viharaya'. It is the biggest as well as the best-preserved cave temple in Sri Lanka.
A UNESCO World Heritage Site, this magnificent temple towers at a height of 160 meters and has a history recording back to the 1st century BC.
The temple harbours five separate caves and each of them has colourful murals depicting the life of Lord Buddha and the Sinhala Buddhist culture in the country.
There are more than a hundred and fifty Buddha statues in various heights, colours, and sizes.
The temple is very well maintained and is one of the most popular historical sites in Sri Lanka.
Tip – There are wild monkeys everywhere at the entrance, along the way, and inside the temple. They are generally harmless but if you carry food or flowers, they WILL jump at it, so make sure to carry such items in a bag.
Jathika Namal Uyana (Ironwood Forest)
When people think of Dambulla, they only think of the Dambulla Cave Temple. However, not many people know there is a hidden treasure within a short drive, which is the Jathika Namal Uyana.
This national forest reserve is a range of seven hills and its centerpiece is the Pink Quartz mountain range. This 970-hectare mountain range is the biggest Pink Quartz Mountain in South Asia.
The forest takes up to 1000 hectares of ironwood trees and 70 or more medicinal plants. It is also where you find the largest plant fossil deposits in the country.
There are also ruins of an ancient monastery and palace along with diverse wildlife within the reserve.
In the evening you can take a bicycle tour around the Dambulla village.
Day 2 – Arugam Bay
From sacred temples, nature reserves, and village life, we take you to one of the best beach towns on the east coast- Arugam Bay!
Famed for its surfing scene Arugam Bay has one of the top beaches in Sri Lanka. It's a surfer's paradise and you get pro surfers around the world coming here during the surf season.
Many visitors prefer to chill on the beach, soaking up the sun, taking a dip and let the day fly by with the sea breeze.
If you are not the type to laze around and need some action, here are a few things we can offer in no particular order.
Ride the waves
This may be the most obvious thing to do in Arugam Bay but how can we not mention it! Here are some of the top surf spots to suit your level of skill.
Baby Point – ideal for beginners
Main Point – suitable for advanced surfers
Pottuvil – for all skill levels
Whiskey Point – great for beginners
Peanut Farm – for anyone and everyone that loves to surf!
There are plenty of places to hire surfing gear. If you don't surf, there's no better place to learn!
Catch the sunset at Elephant Rock
Around 3km east of Arugam Bay you get the gorgeous stretch of ocean that is visited by wild elephants. On that beach you get a natural elephant-shaped rock, facing the ocean. You can get on to it and witness the gorgeous sunset or sunrise.
Try some yoga
Stretch out and relax your muscles in Arugam Bay. There are tons of yoga ashrams around the main street – try one out!
Rent a scooter
Explore the town on a scooter. The roads around the town are ideal for it and it will be a great experience.
Enjoy the seafood!
Arugam Bay is a fishing village so you can expect to be served fresh seafood. Make the most of the delicious seafood varieties the restaurants serve.
Partay!
Arugam Bay's nightlife is pretty awesome. You even get overnight beach parties and things get pretty wild out there. If you want to dance, have some drinks and a fun night out, well Arugam Bay is your place!
Day 3 – Yala
On the third day of the Sri Lanka tour packages from Bangladesh, we will explore one of Sri Lanka's greatest assets – wildlife.
Sri Lanka's biodiversity is one of its main possessions. Wildlife enthusiasts and adventure seekers have a chance to explore the country's pristine wildlife.
Yala National is one of the most famous national parks in the country boasting to be among the top leopard spotting sites in the world.
You will also find an abundance of elephants, monkeys, water buffaloes, golden jackals, and deer.
It is worth noting that a total of thirty-two mammals are recorded from the park.
The park is also rich in birdlife and close to 120 bird species are recorded over the years.
You get birds of prey such as crested serpent eagle and white-bellied sea eagle as well as water birds that include flamingo, varieties of Storks, Pelican, Grey, and Purple Heron and Darters.
Safari at Yala National Park
This is an extraction from a blog post written by one of our clients that went on a Leopard Safari at Yala National Park. We are sharing this to give you a sense of what kind of excitement awaits you during a safari with us.
"Four excited visitors along with the T2 Travels Sri Lanka guide and I set off to another stimulating journey within the Yala National Park.
It was an intensely hot day but it was soothing to be out in the evening exploring the wild and a safari especially in Yala can brighten anyone's spirit.
Before we left the camp we were aware that it was the mating season for leopards and we had our fingers crossed.
As the safari jeep reached the Darshana Wewa junction in the park we were hushed by our guide who pointed towards a sight we were all waiting for…a couple! Everyone was excited since this impressive sighting of TWO LEOPARDS TOGETHER finally rewarded our patience.
This was surely an exciting moment especially if you are as enthusiastic as we are about leopards. Since these spotted big cats prefer a solitary life, you will rarely see two adult leopards together unless during the mating season.
All eyes were glued at this rare sight but the pair was oblivious to their audience and continued with the ferocious frolicking. The snarling and growling sounds that scared us seemed to be the leopard mating rituals in which they conveyed their love or lust."
When to go
The best time to visit Yala is from February to September. The driest times are the best to spot animals, which is from June to August. During rainfall from October to January, the park is at its greenest.
Best time for a safari
The best time to start your safari is in the morning or late afternoon. If it's in the morning you have to be there by 5 am and the evening session is usually at 3 pm.
Day 4 – Tangalle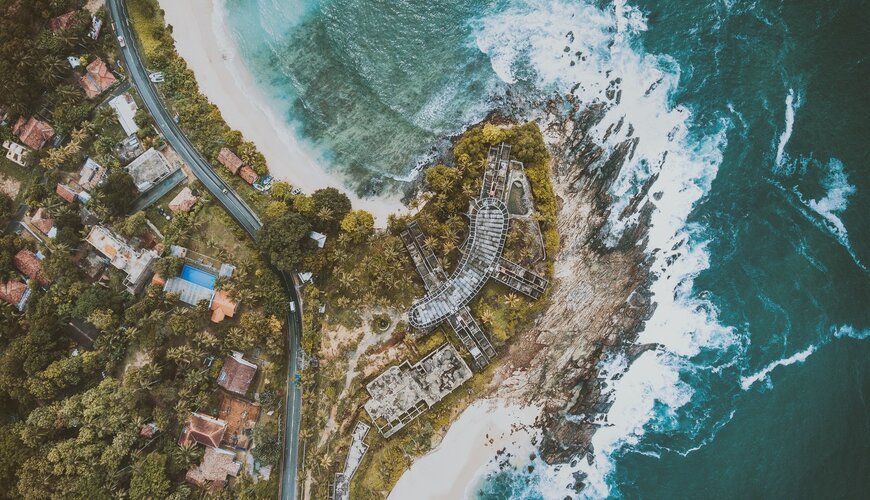 On the final day of the Sri Lanka tour packages from Bangladesh itinerary, we cover the self-contained city of Tangalle.
It is home to one of the best-preserved beaches in Sri Lanka that remains pristine and less crowded.
Tangalle is located in the Hambantota district towards the southern coast. With pleasing weather and breathtaking golden sandy beach, it has managed to stay away from mass tourism as much as possible.
You can spend the day enjoying exciting watersports such as snorkeling, diving, surfing, and even whale watching.
One of our personal pastimes is to lounge carelessly on the beach sipping drinks and getting up only to enjoy the best seafood dishes.
Tangalle beach
To the west of Tangalle, there is a string of natural bays lying in between vivid rocky headlands and some of them are superb for swimming.
Medaketiya and Medilla beaches are located to the east of the town; these are where the watersports take place. You can go turtle watching at the Rekawa beach located to the east of Tangalle.
Visit Mulkirigala rock temple
The Mulkirigala Raja MahaViharaya is an ancient Buddhist rock temple, which has similar architecture and design to Sigiriya Rock.
King Saddhatissa constructed the temple in the 3rd century AD. Located within 30 minutes of Tangalle, it has amazing architecture, paintings, and sculptures.
Bird watching in Bundala
The Bundala National Park is a pioneering bird-watching destination located within a short drive from Tangalle. It is the first-ever to be declared a Ramsar site in Sri Lanka.
The park is home to 32 species of mammals and out of which 5 are considered endangered. The park is a paradise for bird watchers with rich birdlife of close to 200 species including the migratory waterfowl.
Wildlife enthusiasts have a lot to look forward to at Bundala with a significant number of elephants, estuarine crocodiles, turtles, and even leopard roaming the grounds.
Turtle spotting at Rekawa beach
Over the years turtle watching has been added to the list of things to do around Tangalle. You get five species of (sea) turtles in Sri Lanka, the green turtle, loggerhead, Olive ridley, leatherback, and hawksbill.
Abundant of green turtles come to the Kosgoda and Rekawa beach. The green and black oval shaped shells are how you can identify them. The Olive Ridelys are the most commonly seen in Lankan shores.
They are the smallest marine turtles and they have green shells. The biggest sea turtles are the leatherbacks and they consume only jellyfish.
Even the hawksbill turtles have a unique palate that feeds on toxins release from shell fish and jelly fish.
Consuming leatherback meat has proven to be fatal. The least common turtles in Sri Lanka are the Loggerheads.
They have large heads and the distinguishing colour of the carapace makes it easy to identify them. Loggerheads feed on sponges, jellyfish, mussels and a variety of fish.
Farewell Sri Lanka
After your short visit to Sri Lanka, we are sure you want to come back for more. T2 Travels Sri Lanka is more than happy to organize a customized long stay tour package according to your preferences.
All our tours are designed to offer visitors the best experience during their stay in the country whether it's a short stay or long holiday.