Locations
Highlights
Pinnawala Elephant Orphanage
Spice and Herbal Garden
Kandyan Dance Show
Temple of the Sacred Tooth Relic
Gem Museum
traditional Wood Carving
Batik Cloth Factories
Royal Botanic Garden
Tea Factory
Sri Bhakta Hanuman Temple
Ramboda Ella
Strawberry Farm
Lake Gregory
Horton Plains National Park
Seetha Amman Temple
Ashok Vatika
St. Clair Falls
Devon Falls
White Water Rafting
Day 1 – Airport to Kandy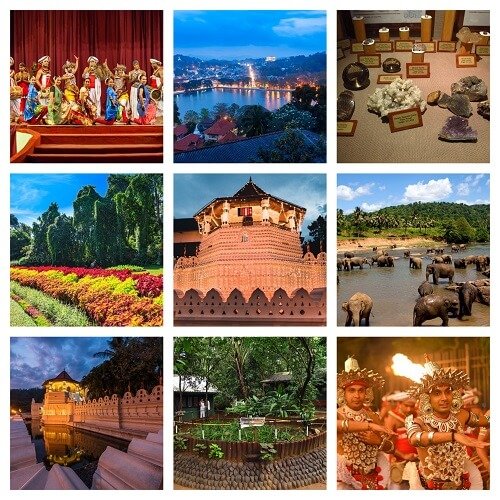 Your 3 days 2 nights Sri Lanka package begins from Kandy, On your arrival at Bandaranaike International Airport, a T2 Travels representative will be waiting, ready to meet and greet you. Then, we will embark on our trip to the city of Kandy.
On our way, we will visit the Pinnawala Elephant Orphanage, located on a former coconut farm near the Maha Oya River in Pinnawala. It was founded as a sanctuary for injured and abandoned wild elephant calves, found throughout the Sri Lankan wilderness. Today, it also operates a successful breeding program that plays an important role in the conservation of these magnificent animals.
Continuing on our way, we will visit the Spice and Herbal Garden. For more than two millennia, Sri Lanka was an important producer and exporter of spices, which according to legend even the biblical King Solomon enjoyed. Here you will learn about the many species that originate from this island and their production, among which the most famous is the true cinnamon.
Arriving in Kandy, we will attend a cultural heritage show that starts at 4 pm. Kandyan Dance Show is a spectacle that showcases the immaterial heritage of Sinhalese civilizations. It consists of dance routines that over centuries developed from religious rituals and as an art form.
After the show, we will visit one of the holiest places of Buddhism in Sri Lanka. Sri Dalada Maligawa or the Temple of the Sacred Tooth Relic is the Buddhist built for the purpose of safe-keeping and veneration of the sacred relic of Buddha's tooth.
It time allows it, we will also visit the Gem Museum, traditional Wood Carving, and Batik Cloth Factories.
A direct trip from Bandaranaike International Airport to Kandy typically takes 3 hours and 20 minutes, and you will stay overnight at the hotel on the Half Board basis, with dinner and breakfast included in price.
Day 2 – Kandy to Nuwara Eliya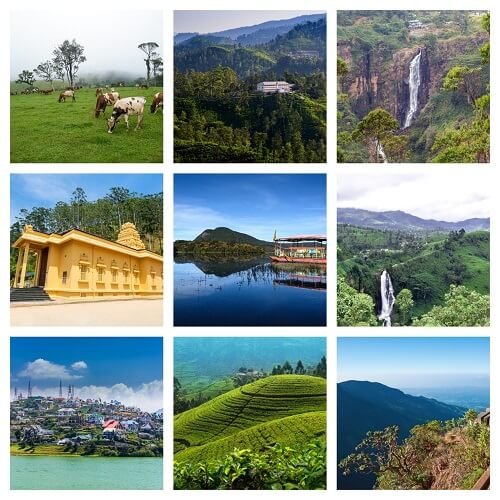 After breakfast at the hotel in Kandy, we will get on our way to Nuwara Eliya.
The first stop on our way will be in Kandy's suburb of Peradeniya, where Royal Botanic Garden is located. This botanic garden is built at a place at which in the 14th century were palace gardens of one of the first Kandyan kings. It is home to more than 4,000 plant species, with many endemic to the island. But also one of the finest collections of orchids in the world.
Continuing on our way through the hills of tea country, we will visit the Tea Factory. Due to the temperate climate of this area, the slow-growing tea trees were cultivated here since the 19th century. On a guided tour, you will be able to learn about the history and methods of producing some of the finest tea in the world.
Afterward, we will visit the village of Ramboda, where Sri Bhakta Hanuman Temple is located. This temple is dedicated to Hindu deity Lord Hanuman, and one of the central characters of the epic Ramayana. Nearby are also Ramboda Ella, an astonishing tiered waterfall.
With an altitude of more than 1,800 meters above the sea, Nuwara Eliya has a climate favored by vegetables and fruits more common in continental Europe than on the islands in the Indian Ocean. One such fruit is strawberries, and we will visit the Strawberry Farm, where you can enjoy some of the most aromatic fruits and fruit products.
One of the most popular leisure spots in Nuwara Eliya is Lake Gregory. An artificial lake dammed in the 19th century where you can relax, fish, or have a boat ride.
A direct trip from Kandy to Nuwara Eliya typically takes 2 hours and 10 minutes, and you will stay overnight at the hotel on the Half Board basis, with dinner and breakfast included in price.
Day 3 – Nuwara Eliya to Airport
We will start on our way to Bandaranaike International Airport early in the morning. Breakfast is provided in the form of a takeaway in the Horton Plains National Park.
The first stop on our way will be the Horton Plains National Park. A nature reserve located on a plateau rising more than 2 kilometers above the sea level. It is a hiking hotspot, and its most astonishing feature is the World's End. A sheer precipice that rises almost 1,200 meters above the valley. It offers a stunning view of the lowlands, which is often obscured by the mists that settle in the morning.
Continuing on our way, we will visit the Seetha Amman Temple, a Hindu temple dedicated to the princess Sitha, whose abduction and captivity are central events of Ramayana. According to legend, the last part of her captivity she has spent where the temple stands today. Near the temple is the Ashok Vatika, a wooded area where per legend Lord Hanuman presented to Sitha proof of his identity under an Ashok tree.
On our way, we will also see the St. Clair Falls, which are among the widest waterfalls in Sri Lanka. And also the Devon Falls, enchantingly beautiful waterfall, often called the Veil of the Valley for its appearance.
We will also make a stop at Kitulgala, a town through which flows the Kelani River. On this river, we will embark on adrenaline-pumping White Water Rafting. A very popular activity on a river that flows through one of the last virgin rainforests on the island.
A direct trip from Bandaranaike International Airport to Kandy typically takes 5 hours and 30 minutes.
Include
Accommodation (3-5 star hotels)
Private driver guide
Brand new luxury car or van
Breakfast/lunch/dinner
Sightseeing
Sim card
Water bottles
Highway tolls
All local taxes.
Exclude
Flight tickets
Early check-in and late check-out at hotels
All tips & porter charges
Cost of beverage throughout the tour
Expenses of a personal nature
Insurance
Visa
Any other services not specified above.
Booking Confirmation Policy
Client have to pay 25% on total tour cost in advance and balance on arrival.
The customer receives a confirmation voucher via email after advance payment.
Cancellation policy
If cancellations are made 15 days before the start date of the trip, 25% of total tour cost will be charged as cancellation fees.
Refund policy
The applicable refund amount will be processed within 7 business days.
Why book with us?
24/7 customer service
Trip customizable