Locations
Highlights
Sigiriya rock
Jeep Safari
Spice Garden
Golden Temple of Dambulla
Kandyan Dance Show
Temple of the Sacred Tooth Relic
Kandy Lake
Royal Botanic Gardens
White Water Rafting
Day 1 – Airport to Sigiriya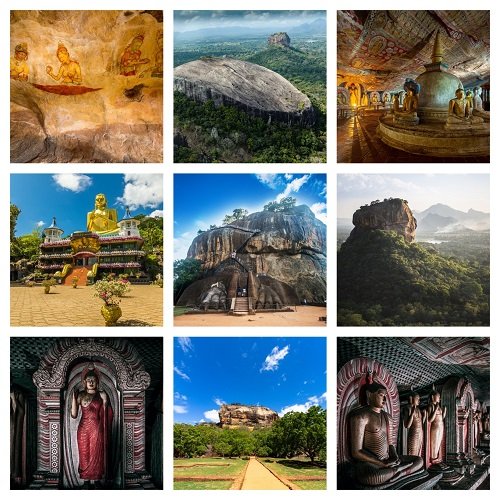 Arriving at Bandaranaike International Airport you will be waited for by a T2 Travels representative. After the meet and greet, we will start our trip to Sigiriya.
As we arrive in the town of Sigiriya, we will proceed to its most famous sight, the Lion Rock. This natural formation is surrounded by an ancient city dating from the 5th century AD, with majestic stone and water gardens, and water tanks that supply them with water. We will pass through Lion Gate, flanked by two huge lion paws, on our way to the summit and explore the ancient citadel built on top of this 200 meters tall rock.
Afterward, we will embark on the Jeep Safari in the Minneriya National Park, located near the Minneriya Wewa, an artificial lake constructed in the 3rd century AD. During the dry season wildlife from surrounding area flocks here in search of water and food. Most famous is the sight of the largest herd of wild elephants, which numbers between 150 and 200 individuals. With herbivorous animals come also the predators, and with a bit of luck majestic Sri Lankan leopards can be seen here.
A direct trip from Bandaranaike International Airport to Sigiriya typically takes 3 hours and 30 minutes, and you will stay overnight at Hotel on the Bed & Breakfast basis, with breakfast included in price.
Day 2 – Sigiriya to Kandy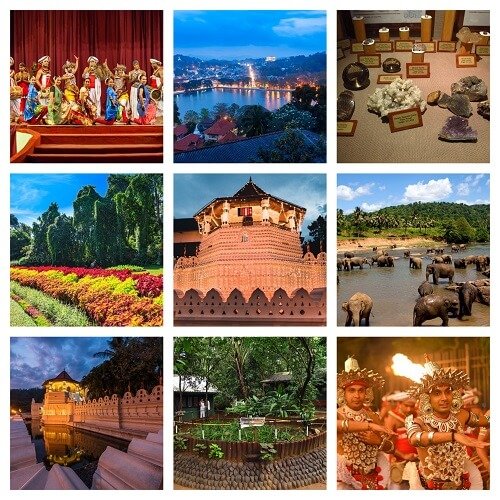 After breakfast at the hotel in Sigiriya, we will head for Kandy.
On our way to the city of Kandy, we will pass through Dambulla. A city where the best-preserved cave temple complex is located. This temple complex, also known as the Golden Temple of Dambulla, spreads through five caves and is an active place of Buddhist veneration since at least the 1st century BC. Over centuries, more than 2,100 square meters of cave walls were painted with religious imagery of the different eras.
Continuing on our way, we will visit the Spice Garden, where you can learn about products Sri Lanka is famous for since the Bronze Age. Place where you can enjoy the fragrances of cardamon, nutmeg, mace, and the most famous of them, the true cinnamon. And where you can also purchase spices and traditional remedies of the highest quality.
In the afternoon, after we arrive at Kandy, we will attend the cultural heritage show. Kandyan Dance Show is a spectacle that showcases the immaterial cultural wealth of Sri Lanka. It consists of traditional dances that have developed as religious rituals, and as an art form that celebrates historical events, people, and nature.
After the show, we will visit one of the holiest places of Buddhist worship, the Temple of the Sacred Tooth Relic. One of the most important Buddhist relics in Sri Lanka is the relic of Buddha's tooth. According to a legend, who has this relic in custody also has the right to rule over the island. Thus the kings have built temples with the sole purpose of housing and venerating this relic. The last such temple is Sri Dalada Maligawa in Kandy. This temple is part of the royal palace complex, located on the banks of artificial Kandy Lake, and we will take a tour of its highlights.
A direct trip from Sigiriya to Kandy typically takes 2 hours and 30 minutes, and you will stay overnight at hotel on the Bed & Breakfast basis, with breakfast included in price.
Day 3 – Kandy to Airport
After breakfast at the hotel, we will start our journey to Bandaranaike International Airport.
In the morning we will visit the Royal Botanic Gardens located in the suburbs of Peradeniya. These gardens boast with a collection of more than 4,000 different plant species, among which a prominent place has the world-renowned collection of orchids.
Continuing on our way, we will make a stop in the town of Kitulgala. Through this town flows the Kelani River, and we will embark on White Water Rafting over its adrenaline-pumping rapids.
Arriving at the Bandaranaike International Airport will come the moment to bid farewell to this magical island.
A direct trip from Kandy to Bandaranaike International Airport typically takes 3 hours and 20 minutes.
Include
Accommodation (3-5 star hotels)
Private driver guide
Brand new luxury car or van
Breakfast/lunch/dinner
Sightseeing
Sim card
Water bottles
Highway tolls
All local taxes.
Exclude
Flight tickets
Early check-in and late check-out at hotels
All tips & porter charges
Cost of beverage throughout the tour
Expenses of a personal nature
Insurance
Visa
Any other services not specified above.
Booking Confirmation Policy
Client have to pay 25% on total tour cost in advance and balance on arrival.
The customer receives a confirmation voucher via email after advance payment.
Cancellation policy
If cancellations are made 15 days before the start date of the trip, 25% of total tour cost will be charged as cancellation fees.
Refund policy
The applicable refund amount will be processed within 7 business days.
Why book with us?
24/7 customer service
Trip customizable