Locations
Highlights
Gem Mining
Adisham Bungalow
Little Adam's Peak
Nine Arches Bridge
Ravana Ella
Ravana's Cave
Ella Rock
Buduruwagala Temple
Jeep Safari
Whale Watching
Galle Fort
Kosgoda Sea Turtle Sanctuary
River Boat Safari
Day 1 – Airport to Ella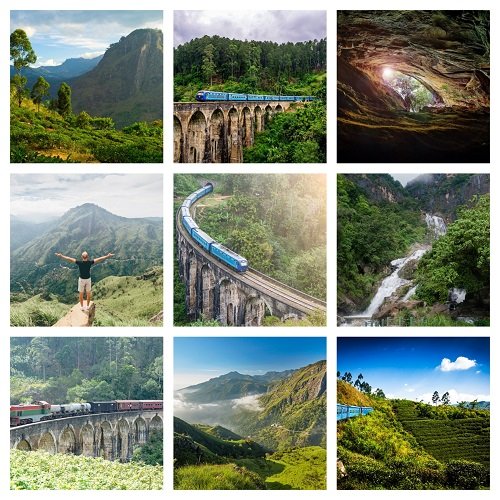 On your arrival at Bandaranaike International Airport, you will be awaited by a T2 Travel representative. After the meet and greet, we will start on our way to Ella.
On our way, we will visit the town of Ratnapura, known since ancient times for Gem Mining. In these shallow mines were unearthed some of the gems that today grace crowns of European royalties and the largest ever unearthed sapphire.
Our next stop will be at Adisham Bungalow. This country house near the town of Haputale was constructed in 1931 for a wealthy planter. Today it is a Roman Catholic monastery and with preserved fittings and furnishings, open to visitors as an example of Tudor Revival style of architecture of late colonial-period in Sri Lanka.
In the afternoon, we will climb up the Little Adam's Peak, a popular hiking spot near Ella, named after a famous place of pilgrimage Adam's Peak.
A direct trip from Bandaranaike International Airport to Ella typically takes 5 hours and 10 minutes, and you will stay overnight at hotel on the Bed & Breakfast basis, with breakfast included in price.
Day 2 – Ella to Mirissa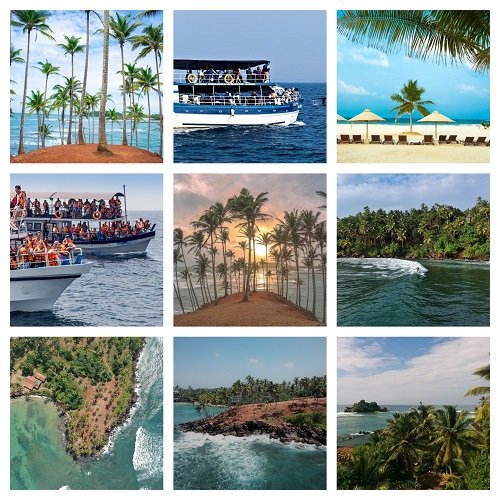 After breakfast at the hotel, we will head to Mirissa.
Our first stop will be the Nine Arches Bridge. A picturesque colonial-era railway bridge, which gently curves over a deep gorge covered by thick rainforest growth. Unofficially, it is one of the most photographed spots in Sri Lanka.
Continuing on our way we will visit the Ravana Ella waterfall, where according to legend princess Sitha bathed during her captivity in Ravana's Cave, as described in the Ramayana. The nearby cave, we will also visit, is also a place where some of the oldest evidence of human presence in Sri Lanka was found, dated as 25,000 years old.
The road will take us to Ella Rock. One of the most popular hiking locations, and a place from which spreads the astonishing vista of surrounding mist-covered mountains.
Afterward, we will visit the Buduruwagala Temple. An ancient Buddhist temple, best known for the Buduruvagala, or "the rock of Buddhist sculptures". This is a composition of seven statues carved in the rock-face, of which the central one is the tallest statue in Sri Lanka of a standing Buddha.
In the afternoon we will embark on the Jeep Safari in Udawalawe National Park. This the third most visited park in Sri Lanka, and a very important water bird and wild elephant habitat. It is also one of the rare spots in the world where the rusty-spotted cat lives, the smallest cat species in the world.
A direct trip from Ella to Mirissa typically takes 3 hours and 40 minutes, and you will stay overnight at hotel on the Bed & Breakfast basis, with breakfast included in price.
Day 3 – Mirissa to Airport
After breakfast at the hotel, we will start on our way to Bandaranaike International Airport.
Early in the morning, we will take a Whale Watching boat trip that starts at 7 am. In the waters surrounding Mirissa, during the whale watching season, you can see the largest animal that ever lived on our planet, the blue whale.
Afterward, we will visit the city of Galle, where Galle Fort is located. Surrounded on three sides by the sea, this walled fortress is the best-preserved example of European fortification construction in South Asia during the colonial period. Originally constructed by Portuguese in the 16th century and expanded by Dutch East Indian Company in 17th, today is a UNESCO World Heritage Site and one of the most popular tourist spots in Sri Lanka.
Continuing along the coast, we will visit the town of Kosgoda, where the Kosgoda Sea Turtle Sanctuary is located. The oldest sea turtle research and conservation center in Sri Lanka, dedicated to the protection of these magnificent animals.
If time allows it, we will also embark on the River Boat Safari, on the Madu Ganga River. This river meanders through the cavernous marshy mangrove forest of its banks. Together with the river islands, Randombe and Maduganga lakes, it is a biodiversity hotspot with more than 300 plant species and almost 250 species of vertebrates inhabiting it.
A direct trip from Mirissa to Bandaranaike International Airport typically takes 2 hours and 30 minutes.
Include
Accommodation (3-5 star hotels)
Private driver guide
Brand new luxury car or van
Breakfast/lunch/dinner
Sightseeing
Sim card
Water bottles
Highway tolls
All local taxes.
Exclude
Flight tickets
Early check-in and late check-out at hotels
All tips & porter charges
Cost of beverage throughout the tour
Expenses of a personal nature
Insurance
Visa
Any other services not specified above.
Booking Confirmation Policy
Client have to pay 25% on total tour cost in advance and balance on arrival.
The customer receives a confirmation voucher via email after advance payment.
Cancellation policy
If cancellations are made 15 days before the start date of the trip, 25% of total tour cost will be charged as cancellation fees.
Refund policy
The applicable refund amount will be processed within 7 business days.
Why book with us?
24/7 customer service
Trip customizable