Locations
Highlights
Bopath Ella
Little Adam's Peak
Nine Arches Bridge
Ella Rock
Ravana Ella
Dewundara Lighthouse
Galle Fort
Kosgoda Sea Turtle Conservation Project
River Boat Safari
Day 1 – Airport to Ella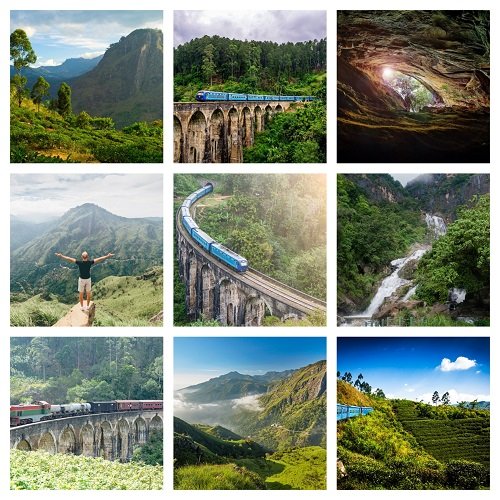 When arriving at Bandaranaike International Airport, a T2 Travels representative will be waiting to meet and greet you. Then we will start on our way to Ella.
On our way, we will visit Bopath Ella, a storied waterfall whose waters cascade in the shape of a leaf of the sacred fig tree. According to local myth, it is haunted by the restless spirit of a local young woman, who jumped off the cliff when her lover from the nearby Colombo abandoned her. The myth says that her spirit appears in the form of blue light near the place where she has died.
Continuing on our way, we will climb the Little Adam's Peak. A popular hiking spot, named after the more famous pilgrimage destination due to similar shape, but on a much smaller scale. From the summit, appears a beautiful enchanting vista of Sri Lankan mountains shrouded in mists and clouds.
We will also visit the Nine Arches Bridge, a stunning colonial-era railway bridge that gently curves and span over a ravine covered in lush green growth.
A direct trip from Bandaranaike International Airport to Ella typically takes 5 hours and 10 minutes, and you will stay overnight at hotel on the Bed & Breakfast basis, with breakfast included in price.
Day 2 – Ella to Ahangama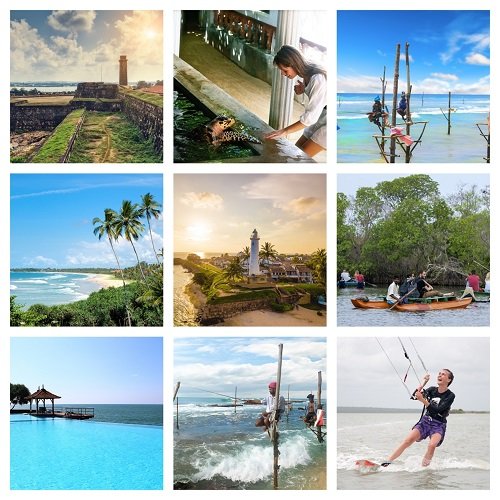 After breakfast at the hotel in Ella, we will start on our way to Ahangama.
Our first stop will be near Ella Rock, where we will hike up the slopes of this popular tourist spot. From here stretch gorgeous vistas of the verdant green hills, covered by tea plantations and lush rainforests.
Continuing on our way, we will visit another storied waterfall, the Ravana Ella. Epic Ramayana tells a story about the captivity of the princess Sitha at the hands of Lord Ravana. According to legend, Ravana Ella and nearby Ravana's Cave are places where she spent part of her captivity.
The next stop on our way is the town of Dondra, where Dewundara Lighthouse is located. This colonial-era lighthouse is known as one of just two dozen lighthouses around the world, purpose-built to house the class of largest lighthouse lenses.
Upon our arrival in Ahangama, we will spend the rest of the day at Leisure.
A direct trip from Ella to Ahangama typically takes 4 hours and 20 minutes, and you will stay overnight at hotel on the Bed & Breakfast basis, with breakfast included in price.
Day 3 – Ahangama to Airport
After breakfast at the hotel in Ahangama, we will start our trip to Bandaranaike International Airport.
Traveling along the coast, we will visit the Galle Fort. Located in the city of the same name, this walled fortress was built by Portuguese in the 16th century and expanded by Dutch East India Company in the 17th century. Today, it is a UNESCO World Heritage Site and a very popular tourist spot. Its beautifully restored colonial-era buildings are a prime example of European architecture in South Asia between the 16th and 19th centuries.
Continuing on our way, we will reach the town of Kosgoda where the Kosgoda Sea Turtle Conservation Project is located. This institution was founded at one of the most active nesting sites, where turtle eggs are collected and transferred to a hatchery, where baby turtles can hatch safely away from predators. This way, the turtles are protected from the many dangers they face during the early part of their life and also the preservation of these magnificent animals.
While in Kosgoda, we will also take a River Boat Safari. A one-hour ride on the Madu Ganga River. This wetland ecosystem is a place of stunning biodiversity. The marshy mangrove forests of its banks, and many islands, are home to more than 300 plant species and nearly 250 species of vertebrates.
A direct trip from Ahangama to Bandaranaike International Airport typically takes 3 hours and 30 minutes.
Include
Accommodation (3-5 star hotels)
Private driver guide
Brand new luxury car or van
Breakfast/lunch/dinner
Sightseeing
Sim card
Water bottles
Highway tolls
All local taxes.
Exclude
Flight tickets
Early check-in and late check-out at hotels
All tips & porter charges
Cost of beverage throughout the tour
Expenses of a personal nature
Insurance
Visa
Any other services not specified above.
Booking Confirmation Policy
Client have to pay 25% on total tour cost in advance and balance on arrival.
The customer receives a confirmation voucher via email after advance payment.
Cancellation policy
If cancellations are made 15 days before the start date of the trip, 25% of total tour cost will be charged as cancellation fees.
Refund policy
The applicable refund amount will be processed within 7 business days.
Why book with us?
24/7 customer service
Trip customizable