Locations
Highlights
Munneswaram Kovil
Manavari Kovil
Wilpattu National Park
Ancient City of Anuradhapura
Fish Market
Boat Trip
Day 1 – Airport to Anuradhapura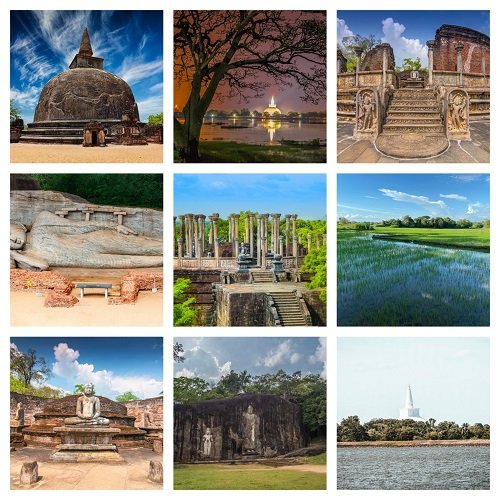 On the arrival at Bandaranaike International Airport, you will be awaited by a T2 Travels Representative. After the meet and greet, we will start on our way to Anuradhapura.
Heading north toward our destination, we will pass through Chilaw. A town where two important Hindu temples are located. Munneswaram Kovil is a temple located, according to legend, on the spot where the shrine dedicated to Shiva before the times described in the Ramayana. After defeating demon Lord Ravana, Rama prayed to Shiva at this temple, asking for absolution from the guilt of killing Ravana. According to Ramayana, his prayers were answered by instructions to erect four lingams, idols of Shiva, on four specific places. The first one Rama was to place where Manavari Kovil is today. Because of being the first, lingam in this temple is named Ramalinga Shivan and is one of the only two lingams in the world named after Lord Rama.
Continuing on our way, we will visit the Wilpattu National Park, the largest and one of the two oldest national parks in Sri Lanka. This park draws its name from a peculiar form of shallow water basins that fill with rainwater called "Willus". Wilpattu is often numbered among the best natural reserves for spotting the leopards. And with 49 of these majestic animals calling it home, it is a place with the second-highest concentration of these cats on the island, second only to Yala National Park.
A direct trip from Bandaranaike International Airport to Anuradhapura typically takes 3 hours and 45 minutes, and you will stay overnight at hotel on the Bed & Breakfast basis, with breakfast included in price.
Day 2 – Anuradhapura to Negombo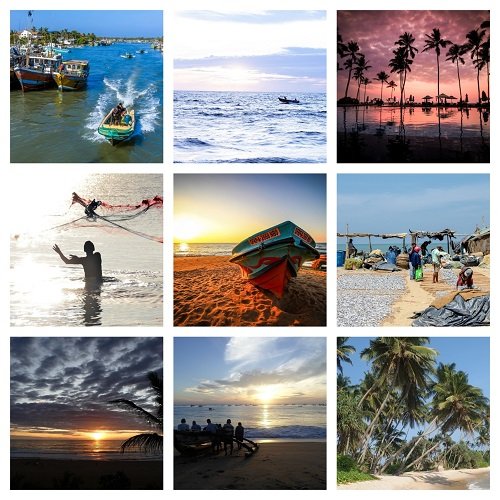 After breakfast at the hotel, we will start our journey toward Negombo.
In the morning we will visit the Ancient City of Anuradhapura. This city was established as the capital of Sinhalese civilization in the 4th century BC. But archeological evidence shows that it existed from at least the 10th century BC. This makes it one of the oldest continually inhabited cities in the whole world, whose ancient ruins are designated as a UNESCO World Heritage Site. For almost 15 centuries, until around 1017 AD Anuradhapura was the capital of Sinhalese civilization. During this period many Buddhist temples and magnificent buildings were constructed here. This city is often called a sacred city, due to many places of Buddhist veneration being here. Among them, the most significant are Atamasthana, the Eight sacred places, the eight places in Anuradhapura that are closely related to Buddha's visits to the island. Among these eight places, most astonishing are Thuparamaya, the very first Buddhist temple in Sri Lanka, constructed in the second half of the 3rd century BC. The other astonishing place is Jaya Sri Maha Bodhiya, a sacred fig tree planted from a branch of the tree under which Buddha has reached enlightenment. A sapling from Sri Maha Bodhi was planted here in 288 BC, which makes this tree the oldest tree in the world, which was planted by a man with a known date of planting.
A direct trip from Anuradhapura to Negombo typically takes 3 hours and 30 minutes, and you will stay overnight at hotel on the Bed & Breakfast basis, with breakfast included in price.
Day 3 – Negombo to Airport
After breakfast at the hotel in Negombo, we will start our trip to Bandaranaike International Airport.
The city of Negombo has started its existence as a simple fishing village centuries ago. Today it is the most important city for the fishing industry of Sri Lanka. In the morning we will visit the Fish Market, which is the biggest of its kind on the island. We will be able to observe the hustle and action of fish auctions that take place every morning.
Afterward, we will take a Boat Trip on the Hamilton Canal. Built in the early 19th century, and stretching from the northern outskirts of Negombo, to the Negombo Lagoon in the south, it was one of the more important commercial waterways in the city. On our ride, we will be able to see many of the Negombo's landmarks, which are located along the banks of this canal.
A direct trip from Negombo to Bandaranaike International Airport typically takes 20 minutes and that will be your 2 nights 3 days Sri Lanka trip end.
Include
Accommodation (3-5 star hotels)
Private driver guide
Brand new luxury car or van
Breakfast/lunch/dinner
Sightseeing
Sim card
Water bottles
Highway tolls
All local taxes.
Exclude
Flight tickets
Early check-in and late check-out at hotels
All tips & porter charges
Cost of beverage throughout the tour
Expenses of a personal nature
Insurance
Visa
Any other services not specified above.
Booking Confirmation Policy
Client have to pay 25% on total tour cost in advance and balance on arrival.
The customer receives a confirmation voucher via email after advance payment.
Cancellation policy
If cancellations are made 15 days before the start date of the trip, 25% of total tour cost will be charged as cancellation fees.
Refund policy
The applicable refund amount will be processed within 7 business days.
Why book with us?
24/7 customer service
Trip customizable