Locations
Highlights
Golden Temple
Jeep Safari
Sigiriya
Spice and Herbal Garden
Kandyan Dance Show
Gem Museum
Wood Carving Factory
Batik Factory
Temple of the Sacred Tooth Relic
Royal Botanic Garden
River Boat Safari
Old Fort
Beira Lake
Gangaramaya Temple
National Museum
Pettah
Old Dutch Hospital
Independence Memorial Hall
Day 1 – Airport to Sigiriya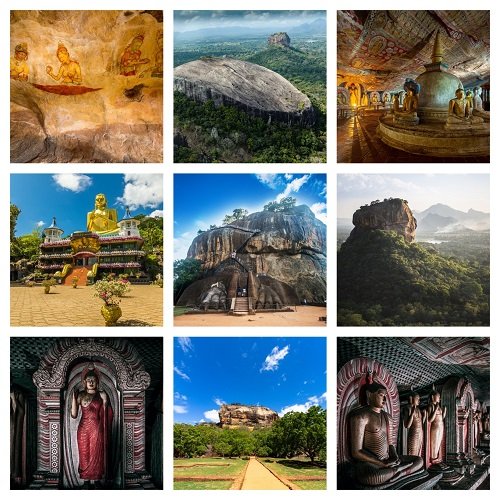 When you arrive at Bandaranaike International Airport, you will be awaited by a T2 Travels representative, ready to meet and greet you. Then we will start on our way to Sigiriya.
On our way, we will visit the city of Dambulla, where the Golden Temple is located This ancient Buddhist temple is an active house of worship since the 1st century BC. It is widely considered as the best-preserved cave temple complex in Sri Lanka. Through centuries of its existence, it was expanded throughout five caves, which were adorned by more than 150 statues of Buddha and more than 2,100 square meters of religious wall paintings, dating from various eras of sacral art.
In the afternoon we will embark on the Jeep Safari through Minneriya National Park. This wildlife sanctuary is located on the shores of artificial lake Minneriya Wewa. Dammed in the 3rd century AD, today is a place where a large number of animals migrate during the dry season, looking for food and water. Here you can see the largest wild herd of Sri Lankan elephants.
A direct trip from Bandaranaike International Airport to Sigiriya typically takes 3 hours and 30 minutes, and you will stay overnight at hotel on the Bed & Breakfast basis, with breakfast included in price.
Day 2 – Sigiriya to Kandy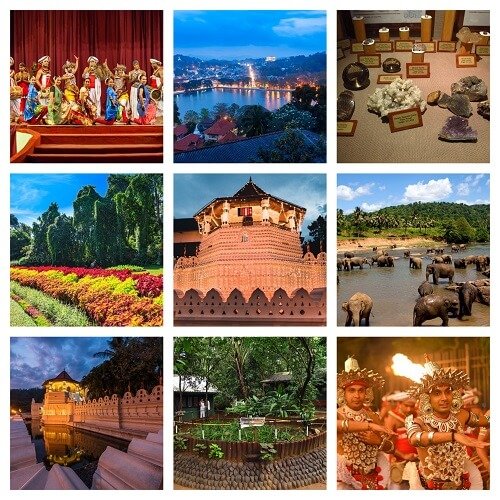 After breakfast at the hotel in Sigiriya, we will start on our way to Kandy.
In the morning we will visit the Ancient City of Sigiriya, a UNESCO World Heritage Site. The ancient ruins consist of a sprawling maze of gardens, with interconnected pools and water fountains, of which many are still functional. In the middle of it rises the Lion Rock, named so after a gigantic statue of a lion that towered over the main gate to citadel built on top of this 200 meters high natural formation.
Continuing on our way, we will visit the Spice and Herbal Garden. Here you will be able to learn about spice production in Sri Lanka. The industry that goes far back to ancient times of the island, and whose products imported to his kingdom biblical King Solomon.
Once we arrive in Kandy, we will attend the cultural heritage show, which starts at 4 pm. The Kandyan Dance Show, also known as Uda Rata Natum, is a national dance of Sri Lanka spectacle. It showcases the dance routines, developed through the centuries, and originating from religious rituals and also an art form celebrating nature, historical events, and legends.
If the time allows it, we will visit the Gem Museum, a traditional Wood Carving Factory, and the Batik Factory where the cloth is painted using the ancient technique of dyeing.
A direct trip from Sigiriya to Kandy typically takes 2 hours and 20 minutes, and you will stay overnight at hotel on the Bed & Breakfast basis, with breakfast included in price.
Day 3 – Kandy to Bentota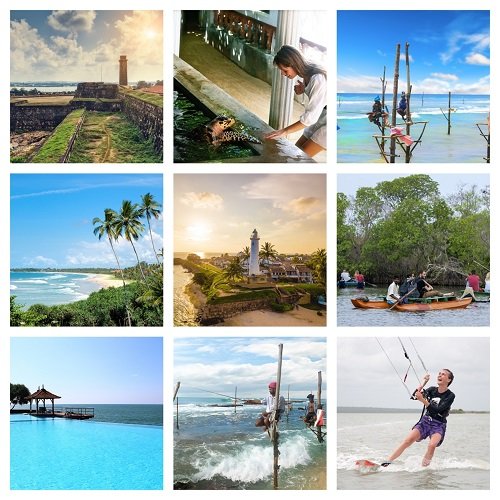 After breakfast at the hotel in Kandy, we will start our trip to Bentota.
Our first stop will be at the Temple of the Sacred Tooth Relic in Kandy. Also known as Sri Dalada Maligawa, this temple is one of the holiest Buddhist temples in Sri Lanka and for centuries the center of the Buddhist faith. According to legend, who possess the sacred relic of Buddha's tooth has the right to rule the island. Thus, Sri Lankan kings built temples inside the palace complexes to house this relic. This is the last such temple, built as part of royal palace complex in Kandy, and it houses one of the most sacred Buddhist relics.
On the outskirts of Kandy is located Royal Botanic Garden, which we will also visit. This botanic garden was built on the location of royal palace gardens of one of the first Kandyan kings. Its collection of more than 4,000 plant species is best known for the collection of orchids.
A direct trip from Kandy to Bentota typically takes 4 hours and 45 minutes, and you will stay overnight at hotel on the Bed & Breakfast basis, with breakfast included in price.
Day 4 – Bentota to Airport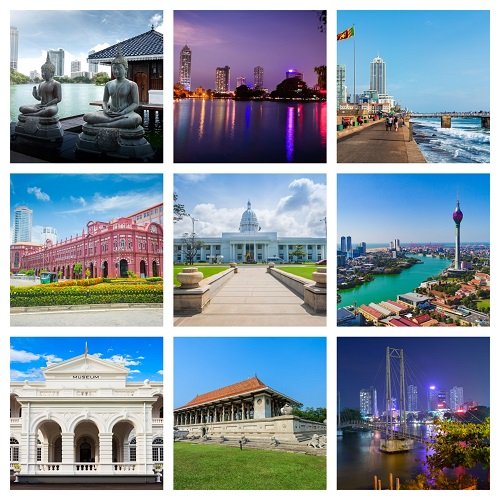 After breakfast at the hotel in Bentota, we will start the trip to Bandaranaike International Airport.
The first stop on our way will be in Kosgoda, where we will experience a one-hour River Boat Safari in Madu Ganga River. This river snakes through a breathtaking marshy mangrove forest which is teeming with wildlife, particularly birds.
Continuing on our way to Bandaranaike International Airport, we will on an excursion through Colombo. We will visit the Old Fort area known for the splendid colonial-era architecture, nearby is the Beira Lake and one of the most popular Buddhist temples in Colombo, the Gangaramaya Temple. Our sightseeing tour continues with a visit to the National Museum, and nearby Independence Memorial Hall, built at the spot where, in a special ceremony in 1948, was declared the independence of Sri Lanka. We will also spend time wandering the colorful streets of the historic neighborhood of Pettah, visiting the Old Dutch Hospital, a former colonial-era hospital which today functions as a modern shopping and dining district.
Include
Accommodation (3-5 star hotels)
Private driver guide
Brand new luxury car or van
Breakfast/lunch/dinner
Sightseeing
Sim card
Water bottles
Highway tolls
All local taxes.
Exclude
Flight tickets
Early check-in and late check-out at hotels
All tips & porter charges
Cost of beverage throughout the tour
Expenses of a personal nature
Insurance
Visa
Any other services not specified above.
Booking Confirmation Policy
Client have to pay 25% on total tour cost in advance and balance on arrival.
The customer receives a confirmation voucher via email after advance payment.
Cancellation policy
If cancellations are made 15 days before the start date of the trip, 25% of total tour cost will be charged as cancellation fees.
Refund policy
The applicable refund amount will be processed within 7 business days.
Why book with us?
24/7 customer service
Trip customizable