Locations
Sigiriya
Trincomalee
Kandy
Highlights
Munneswaram Kovil
Manavari Kovil
Spice and Herbal Garden
Golden Temple of Dambulla
Jeep Safari in Minneriya National Park
Sigiriya Rock Fortress
Koneswaram Kovil
Shankari Devi Temple
Kanniya Hot Springs
Pigeon Island National Park
Seetha Kotuwa
Sri Dalada Maligawa
Kandyan Dance Show
Gem Museum
Wood Carving
Batik Cloth Factories
Shri Bhakta Hanuman Temple
Ramboda Ella
Strawberry Farms
Seetha Aman Temple
Ashok Vatika
Lake Gregory
Day 1 – Airport to Sigiriya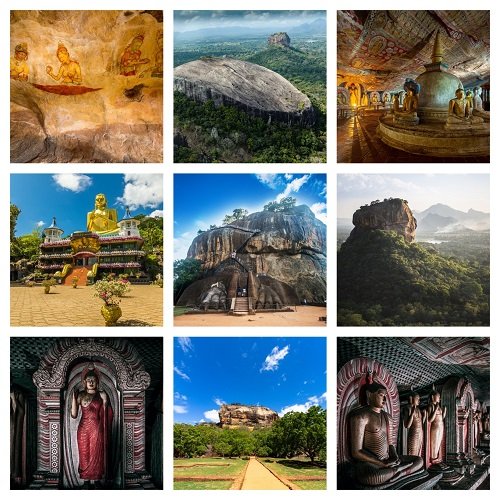 When arriving at Bandaranaike International Airport, a T2 Travels representative will be waiting to meet and greet you. Afterward, we will start on our journey to Sigiriya.
Traveling due north we will make a stop in the town of Chilaw. Here is located Munneswaram Kovil, a Hindu temple that is according to legend older than events described in epic Ramayana. Here Lord Rama prayed to Shiva and was instructed to erect four lingams at specific places.
Our next stop will be the place where, according to legend, Lord Rama has erected the first of those four lingams, Manavari Kovil. Because it was the first, the idol of Lord Shiva in this temple is known as Ramalinga Shivam.
Continuing on our way, we will visit Spice and Herbal Garden, where you can learn about the history and products of industry which exist on the island for at least two millennia. Its best-known product is the true cinnamon.
Then we will make a stop in the city of Dambulla, where the Golden Temple of Dambulla is located. This Buddhist temple is an active place of worship since the 1st century BC. Originally encompassing a single temple inside a cave, over the centuries has expanded over four more caves, which were decorated with more than 150 statues of Buddha and more than 2,100 square meters of religious wall paintings.
Next, we will take a Jeep Safari in Minneriya National Park. This wildlife reserve consists of the area surrounding a historical artificial lake, dammed in the 3rd century AD. The lake today is a hotspot of biodiversity, especially during the dry season when animals from surrounding areas migrate to it, in search of food and water.
A direct trip from Bandaranaike International Airport to Sigiriya typically takes 3 hours and 30 minutes, and you will stay overnight at hotel on the Bed & Breakfast basis, with breakfast included in price.
Day 2 – Sigiriya to Trincomalee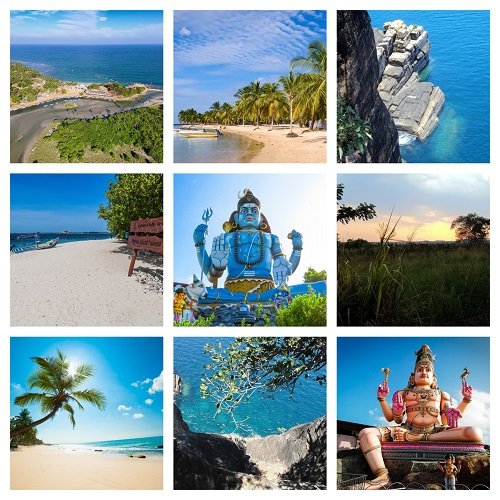 After breakfast at the hotel in Sigiriya, we will start our trip to Trincomalee.
Our first stop will be at Lion Rock. A majestic 200 meters high natural rock formation, on which top is located the ancient Sigiriya Rock Fortress. After climbing to this 5th-century citadel, we will enjoy the stunning vista of the ancient city and plains with ancient gardens that surround it.
After arriving in Trincomalee, we will visit the Koneswaram Kovil. This Hindu temple has a tradition that starts in the late 3rd century BC. Over centuries it was destroyed and rebuilt several times, and until the last such event, it was known as the Temple of Thousand Pillars for such architectural characteristics.
Near this temple is a smaller shrine dedicated to the Hindu goddess Sati, the Shankari Devi Temple. This shrine is one of the 18 Maha Shakti Pithas, 18 places where pieces of the goddess' body fell to Earth.
Afterward, we will visit the Kanniya Hot Springs, a complex of seven hot-water wells, according to the legend created by Lord Ravana striking the ground seven times with his sword.
We will also visit Pigeon Island National Park. This is one of the only two marine national parks in Sri Lanka, and due to thriving and very rich systems of coral reefs, it is teeming with wildlife and a very popular snorkeling spot.
A direct trip from Sigiriya to Trincomalee typically takes 2 hours and 10 minutes, and you will stay overnight at hotel on the Bed & Breakfast basis, with breakfast included in price.
Day 3 – Trincomalee to Kandy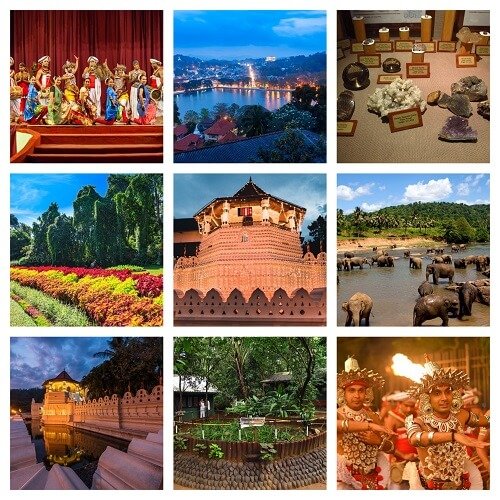 After breakfast at the hotel in Trincomalee, we will start on our way to Kandy.
The first stop we will make in the village of Gurulupotha, where some 300 meters from the road which goes through the village is Seetha Kotuwa. It is said that these ancient ruins are the remains of the legendary Lankapura, city of Lord Ravana and one of the places of princess' Sitha's captivity described in epic Ramayana.
When we arrive in Kandy, we will visit one of the holiest places of Buddhist veneration, the Sri Dalada Maligawa, or the Temple of the Sacred Tooth Relic. This temple is home to one of the most important Buddhist relics in Sri Lanka, the sacred relic of Buddha's tooth.
Afterward, we will attend the cultural heritage show starting at 4 pm. Kandyan Dance Show showcases some of the most important immaterial heritage of Sri Lanka. Dances that over centuries have developed from religious rituals and as an art form, and also the traditional costumes and masks of the Kandyan era.
If the time allows, we will also visit a Gem Museum, traditional Wood Carving, and Batik Cloth Factories.
A direct trip from Trincomalee to Kandy typically takes 5 hours and 10 minutes, and you will stay overnight at hotel on the Bed & Breakfast basis, with breakfast included in price.
Day 4 – Kandy to Airport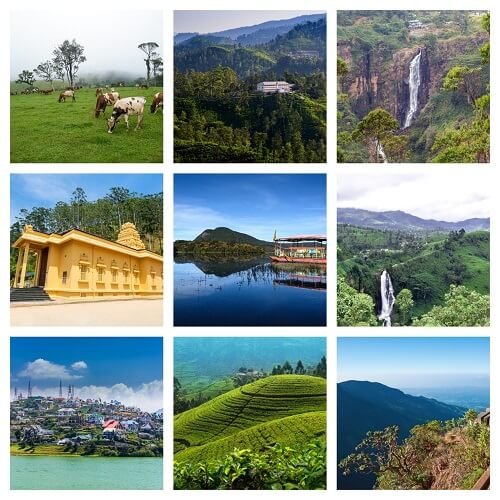 After breakfast at the hotel in Kandy, we will head to Bandaranaike International Airport via Nuwara Eliya.
The first stop on our way will be Shri Bhakta Hanuman Temple. A temple dedicated to a member of the Hindu pantheon and one of the central characters of epic Ramayana. Nearby are the Ramboda Ella, beautiful tiered waterfall whose waters fall in a Y shape from upper to lower tier.
Nuwara Eliya is famous for a temperate climate that is suitable for growing vegetables and fruits not common on a tropical island of the Indian Ocean. Thus we will visit Strawberry Farms, where you can enjoy these aromatic fruits and products of them.
Continuing on our way we will visit the Seetha Aman Temple and Ashok Vatika. These are the temple located in a place where according to Ramayana princess Sitha spent part of her captivity and a wooded area where under an Ashoka tree Lord Hanuman presented to princess a proof of his identity.
Arriving at Nuwara Eliya, we will visit Lake Gregory, a popular place for relaxation since the 19th century when this artificial lake was constructed. Here you can enjoy the same pastimes as the wealthy planters and colonial officials who found here a respite from the heat of the lowlands, boating, trout fishing, or strolling around the lake.
A direct trip from Kandy to Nuwara Eliya typically takes 2 hours and 20 minutes.
A direct trip from Nuwara Eliya to Bandaranaike International Airport typically takes 3 hours and 50 minutes.
Include
Accommodation (3-5 star hotels)
Private driver guide
Brand new luxury car or van
Breakfast/lunch/dinner
Sightseeing
Sim card
Water bottles
Highway tolls
All local taxes.
Exclude
Flight tickets
Early check-in and late check-out at hotels
All tips & porter charges
Cost of beverage throughout the tour
Expenses of a personal nature
Insurance
Visa
Any other services not specified above.
Booking Confirmation Policy
Client have to pay 25% on total tour cost in advance and balance on arrival.
The customer receives a confirmation voucher via email after advance payment.
Cancellation policy
If cancellations are made 15 days before the start date of the trip, 25% of total tour cost will be charged as cancellation fees.
Refund policy
The applicable refund amount will be processed within 7 business days.
Why book with us?
24/7 customer service
Trip customizable