Locations
Highlights
Gem Museum
Adisham Bungalow
Ravana Ella Cave
Ravana Falls
Ella Gap Panorama
Little Adam's Peak
Nine Arch Bridge
Buduruwagala Temple
Dondra Head lighthouse
Whale Watching
Snorkeling & Scuba Diving
Galle Fort
Kosgoda Sea Turtle Conservation Project
Madu Ganga Boat Safari
National Museum
Pettah
Gangaramaya Temple
Beira Lake
Independence Memorial Hall
Day 1 – Ella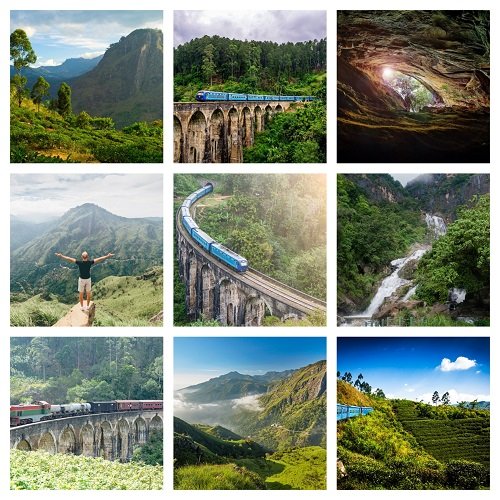 Upon your arrival at BIA, a T2 Travels representative will wait for you to meet and greet you, and you will embark on your trip to Ella.
On the way to your accommodations, we will pass through Ratnapura, the city whose name in Sanskrit means City of Gems and where the most expensive sapphire in the world was unearthed, the Blue Belle of Asia. We will visit the Gem Museum and shops, where you can learn about the precious stones industry which dates back thousands of years back in time.
On the way to Ella, we will also visit the Adisham Bungalow near the town of Haputale, a country house built during the interwar period by English aristocrat Sir Thomas Villiers. Today it is a Catholic monastery belonging to the Benedictine order, it houses a relic of Saint Sylvester. With immaculately kept grounds and gardens, it is a representative object of the Tudor Revival style of architecture.
After arriving in Ella, we will visit two of the storied places in this town. Ravana Ella Cave and Ravana Falls are two places where, according to legend, events of the epic Ramayana took place. Here king Ravana has kept imprisoned princess Sita until she was fried by forces of her husband Rama. Ravana Ella Cave is also an archeological dig site where were found evidence of human settlement dated 25,000 years old. Ravana Falls is among the most stunning natural sights in Sri Lanka and is one of the most photographed places on the island.
A direct trip from BIA to Ella typically takes 5 hours and 10 minutes, and you will stay overnight at hotel on the Half Board basis, with dinner and breakfast.
Day 2 – Ella to Mirissa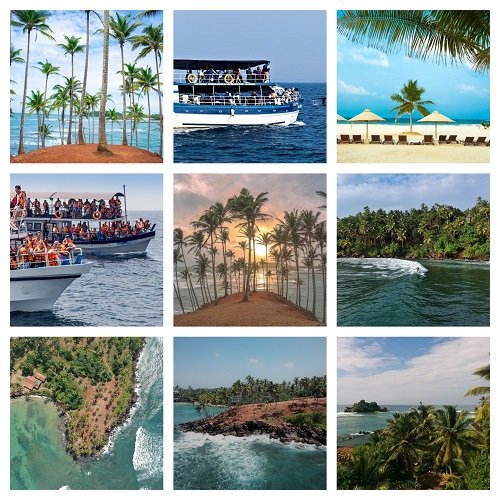 After breakfast at the hotel in Ella, we will embark on the trip to Mirissa with a few stops along the way.
Ella, being in the hill-country of Sri Lanka, is one of the trekking hotspots. On the way to Mirissa, we will detour to Little Adam's Peak, one of the easiest hiking treks on the island, but which offers bewitching views of the mountain peaks which surround this miniature version of the famous pilgrimage destination.
Continuing on our way we will visit the Nine Arch Bridge, a picturesque brick and stone bridge from colonial times that is unofficially the most photographed bridge in Sri Lanka. With a background of verdant green wooded hillside, this almost a hundred years old bridge gently curves and spans over a 25 meters deep ravine.
The next stop on our way is the Buduruwagala Temple, known for the 10th century carved statues that belong to the tradition of Mahayana Buddhism. Of these seven statues, known as Buduruvagala or "the Rock of Buddha Sculptures", the central sculpture of standing Buddha is 16 meters tall which makes it the tallest in Sri Lanka.
Just before reaching Mirissa, we will visit the village of Dondra, where the Dondra Head lighthouse is located. This lighthouse was built between 1887 and 1890 and was designed to house a hyper-radiant Fresnel lens, by size the largest class of lighthouse lenses, which were installed in less than two dozens of lighthouses around the world.
A direct trip from Ella to Mirissa typically takes 3 hours and 45 minutes, and you will stay at the hotel on a Half Board basis, with dinner and breakfast.
Day 3 – Mirissa Excursion Day
One of the most popular activities in the town is certainly the Whale Watching. The whale-watching season follows the migratory patterns of whales and the best time of the year for it is between November and April. Most common are sightings of the blue whales, which are not just the largest mammals but also the largest animal that ever inhabited our planet. With a little bit of luck, you will also see Sperm whales, Orcas, fin whales, or Bryde's whales. Very often various species of dolphins are spotted, such as bottlenose, spinner, Risso's or striped dolphins. Whale watching boats disembark from the Mirissa Harbour at 0700 hours.
Just a short drive from Mirissa is the town of Unawatuna. Due to two large coral reefs in the waters that surround it is a very popular spot for Snorkeling & Scuba Diving.
The rest of your stay in Mirissa you can spend in languid relaxing on one of its beaches, where cocktails and fresh seafood cuisine are just a few steps away.
The overnight stay is at the Resort on a Half Board basis, with dinner and breakfast.
Day 4 – Mirissa to Colombo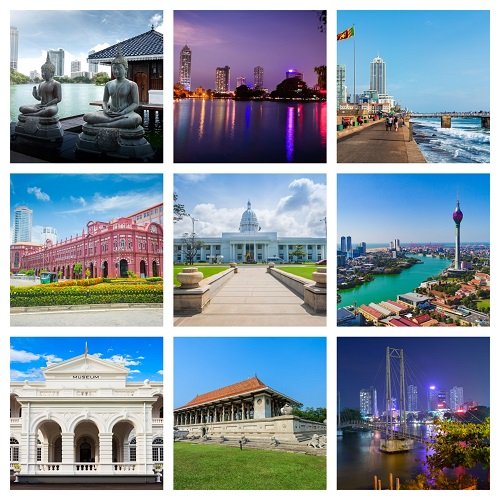 After breakfast at the hotel in Mirissa, we will head for Colombo.
Our first stop on the way to Colombo is the Galle Fort. Originally built by Portuguese in the 16th century, and greatly expanded by Dutch in the 17th century. Today it is a UNESCO World Heritage Site and is considered as the best-preserved colonial-era fortification in Sri Lanka. Most of the buildings inside the Fort were restored to their old glory, with historical monuments such as Dutch Reformed Church and Meera Mosque preserving their function. But some have been repurposed for new usage. The Dutch Warehouse today houses National Maritime Museum, with artifacts retrieved from 21 historic shipwrecks near Galle. And the Old Dutch Hospital today is a popular dining and shopping district.
On our way along the coast, we will visit the Kosgoda Sea Turtle Conservation Project. This hatchery has started its existence with the aim of providing sanctuary to these magnificent creatures during their most precarious period of life, while they are just little hatchlings and easy prey to predators. Every year the volunteers of conservation projects help clean the beaches and protect the nesting grounds of turtles. And at this location, you can learn much about how endangered these animals are and what efforts exist to protect these beautiful animals before it is too late.
Near Kosgoda we will take a one hour break for the Madu Ganga Boat Safari. One of the biodiversity hotspots, Madu Ganga, or Madu River estuary is a swampy marshland covered in the mangrove forest. The vegetation of riverbanks and many islands in it are relatively undisturbed areas, and home to many species of flora and fauna which are endemic to Sri Lanka.
A direct trip from Mirissa to Colombo typically takes 2 hours and 10 minutes, and you will stay at the hotel, on a Half Board basis, with dinner and breakfast.
Day 5 – Colombo to Airport
On your way to Bandaranaike International Airport, we will take a sightseeing excursion around Colombo. You will see some of the most beautiful sights in this city. The Old Fort area, which houses many of the beautiful colonial-era buildings, such as the National Museum of Sri Lanka. You will have the opportunity to wander the colorful streets of historical Pettah neighborhood and see the astounding Pettah Floating Markets. We will pay a visit to Gangaramaya Temple located on the banks of Beira Lake, and also one of the most important monuments in the modern history of Sri Lanka. Independence Memorial Hall, built on a location where British Prince Henry, Duke of Gloucester, on February 4, 1948, opened the first parliament of Sri Lanka, the event which formally marked the start of self-rule in Sri Lanka.
A direct trip from Colombo to Bandaranaike International Airport typically takes 1 hour and 10 minutes.
Include
Accommodation (3-5 star hotels)
Private driver guide
Brand new luxury car or van
Breakfast/lunch/dinner
Sightseeing
Sim card
Water bottles
Highway tolls
All local taxes.
Exclude
Flight tickets
Early check-in and late check-out at hotels
All tips & porter charges
Cost of beverage throughout the tour
Expenses of a personal nature
Insurance
Visa
Any other services not specified above.
Booking Confirmation Policy
Client have to pay 25% on total tour cost in advance and balance on arrival.
The customer receives a confirmation voucher via email after advance payment.
Cancellation policy
If cancellations are made 15 days before the start date of the trip, 25% of total tour cost will be charged as cancellation fees.
Refund policy
The applicable refund amount will be processed within 7 business days.
Why book with us?
24/7 customer service
Trip customizable