Locations
Bentota
Colombo
Kandy
Nuwara Eliya
Sigiriya
Highlights
Sigiriya
Minneriya National Park
Golden Temple of Dambulla
Spice & Herbal Garden
Kandyan Dance Show
Temple of the Sacred Tooth Relic
Gem Museum
Wood Carving Factory
Cloth-dying Batik Factory
Royal Botanical Gardens
Tea Factory
Shri Bhakta Hanuman Temple
Ramboda Falls
Strawberry Farms
Lake Gregory
Horton Plains National Park
Baker's Falls
Seetha Aman Temple
Hakgala Botanical Gardens
Ashok Vatika
St. Clair's Falls
Devon Falls
White Water Rafting
River Boat Safari
Kosgoda Sea Turtle Conservation Project
Galle Fort
Colombo city tour
Old Fort
Beira Lake
Gangaramaya Temple
National Museum
Independence Memorial Hall
Old Dutch Hospital
Pettah
Day 1 – Airport to Sigiriya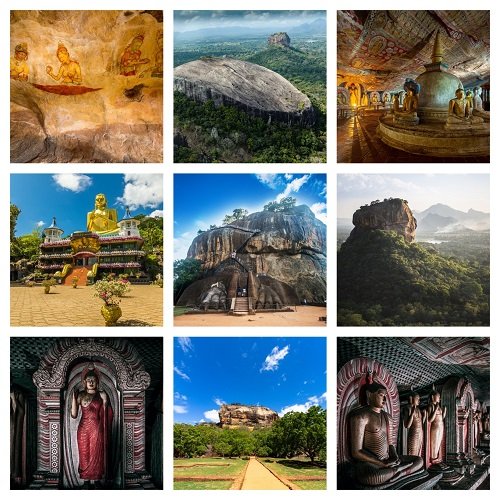 On your arrival at BIA, you will be awaited by a T2 Travels Sri Lanka representative ready to meet and greet you, and we will start the trip leading to Sigiriya.
Upon reaching Sigiriya, we will explore the gardens of this ancient city, with pools built by engineers of ancient times and water fountains that even after more than 15 centuries still function. We will pass through the Lion Gate, flanked by two enormous lion's paws, and climb to the summit of the Lion Rock and explore the remains of the ancient citadel.
Afterward, we will embark on a jeep safari through Minneriya National Park. Situated on the banks of historic Minneriya tank, built in the 3rd century AD, it is home to the largest wild Asian elephant gathering. During the dry season elephant herd, which numbers between 150 and 200 individuals, migrates closer to the Minneriya tank in search of food and water. Along with elephants many other birds and animals migrate too, and this leads to the opportunity of spotting the majestic Sri Lankan leopards.
A direct trip from BIA to Sigiriya typically takes 3 hours and 30 minutes, and you will stay overnight at hotel on the Bed & Breakfast basis, with breakfast included in price.
Day 2 – Sigiriya to Kandy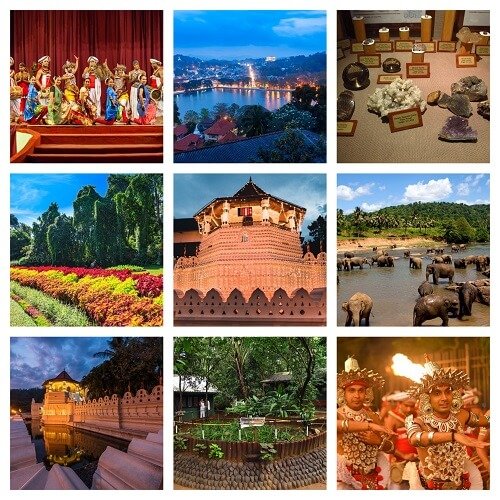 After breakfast at the hotel in Sigiriya, we will head towards Kandy.
First stop on our way to this former capital of Sinhalese civilization is the Golden Temple of Dambulla. This cave temple complex consists of five caves of which the oldest one dates back to the first century BC. Over time it was expanded to four more surrounding caves, which were adorned with statues of Buddha and more than 2,100 square meters of religious paintings. It still functions as a working Buddhist temple, which makes it one of the oldest temples, with continuing tradition, in Sri Lanka.
We will continue on our way and pay a visit to the Spice & Herbal Garden. According to the legend, King Solomon was importing gems, wild animals, and especially spices from ancient kingdoms of Sri Lanka. Among the many spices that originate from Sri Lanka, the true cinnamon holds a special place and Sri Lankan is considered of the highest quality in the world. Here you will have the opportunity to learn about spice trade and cultivation, and buy the highest quality products, including traditional Ayurvedic herbal remedies and natural cosmetics.
Upon arriving at Kandy, we will attend the Kandyan Dance Show. Starting at 4 pm this ritual dancing and the cultural show is a must-see for any visitor of Sri Lanka. Sri Lankan dancing tradition has developed since ancient times as a ritualistic dancing and a form of theater. You will enjoy the traditional Kandyan dances, also known as Uda Rata Natum, which consists of various dance routines originating in religious rituals, nature, legends, sacred lore, or praise to gods and Buddha.
After the show, we will visit the Temple of the Sacred Tooth Relic, which houses the sacred relic of Buddha's tooth. Since its arrival to Sri Lanka in the 4th century AD custodianship of this relic was a duty of the monarch. As the capital of the Sinhala kingdom would change, a new temple for housing this relic would be built. The last one ever built, and in which this relic is kept today is Sri Dalada Maligawa temple in Kandy. This temple is today one of the most sacred Buddhist temples in Sri Lanka and a UNESCO World Heritage Site.
If the time allows, we will also visit a Gem Museum, traditional Wood Carving Factory, and traditional cloth-dying Batik Factory.
A direct trip from Sigiriya to Kandy typically takes 2 hours and 20 minutes, and you will stay overnight at hotel on the Bed & Breakfast basis, with breakfast included in price.
Day 3 – Kandy to Nuwara Eliya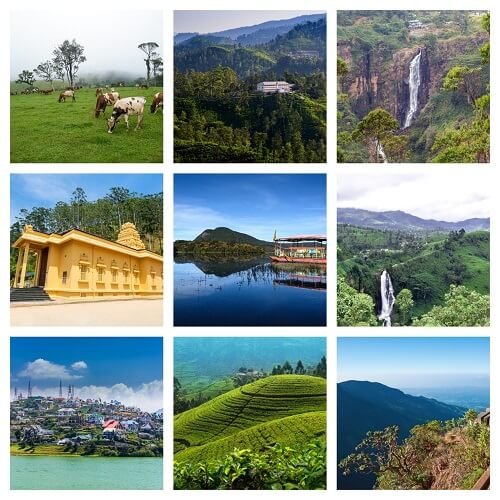 After breakfast at the hotel in Kandy, we will proceed to Nuwara Eliya.
The first stop on our way will be the Royal Botanical Gardens in Peradeniya, a suburb of Kandy. This garden has started its life as part of the royal court of King Wickramabahu III, who ascended to the throne in 1371. Today, it is home to more than 4,000 species of plants and is world-renowned for the collection of orchids.
Visiting the tea country can't go without visiting a Tea Factory. On a guided tour through a tea estate, you will learn about the tea production in Sri Lanka, its history and methods. And also have an opportunity of tasting some of the best tea in the world.
Afterward, we will visit the Shri Bhakta Hanuman Temple, a Hindu temple dedicated to Lord Hanuman, one of the seven immortal beings of Hindu religion that are bound to remain living on Earth until the end of the current Kali Yuga cosmological era, and one of the central characters of epic Ramayana. After visiting the temple, we will proceed to nearby Ramboda Falls, stunningly beautiful waterfall which is with 109 meters of height the 11th highest in Sri Lanka.
With a mild climate, in comparison to the rest of the island, Nuwara Eliya is a place where fruits and vegetables more often associated with European continental climate are cultivated. And we will visit Strawberry Farms, where you can learn about farming of produce which are atypical for Sri Lanka. But also enjoy many products derived from this fruit.
In 1873, by order of colonial Governor, Sir William Gregory, the Thalagala Stream was damned and thus a reservoir was created in the heart of tea country. Named Lake Gregory, since its construction it was a place for recreation. On it, you can enjoy trout fishing, boating, or jet-skiing.
A direct trip from Kandy to Nuwara Eliya typically takes 2 hours and 10 minutes, and you will stay overnight at hotel on the Bed & Breakfast basis, with breakfast included in price.
Day 4 – Nuwara Eliya to Bentota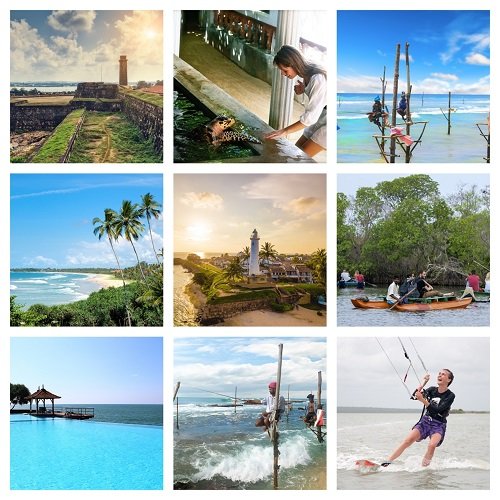 On our fourth day in Sri Lanka, we will start early at 5 o'clock in the morning. Breakfast is provided in the form of a takeaway.
On our way to Bentota, we will visit the Horton Plains National Park. This national park is a rich biodiversity hotspot where many of the endemic plant and animal species can be seen. It is also a very popular trekking location. One of the most popular attractions of the park is Baker's Falls, a waterfall named after the famed British explorer Sir William Baker. The most stunning feature of Horton Plains is the World's End, a sheer cliff with a height of 1,200 meters. Because this national park is at an altitude of more than 2,000 meters, thus above the cloud forests, the best time to visit it is very early in the morning before the fog sets in above the valleys below.
Then we will continue our trip by visiting the Seetha Aman Temple, one of the rare Hindu temples dedicated to the princess Sita, wife of Lord Rama and central character of epic Ramayana. This temple was built at the spot which is believed to be a place of her captivity in Sri Lanka. Near the temple is a stream on which rocky banks are located circular depressions for which is said to be footprints of Lord Hanuman, who was dispatched by Rama to rescue the princess Sita from Lord Ravana. Just down the road from the temple is the location of Hakgala Botanical Gardens. According to the legend, this is also a location of Ashok Vatika, the gardens of Lord Ravana mentioned in the epic Ramayana, where Lord Hanuman met her for the first time.
Continuing toward our next destination, we will see the St. Clair's Falls, also known as the Little Niagara of Sri Lanka, and Devon Falls, often called the Veil of the Valley.
The road will take us to the town of Kitulgala. This town is famous for White Water Rafting on the Kelani Ganga River, which snakes through the thick jungle forest environment. Besides being a popular spot for river adventures and jungle trekking, Kitulgala is famous for its rich avian wildlife, exquisite rice curry, and as the place where was filmed the climactic scene of blowing up the eponymous bridge in the Academy Award-winning movie The Bridge on the River Kwai.
A direct trip from Nuwara Eliya to Bentota typically takes 4 hours and 50 minutes, and you will stay overnight at hotel on the Bed & Breakfast basis, with breakfast included in price.
Day 5 – Bentota to Colombo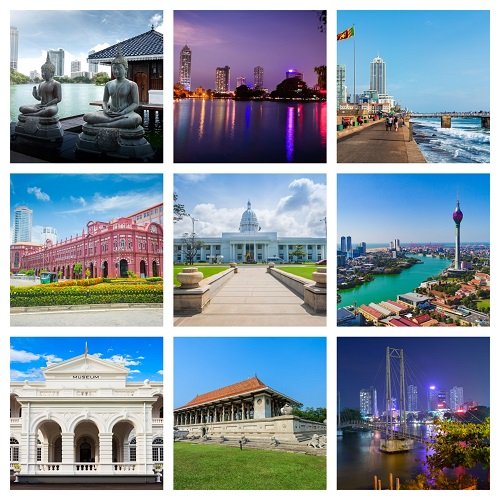 After breakfast at the hotel in Bentota, we will embark on the trip to Galle before continuing to Colombo.
Our first stop will be Madu Ganga River, where we will embark on a one-hour River Boat Safari. Madu Ganga snakes through virgin mangrove forests, which are a paradise for the local wildlife, and nature lovers alike.
After the river safari, we will make a stop at Kosgoda Sea Turtle Conservation Project. This sanctuary and hatchery is founded with the aim of protecting these majestic creatures during the period of their lives when they are at the greatest danger from predators. Here you can learn much about these magnificent creatures, and efforts put in place of protecting them and their nesting grounds.
The city of Galle is the location of Galle Fort, widely considered as the best-preserved colonial-era fortification in Sri Lanka. Originally constructed by Portuguese in the 16th century, and greatly expanded by the Dutch East India Company, in recent times most of its historic buildings were restored to their former glory. Notable historical monuments inside the walls of this fortress are Meera Mosque, All Saints Anglican Church, Groote Kerk church, and many others.
After visiting the Galle Fort, we will head directly to Colombo.
A direct trip from Bentota to Galle typically takes 1 hour and 15 minutes, and direct trip from Galle to Colombo 2 hours and 10 minutes. You will stay overnight at hotel on the Bed & Breakfast basis, with breakfast included in price.
Day 6 – Colombo to Airport
On the way to Bandaranaike International Airport, we will take a sightseeing tour of Colombo. We will tour the Old Fort area known for the splendid colonial-era architecture, near is the Beira Lake and one of the most popular Buddhist temples in Colombo, the Gangaramaya Temple. Our excursion continues with a visit to the National Museum, and nearby Independence Memorial Hall, built at the spot where, in a special ceremony, the very first Sri Lankan parliament was opened on February 4, 1948, thus marking the independence of Sri Lanka. We will also spend time wandering the colorful streets of historical neighborhood of Pettah, visiting the Old Dutch Hospital, former infirmary which today functions as a modern shopping and dining district.
If time allows it, we will make a last-minute shopping at the House of Fashion Mega Mall.
A direct trip from Colombo to Bandaranaike International Airport typically takes 1 hour and 10 minutes.
Include
Accommodation (3-5 star hotels)
Private driver guide
Brand new luxury car or van
Breakfast/lunch/dinner
Sightseeing
Sim card
Water bottles
Highway tolls
All local taxes.
Exclude
Flight tickets
Early check-in and late check-out at hotels
All tips & porter charges
Cost of beverage throughout the tour
Expenses of a personal nature
Insurance
Visa
Any other services not specified above.
Booking Confirmation Policy
Client have to pay 25% on total tour cost in advance and balance on arrival.
The customer receives a confirmation voucher via email after advance payment.
Cancellation policy
If cancellations are made 15 days before the start date of the trip, 25% of total tour cost will be charged as cancellation fees.
Refund policy
The applicable refund amount will be processed within 7 business days.
Why book with us?
24/7 customer service
Trip customizable