Locations
Anuradhapura
Bentota
Colombo
Kandy
Nuwara Eliya
Sigiriya
Trincomalee
Highlights
Munneswaram Temple
Manavari Kovil
Anuradhapura
Kanniya Hot Water Springs
Lankayam Shankari Devi
Pigeon Island National Park
Ancient city of Polonnaruwa
Jeep Safari through Minneriya National Park
Golden Temple of Dambulla
Spice & Herbal Garden
Kandyan Dance Show
Temple of the Sacred Tooth Relic
Royal Botanical Gardens
Tea Factory
Shri Bhakta Hanuman temple
Ramboda Falls
Seetha Amman Temple
Ashok Vatika
Strawberry Farm
Lake Gregory
St. Clair's Fall
Devon Falls
River Boat Safari
Kosgoda Sea Turtle Conservation Project
Galle Fort
Colombo city tour
Old Fort
Beira Lake
Gangaramaya Temple
National Museum
Independence Memorial Hall
Old Dutch Hospital
Pettah
Galle Face Green
Day 1 – Airport to Anuradhapura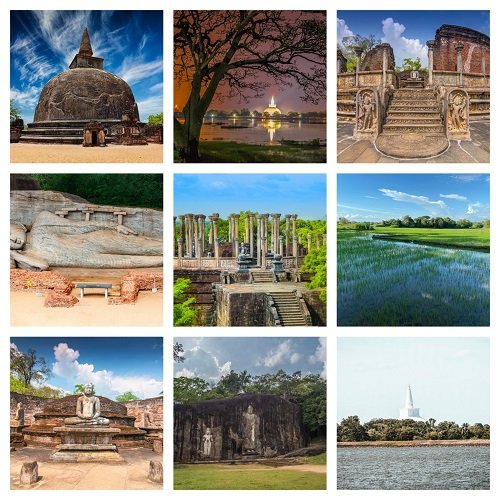 On your arrival at Bandaranaike International Airport, a T2 Travels Sri Lanka will be waiting to meet and greet you, and we will embark on our trip to Anuradhapura.
According to Hindu epic Ramayana, after defeating Ravana, Lord Rama has stolen one of Ravan's flying machines, Vimana, and started a trip back to India. During the flight, he was feeling as being followed by Bramahathi Dosham because he has killed a Brahmin. At one moment flying above a certain shrine, he felt that he was not followed anymore. So he landed and prayed to god Shiva for remedy. Where he prayed today stands Munneswaram Temple, just a short distance east from the town of Chilaw, considered to be the first place of worship of Shiva in Sri Lanka.
Lord Rama's prayers were answered with a blessing from Shiva, and instructions to install four lingams, Hindu sacred abstract representations of God Shiva, at four locations. It is said that the first lingam he has installed just a short distance north, where today is Manavari Kovil. At this Hindu temple the primary murti, or image of the main deity of the temple, is the lingam called Ramalinga Shivan, for which is believed to be the very same lingam placed there by Rama and is the only lingam named after him.
After visiting these two important Hindu temples, we will reach the ancient city of Anuradhapura. Among the ancient ruins and archeological sites of this once most important city in Sri Lanka, and the center of Buddhist religion and learning, are temples and shrines which are still places of worship and pilgrimage. Among them are some of the holiest places on the island. Called Atamasthana, or the Eight Great Places of Veneration, are eight places in Anuradhapura which were visited by Buddha. Most striking of these is Jaya Sri Maha Bodhi, a sacred fig tree planted from a branch of Sri Maha Bodhi tree under which Buddha has achieved enlightenment. It was planted in 288 BC, which makes it the oldest living tree planted by a human with a known date of planting.
A direct trip from Bandaranaike International Airport to Anuradhapura typically takes 3 hours and 30 minutes, and you will stay overnight at hotel on the Bed & Breakfast basis, with breakfast included in price.
Day 2 – Anuradhapura to Trincomalee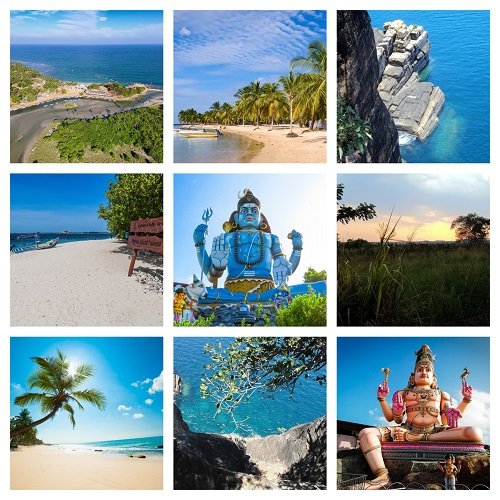 After breakfast at the hotel in Anuradhapura, we will head straight for Trincomalee.
In the morning we will visit the Kanniya Hot Water Springs. These seven hot water wells are according to a Hindu legend created by Ravana, the main antagonist of epic Ramayana. The archeological evidence shows that a Buddhist shrine existed near them since the first or second century AD, while at least 2,400 years old Hindu epic Mahabharata mentions hot water well near Gokarna bay.
Next place we will visit at Trincomalee is the Koneswaram Kovil, a Hindu temple that continues the tradition of an ancient temple to European colonists as the Thousand Pillars Temple. According to ancient chronicles, there is written evidence of the existence of this temple since at least 300 BC. And legends place it's founding between 1580 and 1250 BC. According to epic Ramayana, that temple was built in the place of the shrine where Ravana and his ailing mother prayed to god Shiva.
Just outside of this temple is Lankayam Shankari Devi, a shrine dedicated to Sati, the first wife of god Shiva. According to writings of the 8th century AD Hindu philosopher and theologian, Adi Shankara, it is the place where Sati's groin fell when god Vishnu cut her body out of the hands of Shiva, who was grieving her self-immolation. This shrine together with the other 17 places where parts of her body fell, is known as 18 Shaktipeethas or Ashta Dasha Shakti Peethas.
Just two kilometers of boat ride from Nilaveli beach is located Pigeon Island National Park. It is one of the only two marine national parks in Sri Lanka and a very popular snorkeling spot due to a thriving ecosystem based around the shallow coral reefs.
A direct trip from Anuradhapura to Trincomalee typically takes 2 hours and 10 minutes, and you will stay overnight at Hotel on the Bed & Breakfast basis, with breakfast included in price.
Day 3 – Trincomalee to Sigiriya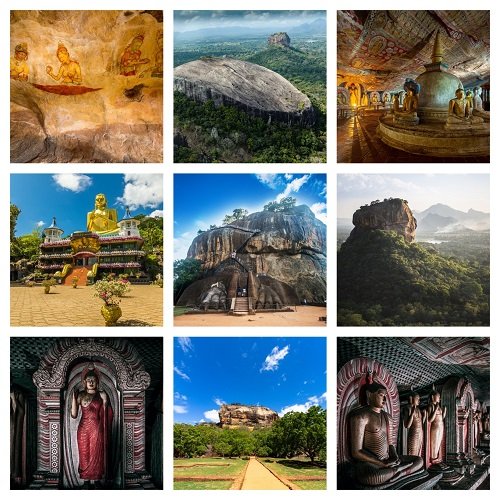 After breakfast at the hotel, we will embark on the trip to Sigiriya.
On our way to Lion Rock, we will visit the ancient city of Polonnaruwa. This ancient city is a former capital of the second most ancient kingdom of Sinhalese civilization, which also bore its name. Built during the 10th century AD, after the conquest of the Anuradhapura kingdom by the Indian Chola dynasty, it started its life as the regional capital of their kingdom. Chola's rule of the city and most of the island lasted very short, till 1070 AD, but the city continued to flourish as the capital.
Our trip continues with a Jeep Safari through Minneriya National Park, which is located on the banks of Minneriya Wewa, a man-made reservoir dating from the 3rd century AD. Because of this large body of water, this national park is a very important watering ground during the dry season for animals living in this part of Sri Lanka. It is also a park where lives the largest wild herd of Sri Lankan elephants, which numbers between 150 and 200 individuals. During the dry season, many herbivorous animals migrate closer to Minneriya lake. And they are followed by predators that prey on them. Thus with a little bit of luck, it is possible to spot the magnificent and elusive Sri Lankan leopards.
A direct trip from Trincomalee to Sigiriya typically takes 2 hours and 10 minutes, and you will stay overnight at Goddess hotel on the Bed & Breakfast basis, with breakfast included in price.
Day 4 – Sigiriya to Kandy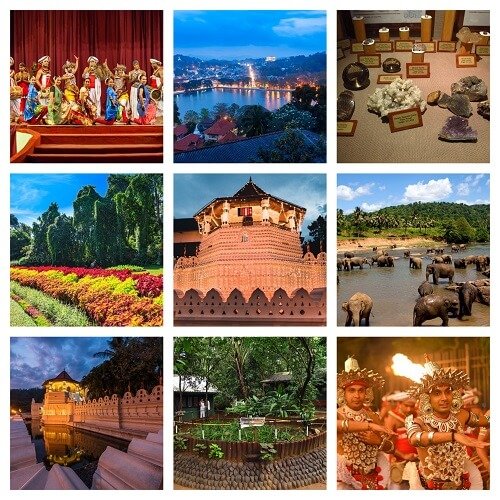 After breakfast at the hotel in Sigiriya, we will head towards Kandy.
Our first stop on the way to Kandy is the Golden Temple of Dambulla. Located in the city whose name it bears, it is the oldest Buddhist cave temple complex in Sri Lanka, being founded in the first century BC. Over the years it expanded throughout five caves, which were adorned by more than 150 statues of Buddha and more than 2,100 square meters of wall paintings depicting scenes from the life of Gautama Buddha.
Continuing on our way we will visit the Spice & Herbal Garden, a place where you can learn about the history of the production of spices and their trade. Sri Lanka is home to the tree of true cinnamon and the largest producer of this spice. Annually, this country produces more than 80% of the world's production of this type of cinnamon, which is considered as being of the highest quality.
When we arrive at Kandy, you will have an opportunity to enjoy a cultural heritage show. The Kandyan Dance Show, which starts at 4 pm, is a must-see for any visitor of Sri Lanka. Through centuries Sri Lankan national dances have developed from various religious rituals, as a representation of historical events, legends, and nature; or as a dance interpretation of vannams, ancient poems which originally were only sung to music.
A direct trip from Sigiriya to Kandy typically takes 2 hours and 20 minutes, and you will stay overnight at hotel on the Bed & Breakfast basis, with breakfast included in price.
Day 5 – Nuwara Eliya to Bentota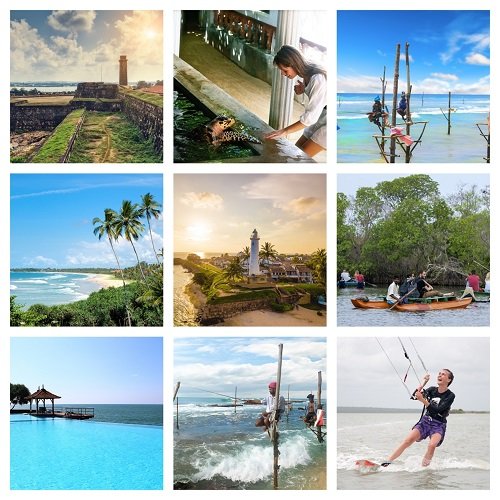 After breakfast at the hotel in Nuwara Eliya, we will head towards Bentota.
In the morning we will visit the Seetha Amman Temple. This Hindu temple was built at the place where according to legend princess Sitha prayed every day during her captivity described in the epic Ramayana. Near the temple is a stream with rocky banks, which have circular depressions for which are told to be footprints of Hanuman. Wooded area near this temple is known as the Ashok Vatika. According to legend, Sitha refused to spend her captivity in Ravana's palace and instead spent time in the palace gardens. And this place is where Hanuman presented her with Rama's ring under an Ashoka tree, which still grows here.
Besides tea cultivation, Nuwara Eliya region is known for the production of vegetables and fruits which are more often associated with continental Europe, than with South Asia. One of such fruits are strawberries, and we will visit a Strawberry Farm where you learn about their cultivation in Sri Lanka and taste some of the most flavorsome produce.
Among the visitors to Nuwara Eliya, both in the old times of colonial history and today, one of the most popular spots is the Lake Gregory. Boating and trout fishing are among the most popular activities on this artificial lake. And for thrill-seekers, jet skiing is also an option for spending some quality time on the lake.
From there, we are continuing on the road towards Bentota, with a stop at the St. Clair's Fall, an astonishingly beautiful waterfall, which is the widest one on the island and also known as the Little Niagara of Sri Lanka. Along the way, we will also visit the Devon Falls, which is due to its physical characteristics often called the Veil of the Valley.
A direct trip from Nuwara Eliya to Bentota typically takes 4 hours and 50 minutes, and you will stay overnight at hotel on the Bed & Breakfast basis, with breakfast included in price.
Day 6 & 7 – Bentota to Colombo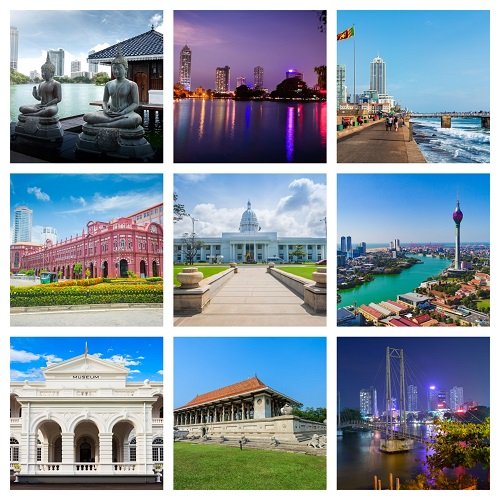 After breakfast at the hotel in Bentota, we will embark on the trip to Colombo with first visiting the city of Galle.
The first thing on our way will be a one-hour River Boat Safari on the Madu Ganga River. This river slowly snakes through pristine mangrove forest which is home to many endemic species of animals. Because of the thickness of growth and untouched beauty of the river banks and many islands in it, you will have a feeling of being thousands of kilometers from civilization.
Continuing our trip, we will visit the Kosgoda Sea Turtle Conservation Project, a sanctuary and hatchery for sea turtles. This institution exists with the aim of protecting these majestic animals during their most vulnerable part of life, but also of protecting their nesting grounds.
When we arrive in Galle you will have the opportunity to explore the Galle Fort. Considered as the best-preserved European fortification in Sri Lanka, today it is a UNESCO World Heritage Site, and its historical buildings are meticulously restored to their 17th-century glory. Originally built by Portuguese in the 16th century, and greatly expanded by the Dutch East India Company in the 17th, it is a representative example of European influenced architecture in South Asia during the colonial period.
After exploring Galle, we will continue on the road to Colombo.
A direct trip from Bentota to Galle typically takes 1 hour and 15 minutes, and a direct trip from Galle to Colombo takes 2 hours and 10 minutes. You will stay overnight at hotel on the Bed & Breakfast basis, with breakfast included in price.
Day 8 – Colombo to Airport
On our way to Bandaranaike International Airport, we will have a sightseeing tour of Colombo. We will visit the historic neighborhood of the Old Fort that is popular for the mix of beautiful colonial-era buildings and modern architecture. Near the Beira Lake is the Buddhist Gangaramaya Temple, one of the most important temples in the city, which is a place of worship, learning, and a cultural center. On our trip, we will also visit the National Museum and the nearby Independence Memorial Hall, which is built on the location of a formal ceremony which marked the independence of Sri Lanka. Our excursion will conclude with the visit of the Old Dutch Hospital, traversing the colorful streets of Pettah neighborhood, and visiting the most popular urban park, the Galle Face Green.
If time allows it, we will make a last-minute shopping at the House of Fashion Mega Mall.
A direct trip from Colombo to Bandaranaike International Airport typically takes 1 hour and 10 minutes.
Include
Accommodation (3-5 star hotels)
Private driver guide
Brand new luxury car or van
Breakfast/lunch/dinner
Sightseeing
Sim card
Water bottles
Highway tolls
All local taxes.
Exclude
Flight tickets
Early check-in and late check-out at hotels
All tips & porter charges
Cost of beverage throughout the tour
Expenses of a personal nature
Insurance
Visa
Any other services not specified above.
Booking Confirmation Policy
Client have to pay 25% on total tour cost in advance and balance on arrival.
The customer receives a confirmation voucher via email after advance payment.
Cancellation policy
If cancellations are made 15 days before the start date of the trip, 25% of total tour cost will be charged as cancellation fees.
Refund policy
The applicable refund amount will be processed within 7 business days.
Why book with us?
24/7 customer service
Trip customizable